If this is what summer in Melbourne is supposed to look like, we've gotten the raw end of the deal.
Since when in summertime is it appropriate to wear a strapless top but still need a puffer jacket (you know, just in case), while also needing to put the fireplace to good use and having to be worried about tornado threats with the crazy winds we've been having lately. Is this what summer in Melbourne actually means now? Let alone it's still meant to be the hottest Summer on record… What's next Melbourne, WHAT'S NEXT?! Either way, we're not settling for this summer of late, that's for sure.
So we've teamed up with Expedia to put together this very relevant list of 10 places that do summer way, way better than Melbourne. Jump onto their website to find the best flights, stays and things to do now.
Seriously Melbourne, get your stuff together.
If there's one place that nails summer all year round, it's Hawaii. Oahu is our pick of the precinct when it comes to Hawaiian getaways; home to Waikiki beach, Sephora, turtles… You get the gist. Where else can you spend your day beach-side with a lei around your neck and a cocktail in hand and then shift gears to cruise around the island's luxury boutiques? While you're there be sure to check out Sunset Beach, Banzai Pipeline, Waimea Beach and Hale'iwa. Turtle Beach Resort is our pick for where to say (it's famous, you guys—remember Forgetting Sarah Marshall? The Hills?) for the ultimate chilled out holiday. Melbourne, take note, this is how you do summer.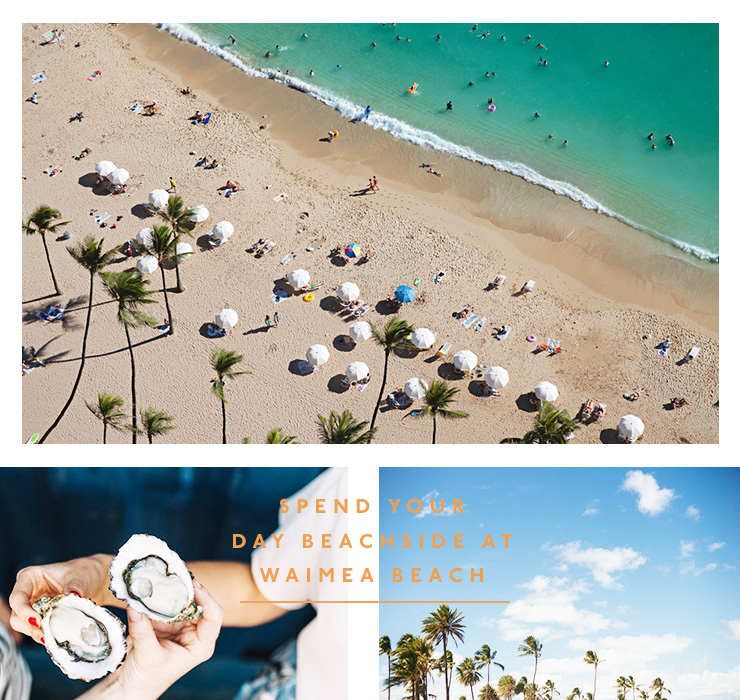 Hong Kong is so close we can kind of get away with calling it our neighbour, so we're going to do just that. Hong Kong gets summer; it's a city that comes alive at night (life hack: beat the heat by exploring at night) and has market upon market dedicated to fresh, local seafood! Summer is made for fresh crabs and prawns, don't even try to argue. As if there wasn't enough to do on the main island, you can also take a quick ferry over to Asia's answer to Las Vegas: Macau! If you're still stuck for ideas, check out Expedia's Hong Kong travel guides.
Bali is kind of synonymous with an Aussie summer, especially when Melbourne's sucks this much. So now is pretty much the perfect time to get your Bali on. Say goodbye to overpriced avo toast and deconstructed lattes and a big hello to secret beaches, undiscovered rainforests and sunset drinks on the beach. Bali, we love you. Find the perfect place to stay with Expedia here.
Bula, Fiji! Thank God you're so close that we can just zip on over and get the heck out of this so called summer. Thanks again, Melbourne we (don't) love your work. Fiji's got it all, really: pristine beach, awesome locals and oodles of water-based activities. That's how summer is meant to be, after all. Scope out Expedia's lists of mega-luxe or backer-friendly places to stay and get to work on planning your escape, stat. We're already dreaming about our over-water bungalow…
It's true what they say: one night in Bangkok and the world's your oyster. Bangkok doesn't just know how to do summer, they know how to do it darn well. Apart from bulk levels of deliciously fresh, authentic Thai food, there's also floating markets to check out, a bustling night life and some pretty epic cooking schools. If you're stuck for ideas, though, you can check out Expedia for the low-down on everything worth doing in Bangkok. Be sure to send a postcard to your friends back in Melbourne, too.
Sorry Melbourne, but your graffiti-ed laneways jam-packed with tourists on the hunt for the illusive perfect Insta pics don't really compare to the breath-taking scenery on offer in Phuket. Or the crystal clear azure waters. Or the secluded beaches. Or anything, really. With these current weather woes, Melbourne is pretty much begging you to jet off to Phuket, honestly. Get your summer-hungry mitts onto the Expedia website and start planning your trip quick smart.

As Aussies it's rare that we admit that our Kiwi neighbours in Auckland do something, no, anything better than us. But, this summer is really testing us, and we've gotta hand it to them, their summer is kind of the best. If you're still sceptical, don't worry, we were too. But then we spent some time procrastinating at work on Expedia looking at how much fun stuff there is to do over there. Spoiler alert: there's more than just fush and chups. For a start, you can visit Hobbiton, chill with glow worms and even go bungee jumping, all in perfect blue skys! We've got to say Auckland, you do summer pretty well. After all, they did invent pavlova.
Everything is bigger in Africa, including summer. That's how the saying goes, right? Regardless, we're craving an African summer after the show that Melbourne's currently putting on #NotHappyJan. I mean, Melbourne we love your plethora of epic coffee spots and your top notch collection of matcha-flavoured goodies, but can we really compare matcha lattes to real life lions? Nope, soz Melbourne. Do yourself a favour and check out the seriously jaw-dropping views most Cape Town hotels on Expedia have. Africa has never looked so good!
If Brazil has always been on your bucket list, now is 100% the time to do it. Why? Because why spend your days switching from rain coat to bikini in 'sunny' Melbourne, when you could be sunning it up on Copacabana? I mean, it's a simple decision really. Be honest, as if renting a scooter and exploring Rio doesn't sound like a 10/10 on the 'things I'd rather do than sit at my desk' scale. Thought so.
Rarotonga is a pretty unexplored destination. Hands up if you're about to Google where it is? Thought so. Hint: it's in the Cook Islands and its jaw-droppingly beautiful. Don't believe us? Just search it on Expedia and look at how stunning the hotels are. We hate to say I told you so, but… we told you so. This little gem sits on a lagoon so you'll be spending summer with a cocktail in hand, feet in crystal clear water and far, far away from Melbourne's shoddy attempt at summer.
Keen to give Melbourne the slip and really enjoy summer? Jump onto Expedia and start planning your trip now! You won't regret it, we promise (psst: Until April 30th, if you book using your American Express Card you can score a sweet 10% discount at participating hotels, by getting a code here).
Editor's note: this article is sponsored by Expedia and wholly endorsed by The Urban List. For more information on our editorial policy please click here.
Image credit: Images provided by Expedia and Stocksy
Design credit: Gabrielle Stjernqvist