It's a truth universally acknowledged that when a group of girls get together for dinner, there will be much talking, merriment and drinking. That said, girls are not ones to shy away from a hearty feast either!
And so my group of girlfriends came together at new Greek restaurant, Gazi, just shy of the corner of Exhibition and Flinders Streets, to catch up on everything that had taken place in our lives in the immediate period preceding – engagements, babies, and the like.
The quirky terracotta potted roof.
Occupying the real estate that was once The Press Club, Gazi is quite non descript from the street front, only revealing the style synonymous with a Calombaris-led eating establishment once you set foot into the dimly-lit foyer entrance. It's barely 6.30pm on a Thursday night and the place is already busting at the seams, the chatter is a bit above a low roar, and there are pearls of laughter to be heard above the welcoming din.
The restaurant, looking out to Flinders Street, has a ceiling with suspended terracotta pots and large mirrors that make the space appear bigger than it is. Facilitating many large groups on this particular evening, the staff moved about with ease and everything was delivered in a timely fashion.
The open kitchen gives patrons a great view of what's happening beyond the fryer and grill, and while the psychedelic lighting might play havoc with makeup reapplication in the bathrooms, the colouring really suits the style of the restaurant.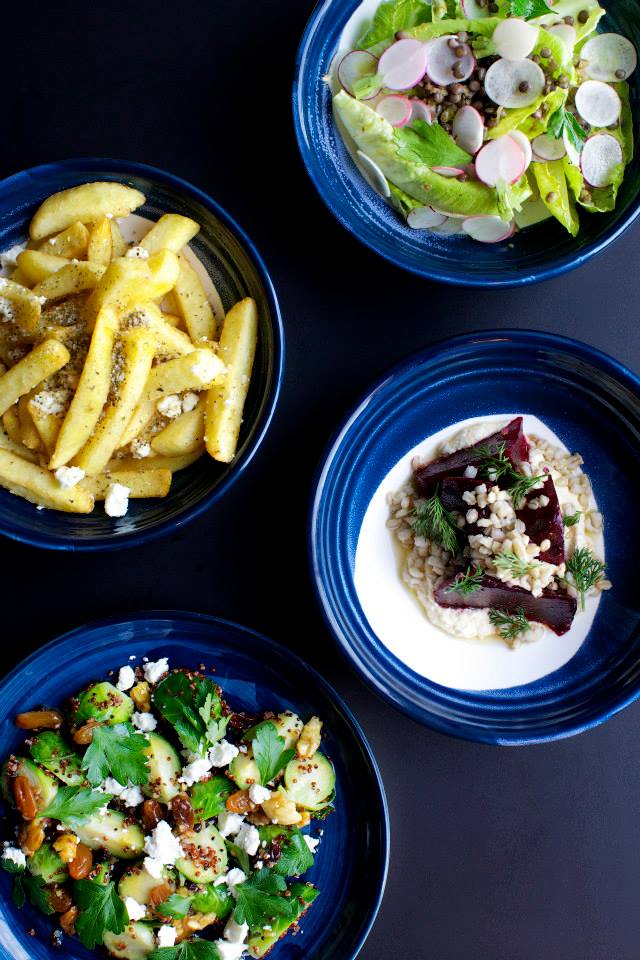 A selection of dishes including the author's fave - feta topped chips. Yum!
Starting with bubbles and wine (although the look of the extensive cocktail list was tempting!) we took the recommendations our waiter had to share on food choices, sure he knew best after all. We liked the sound of the 'sharing is caring' menu and enjoyed traditional saganaki that balanced chew with taste, a variety of dips – the sweet potato rocked my world – with bread, eggplant and crispy lambs brains (not my personal fave!).
Small souvas – chicken , beef, duck or crab – are flatbread wrapped tender meat chunks with chips, herbs and mayo, following the 'street food' promise on the menu. The array of available salads use ingredients like quinoa, pearl barley, beetroot and pancetta and add a level of sophistication to the tapas style foodstuffs.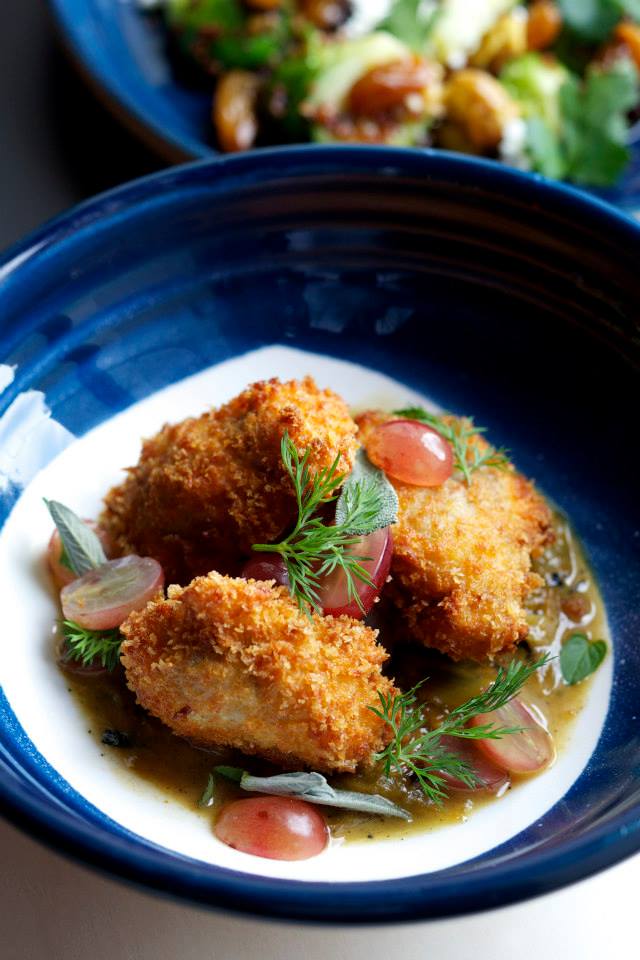 Crispy fried brains.
Pork belly is the menu item du jour, but it was the feta topped chips that were my favourite. I'm a simple girl at heart! The menu calls it Hellenic Dirty Food, but be warned – the food is good and there is a lot of it. Despite our best efforts, it seemed that a few girls are no match for a Greek feast! If you want to try a bit of everything, opt for the banquet where you'll get a 10 dish sharing menu and a souva for a very reasonable $69 per person.
Bonus points for Gazi comes in the form of their gluten-free offering. The waiters knew what was what on the menu, and they make their own (amazing!) gluten-free bread to accompany the dips. Souvas can be served on a gluten-free flatbread that actually rolls without cracking, and I thoroughly enjoyed every morsel I consumed.
If you still have room for dessert, the pavlova is a work of art. Not really 'dirty hellenic', but who cares when every mouthful is delicious.
George Calombaris has once again delivered a winner, but unlike The Press Club and its air of exclusivity, Gazi is a spot with atmosphere and energy that will appeal to a much wider audience. Great for groups, especially hungry ones.
Where: Gazi | 2 Exhibition Street in Melbourne
Contact: 03 9207 7444 | Website
TUL Note: Sarah Kempson's passion for fashion might be a cliché, but it is her unique take on life that adds spark and colour to her days in Melbourne. A freelance writer and social media princess, Sarah loves nothing more than a good sale, a decent latte or an elegant cocktail.
Image Credits: Gazi Facebook