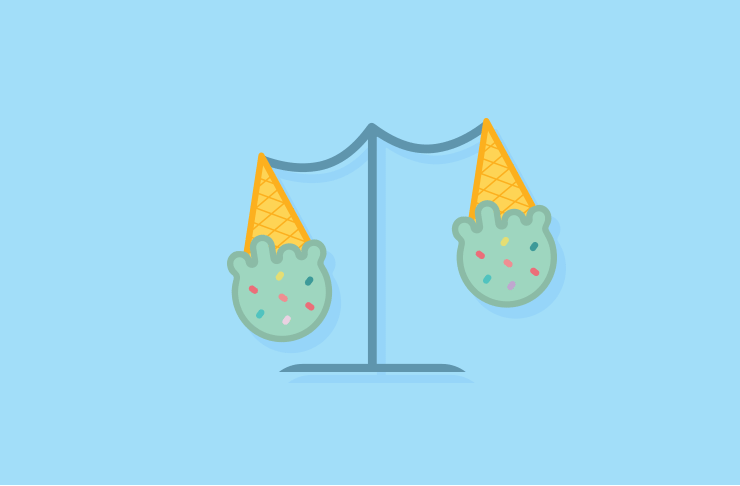 Who's ready to call it quits on 2017? Hang in there Listers, we know how you feel and we have the cure. For some of you, March is shaping up to be a boring old bircher muesli when you could have sworn you ordered the hotcakes. For others, it's been all round smashed-avo-style home runs. Either way, there's a piece of advice in here to get you off the March Smarch train and onto a way more fun 2017 express line.
Pisces
Pisces are well known to be the most tolerant sign, which means when they've had enough they've well and truly hit their limits. Unresolved anger is likely to be dug up in your near future. While it may feel like a scene from Lord of the Rings unfolding you'll definitely feel better once you've won the battle.
Where you need to go this week: We know your ultimate deal-breakers.
Aries
The Sun is on its way to brighten up Aries day. In simple terms, the Sun's presence lights a fire within an Aries and gives them the desire to conquer. Conquer what? Start with brunch and see where the day takes you – I hear no one has laid claim to Saturn lately.
Where you need to go this week: Conquer some of these spots first.
Taurus
Every now and then it's totally normal to feel lost or insecure about your future. Lucky for you – as a Taurus – Autumn is a time of blessings in relationships. Take strength from the fact the planets are on your side in building new relationships and upholding old ones.
Where you need to go this week: Get back on track to full-time adulting.
Gemini
Airy fairy is your middle name which is one of the reasons you hate repetition and routine. If you wouldn't be caught dead at the same café twice or having a regular order as soon as you walk in the door, you may be missing out. Ask a Capricorn and they'll tell you how great it feels to know what you're doing and when you're doing it. Routine can be great if it means getting to know the cute barista when you get your morning coffee.
Where you need to go this week: How to avoid the same brunch two days in a row.
Cancer
Most of the time Cancer's prefer to be the wallflower and wait for somebody else to make their move. This week you're getting a boost in confidence and attractiveness from the planets so you may as well put it all out there. Single or not, there's someone waiting for you to take charge.
Where you need to go this week: No room for wallflowers here.
Leo
If you were a coffee you'd be a golden latte – unique, super-powered and the colour of sunshine. As a fire sign, you crave the Sun and all things Summer. Your fave season may have ended but you don't have to mourn it quite yet. It's all about perspective, the weather is holding its own and Autumn promises fiery colours as soon as the leaves start to change.
Where you need to go this week: Where to get a golden latte.
Virgo
Keeping organised keeps you calm so here's a cheat sheet for this week's task list. Early on – Monday-Wednesday – is the best time to take care of anything money related. Organise your dates on Friday/Saturday when Venus shares it's love potions with you, and use Sunday to recuperate and get on next weeks to do list.
Where you need to go this week: Find some time for this awesome new bar.
Libra
If it feels like March has been as bland as unseasoned tofu get ready for things to change. There's a hat trick of harmonious planets waiting for you on Tuesday, Saturday and Sunday this week – including your ruling planet Venus. In most scenarios three's a crowd but in this case, it means you have good vibes on your side.
Where you need to go this week: Nobody said tofu had to be bland.
Scorpio
Get ready for a 180 flip. If last week was all about the Moon this week is the Sun's time to shine. When the Sun is in your sign it brings acceptance with it. From Wednesday onward let your personality shine brighter than Lady Gaga at the Super Bowl.
Where you need to go this week: In case you missed the best of the Super Bowl this year.
Sagittarius
Another week, another horoscope. Don't expect too much excitement this week but definitely stay tuned because #spoileralert, good things are on their way. Until they arrive do a stocktake of the people in your life and find all the Aries', Libra's, Leo's and Aquarians as these are your most compatible signs.
Where you need to go this week: Host a frosé party with your most compatible pals.
Capricorn
There are few things Capricorns love more than a solid plan, perhaps that's why they get along with Virgo's so well. There's stress ahead for you this Friday so it's safe to assume not everything will be going to plan. This unexpected detour won't last long so there's really no point in becoming a doomsday prepper yet.
Where you need to go this week: Invite a Virgo to hang here.
Aquarius
When Aquarians are the centre of attention for too long it can freak them out. They're the kind to run away from emotional expression. The focus is staying on you this week and if that's freaking you out it's not you, it's your sign.
Where you need to go this week: Hide out in a laneway eatery away from prying eyes.
Regardless of what your star sign says, there's always time for sushi. Here's the best sushi to be found in Melbourne.
Image credit: Gabrielle Stjernqvist