We've all heard the horror stories, some of them even out of our own mouths, after experiencing a trip to a bad beautician, or plucking to the point of no return. So how do we make sure that our precious brows, will stay on point (and more importantly, on our face) permanently?
The simplest answer is to see a professional. Now this is not a hairdresser that offers a $10 eyebrow wax with any service, nor is it a shopping centre brow stall, we're talking a tried and tested expert in brow shaping.
Founded by CEO Chernae Silk, The Brow Bar has been perfecting Australia's brows, one pair at a time, for over a decade. We caught up with Chernae and her Arch Angels to tell us the secrets behind achieving Australia's best eyebrows and why they are totally worth it.
Why brows are worth all the fuss
Brows are so important to the shape of your face; they also are a huge factor in visual communication. Having badly shaped brows can age you drastically (oh, the horror!) and can make you look permanently surprised.
During the 1970s, 80s and 90s thin brows were all the rage, which has had a lasting negative effect on the brows of so many women. Waxing or plucking your brows thin for a long period of time can seriously affect the growth and thickness of the hair, causing them to grow back much slower and finer, that is, if they grow back at all! This can make it difficult (but not impossible) to get a good shape. All is not lost Listers, pros (like the guys at The Brow Bar) will look at your eyebrows, assess your face and work miracles.
Introducing Brow Rehab
"Brow Rehab, you say? Is that like AA but for brows?" Well, kind of but there's no 12 step program. The Brow Bar's exclusive Brow Rehab program will get your brows back on track. When you visit them for the first time you will be paired with an expertly trained Arch Angel, who will be your brow saviour. They will discuss with you what you want from your brows, how to achieve it and any tips and tricks that will help along the way, such as eyebrow pencils and growth serums. When it comes to growing out eyebrows, it is a marathon not a sprint, so be patient, ladies.
What your brows say about you
Generally speaking, one brow will grow faster and thicker than the other, but don't worry this is totally normal. This can be due to a few reasons such as past skin trauma, genetics or lifestyle factors and is apparent to some degree in most of us. For example, if you tend to sleep on your right side more than your left, you'll probably notice that it is the right brow that isn't as thick – who'da thought?!
As well as thickness, the shape is equally, if not more, important when it comes to brows. They can tell others when you are angry, annoyed, surprised or happy. They can make you appear more open and inviting, or reflect a more serious and powerful personality. Having strong brows with high pointed arches lets people know you mean business, while brows that are flatter, with soft rounded arches make you seem more approachable. Well-defined brows can make you look mature, sexy and more powerful whereas messier, less sharp brows make you appear relaxed, carefree and youthful.
The DOs and DON'Ts
Put down the tweezers, people! Don't try and shape your own brows. Often, you start with the easiest side and end up doing a fairly decent job, but when you try to match the effort on the other brow everything falls apart. More often than not, you end up taking many of the wrong hairs and then try desperately to even it out on the other brow. Back and forth you go until they're a shadow of their former thickness and shape. It's just not worth it!
If you want to go a little longer between your appointments but still keep your brows still looking great, you can tidy them on your own, you just need to know what to do. If tweezing your own brows, be sure to have a good pair of tweezers and choose a location with plenty of lighting.
Next, you'll want to stay a little bit away from the solid, defined lines of your brows. Tweeze only the hairs that you can tell are definitely not a part of your finished, defined eyebrow. Ask your Arch Angel to give you some pointers so that you don't ruin the shape that you've both worked so hard to achieve.
If you have an eyebrow shape in mind, absolutely take along pictures. Pick brows that have a similar natural shape to yours and on a model that looks a bit like you. Brow artists can only work with what you've got. We'd all love to have Cara Delevingne brows but most of us aren't that naturally blessed, unfortunately.
The best of the rest
As well as brows, there are other quick but effective services that can make a world of difference. A lash lift and colour will open up your eyes and make them look so good, you won't believe they are your own lashes! Lash extensions are another popular option, and will save you time by eliminating the need to wear eye makeup.
If you are curious about what The Brow Bar can do for you, check them out on Facebook and Instagram for amazing before and after photos, specials and giveaways.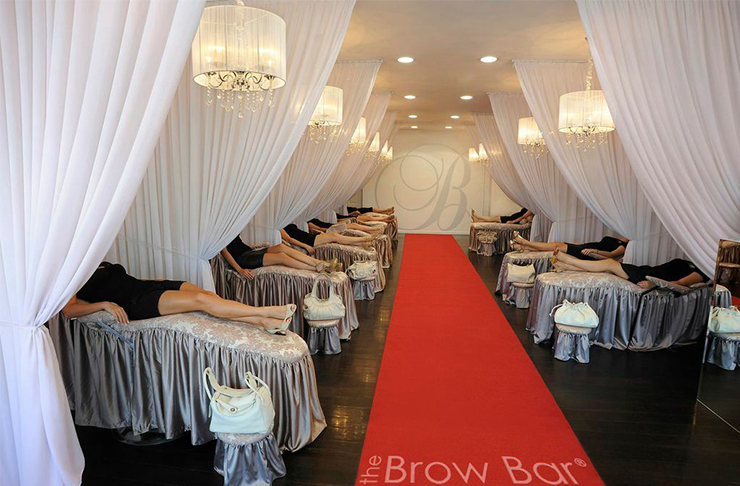 TUL Note: This article is proudly sponsored by The Brow Bar and endorsed by The Urban List. Thank you for supporting the sponsors who make The Urban List possible. Click here for more information on our editorial policy.
Image credit: The Brow Bar