Having nothing to wear is a real problem. One that seems to only bless the less stylish of us. After much research (read: stalking cool girls on Instagram) we can confirm that these six items are the building blocks of stylish wardrobes around the world—and all that other shiz in your wardrobe isn't really helping your brain figure out wtf to wear, LBH.
Building a wardrobe is expensive work—we hear ya loud and clear—so we've teamed up with DFO to bring you this list so you can upgrade your wardrobe with quality brands at up to 70% off, and only six key pieces. Because the best things in life are easy.
Blessed be the bargains.
THE BLACK BOOT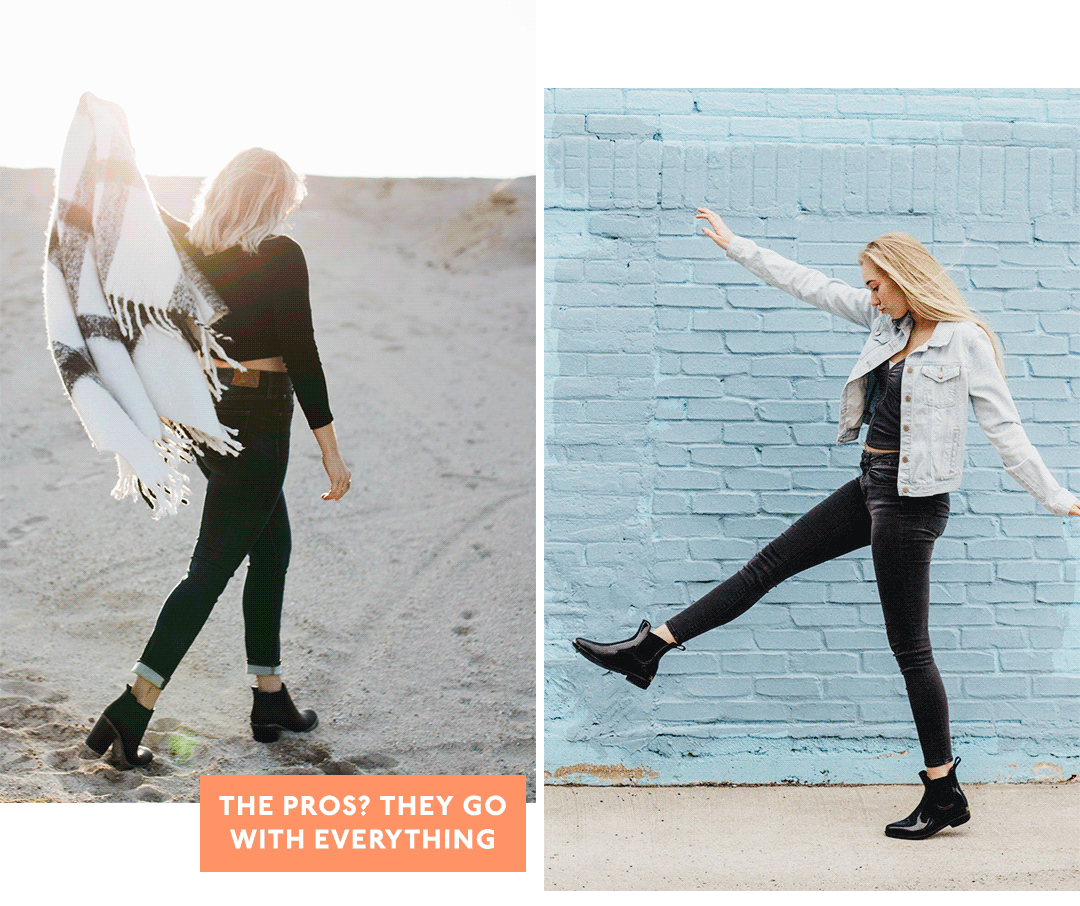 Sorry, pals, but your worn-out thongs don't really make the cut—at least they shouldn't—in the sophisticated landscape that is your adult wardrobe. Your wardrobe is one sleek black pair of boots away from being stylish AF. The pros? They go with everything, they can elevate an outfit, and they're freaking comfy. Our tip is to snag an investment pair of boots for up to 70% off at DFO. The cons? There are none.
THE BLAZER
Winter dressing is hard. Transitional dressing is harder. That's why we love a blazer. Got drinks with the girls? Chuck a blazer on. Got a job interview? There's a blazer for that. Running late for work and want to look put together? Blazer that sitch. To keep it classic, opt for a block colour like navy or black that will go with the items you already own, and match your investment accessories. Plus, keep an eye out for trendier blazers with pops of colour for all of the party vibes.
CRAZY-FLATTERING-JEANS

Jeans are the basis of so many outfits we love. Whether they're paired with a tee, a nice top, your fave cozy knit, or whatever it may be, jeans are a total wardrobe staple. It makes total sense, then, to opt for a pair of jeans that will last. If you're not game to part with your hard-earned cash, hit up DFO to score great name-brand jeans on the cheap. Hey, if you ask us owning Levis is a bucket list achievement.
ALL OCCASION ACTIVEWEAR
Investing in active wear is technically investing in your health. Riiiight? Your collection needs the basics that can take you from the gym to brunch or, let's be real, just to brunch. Opt for classic sneakers in a block colour, chic tights, and high quality, basic tops—pair with a great bag and some shades and you're good to go!
THE PERFECT WORK BAG

Finding a bag that can carry your lunch, breakfast, laptop, note book, water bottle, gym kit and everything else in between for the work commute can be a challenge. You need something that's classic enough to stand the test of time, yet chic enough to make you smile each time you wear it. Quality trumps quantity when it comes to bags for us, so look to the classics (at a discount, duh) like Coach and Oroton when choosing.
THE PARTY DRESS
Hands up who's ever screamed "I HAVE NOTHING TO WEAR" into their full, overflowing wardrobe. Err, guilty. Real life adults have that one go-to dress in their wardrobes that takes them from big meeting to big night. The key is all about keeping it classic—remember LBDs? They're still a thing. We suggest finding a fit that flatters your body shape, is comfy as hell, and won't go out of style. Peplums, we're looking at you.
So, go build that wardrobe and score some killer discounts!
Editor's note: this article was produced in partnership with DFO. Thank you for supporting the partners who make The Urban List possible. To read our editorial policy, click here.
Image credit: Unsplash