We'll do just about anything for cake, especially if it's a totally drool-worthy cake that's come straight from the Instagram feed of one of Australia's most creative cooks. Listers, meet Miss Trixie Drinks Tea, Melbourne's superstar baker who has been cooking up a sugar-coated storm for parties and events since 2012, when she started her blog - which turned into a bona fide business in 2014.
What started out as a hobby for Miss Trixie, aka. Alice Bennett, baking cakes for friends and family is now a fully fledged business that provides sweet treats for all manner of occasions. From sophisticated wedding cakes to bespoke birthday creations, cute cupcakes to cookie making gift sets, each and every Miss Trixie treat is crafted by Alice herself - with the help of a few loyal friends, including her mum.
Luckily for you, Alice has put together her essential 'how to' guide to create a beautiful Valentine's day cake. Want to surprise a new crush, treat your special someone, or simply make the damn thing and eat it all yourself? Here's how it's done:
Tools & Equipment:
Preheated oven, 170˚C

3x 18cm round cake tins
Baking paper
Hand whisk
Electric whisk or beater
Saucepan
Heatproof bowl
Plastic scraper or spatula
Cake board
Squeezy sauce bottle (optional)
Ingredients:
Cake
450g plain flour
45g cocoa powder
1 1/2 tsp bicarbonate of soda
470g caster sugar
1 1/2 cups buttermilk
350g melted unsalted butter, cooled
3 eggs, whisked
1 1/2 tablespoons white vinegar
1 1/2 teaspoons vanilla bean paste
Red food colouring
Raspberries for decoration
Icing
200g unsalted butter
250g cream cheese
500g icing sugar
1 tsp vanilla bean paste
1 tsp lemon juice
Pink and purple food colouring
White chocolate ganache
(This one is based Phillipa Sibley's chocolate sauce recipe.)
240g white chocolate
155ml full cream milk
50ml thickened cream
30g honey
30g butter, cubed
Decorations
Pink meringues

Raspberries and strawberries
Pink lollies
Candy hearts
Flowers
Method:
Baking the cake…
1. Preheat your oven to 170˚C. Grease and line 3x 18cm round cake tins with baking paper and butter - I use a pastry brush to lather up the sides of the tin!
2. Sift flour, cocoa power and the bicarbonate of soda together into a bowl and whisk together. Then whisk through the sugar.
3. In a jug, whisk the buttermilk, cooled melted butter, eggs, vinegar and vanilla together until combined.
4. Make a well in the centre of your dry ingredients. Pour the liquid ingredients into it and whisk together. Add a few drops of red food colouring and whisk together. Make sure that there are no lumps!
5. Evenly divide the batter up between the three tins and bake in the oven for 35 - 45 mins.
6. Take the cakes out of the oven and allow them to cool in the tins for 15 mins before turning out on to a wire rack. Allow to cool completely.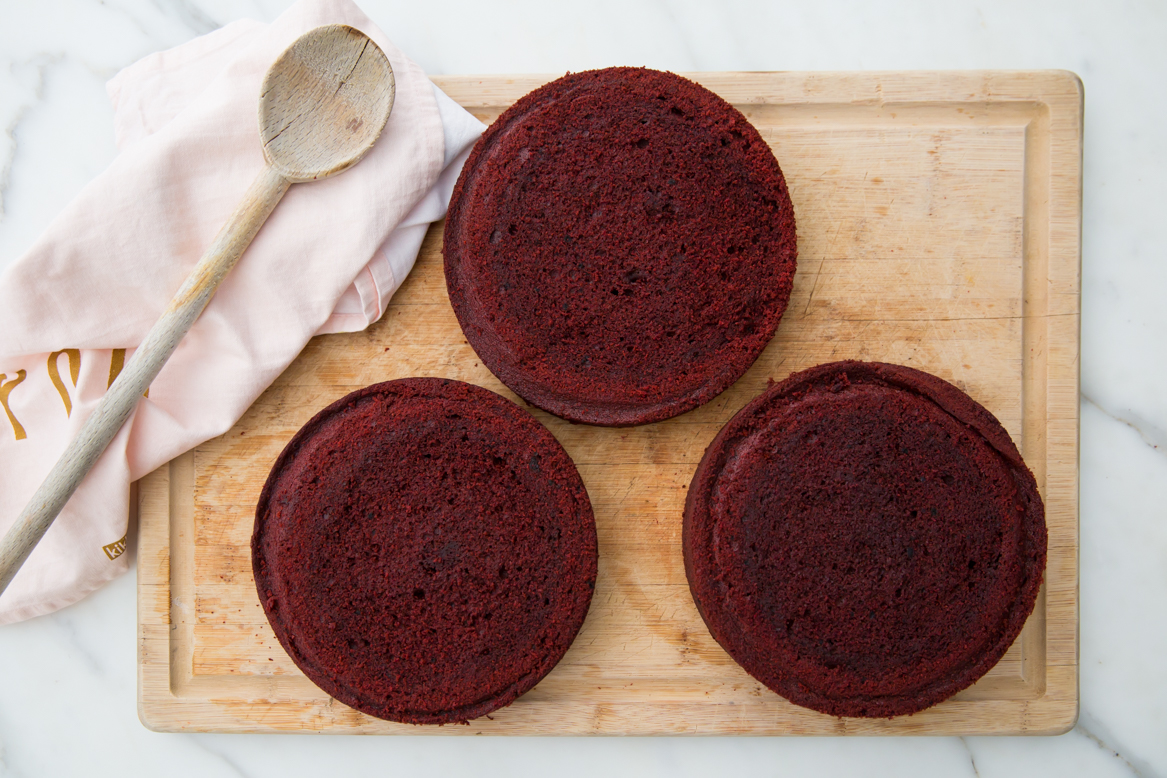 Making the icing…
7. Beat the butter with an electric beater until pale in colour. Add the cream cheese and beat again. Gradually sift the icing sugar in and continue to beat until well combined. Add the vanilla bean paste and lemon juice and beat together one last time.
Making the ganache…
8. Gently heat the milk, cream and honey in a saucepan until it starts to bubble. Put the chocolate in a heat proof bowl and pour the liquid over the chocolate. Allow the mixture to sit for 2 mins before stirring together. Gradually add the butter whilst still hot and mix together.
Assembling the cake…
9. Smear a tiny amount of icing on a cake board using a spatula, and place one of the cakes on top. Spread the cream cheese frosting on the cake. Press a few raspberries into the icing, before putting the next cake on top and repeating the process.
10. Once you have your three layers, spread a thin layer of icing around the cake. This layer is the crumb coat and will catch all of your crumbs. Place in the fridge for 20 mins before doing the final layer of icing.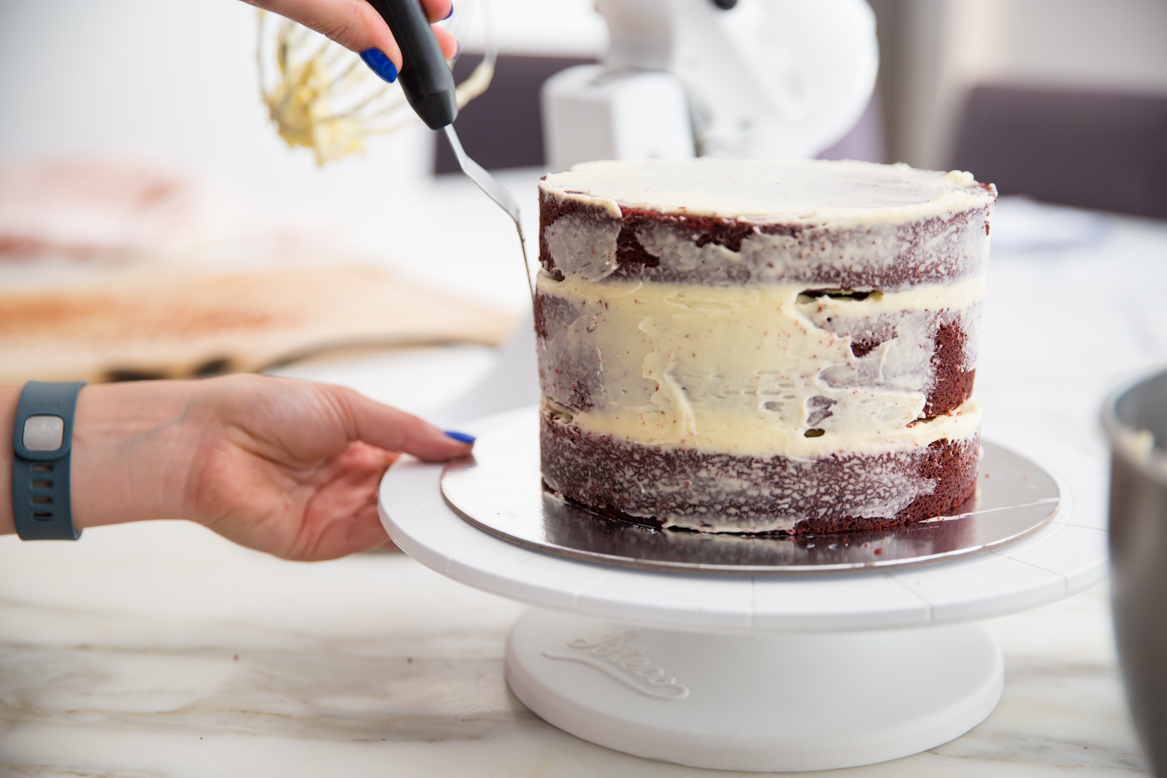 Decorating the cake…
11. To create the beautiful 'watercolour effect', you want to make up three different colours of icing - pink, white and purple. Smear on a little bit of each, randomly, around the cake and then take a plastic scraper or spatula to smooth out the side of the cake. Have a play with it, and add icing as you need to get the colour you want! It will take a little bit of practice.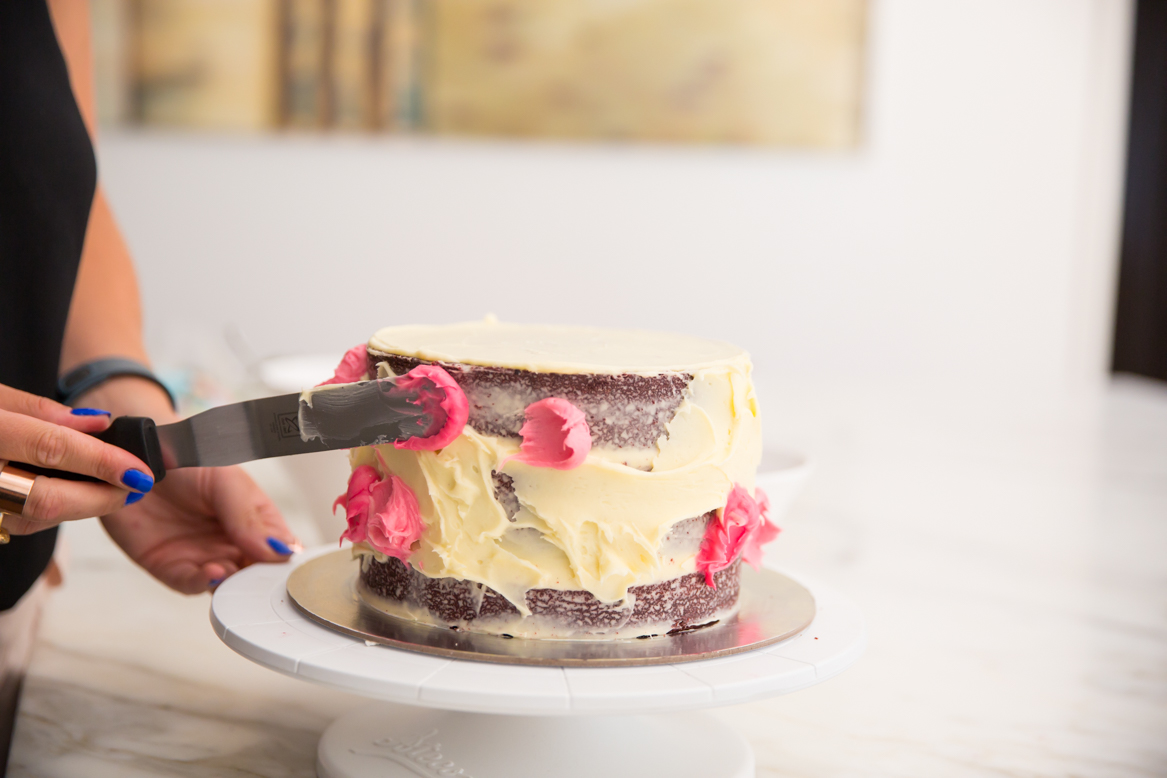 12. Take your ganache and gently pour down the sides of the cake. I find it best if you can put the ganache into a squeezy bottle so you don't put too much.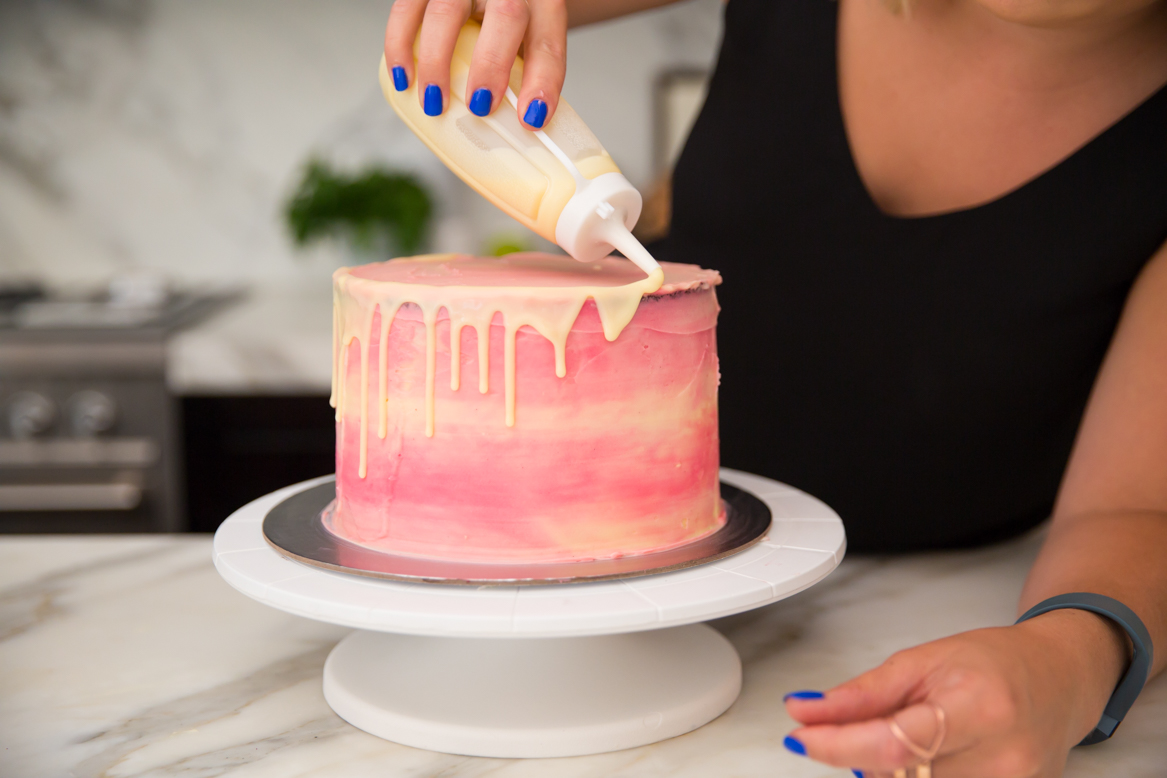 13. Decorate the cake as you please! For Valentine's Day, I'm using homemade meringues, berries, candy hearts, flowers and pink lollies.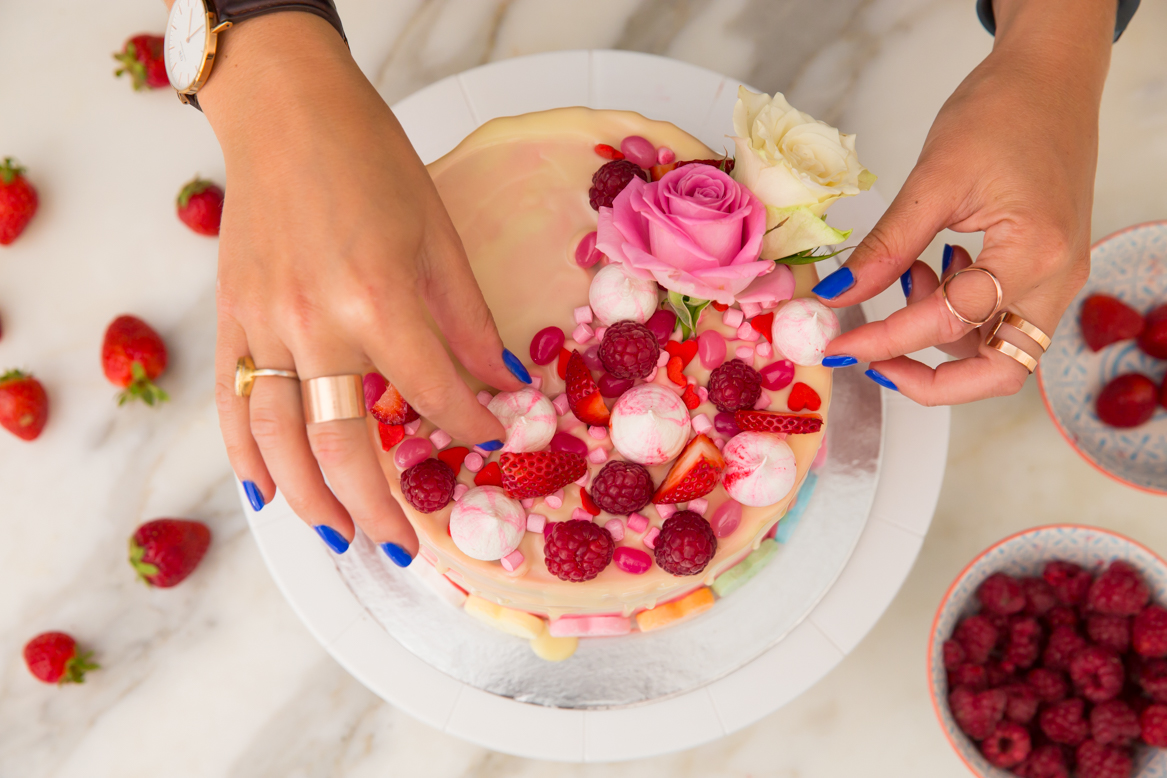 Miss Trixie's Top Tips
Make your own buttermilk, by combining one cup of milk with 4 teaspoons of vinegar. Allow to sit together for 15 mins before using in your baking. It's so bloody easy… I never buy buttermilk anymore!

Use the best chocolate you can find. I only ever use Callebaut. It makes all the difference, believe me!

Don't put your cake in the fridge (except between icing it) unless it's stinking hot. Cakes don't need to go in the fridge. They simply do not belong there.
Vanilla bean paste gives a much better flavour than extract or essence. You can buy mega tubes of it from Costco.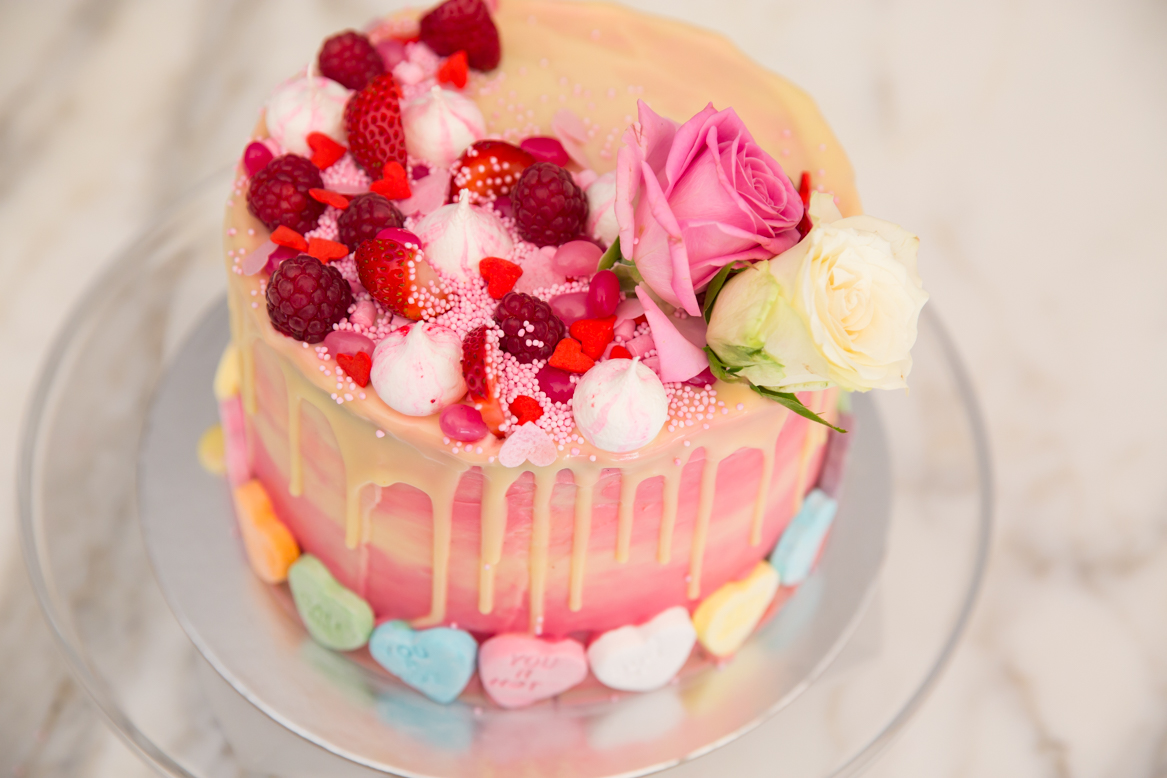 Show us your cooking skills, Listers! Instagram your own Valentine's baking efforts and tag them with #urbanlisted. In the meantime, check out @misstrixiedrinkstea for more baking inspiration.
Image creditL Jenaa Fahey White for The Urban List