We've lost KAWS. Apparently he's wandering the corridors of the NGV. Teams of frantic PR-type people have been dispatched to track him down. "Any luck?" "I think he was last spotted heading northwest…" "Alpha team, report!" The staff have their work cut out: today's the launch of the NGV's new Keith Haring and Jean-Michel Basquiat double header, Crossing Lines, and the place is jammed with school groups, photographers, artists, journalists, visiting curators, dignitaries and shifty buggers in big coats.
It doesn't help that KAWS (AKA Brian Donnelly) looks so relentlessly ordinary. When the world's most famous contemporary artist is eventually found (and electronically tagged, for future reference) he turns out to be an average-looking, 45-year-old man. Faded baseball cap, blue jumper, forgettable pants. You couldn't pick him out of a line-up, let alone a press conference. "Sorry I'm late," he says sheepishly, "I wasn't hiding, I swear."
KAWS' own NGV exhibition, Companionship In The Age Of Loneliness, opened back in September. He's in Melbourne again for a few days to help launch the Haring X Basquiat extravaganza. "The last time I was here I was so caught up with the installation and getting the show together I didn't really have time to relax," he says. "This is much nicer. And these are two of my favourite artists. To have both of them in my sightlines is amazing."
We're sitting in front of a Keith Haring masterpiece—a huge, 8-foot vinyl tarpaulin he painted in 1983, seven years before his death. It's one from KAWS' personal collection, on loan to the NGV: a monstrous caterpillar with the head of an IBM computer, stomping and trampling across three decapitated human bodies. The message is pretty clear. Technology will destroy us all. Beware the floppy disk drive.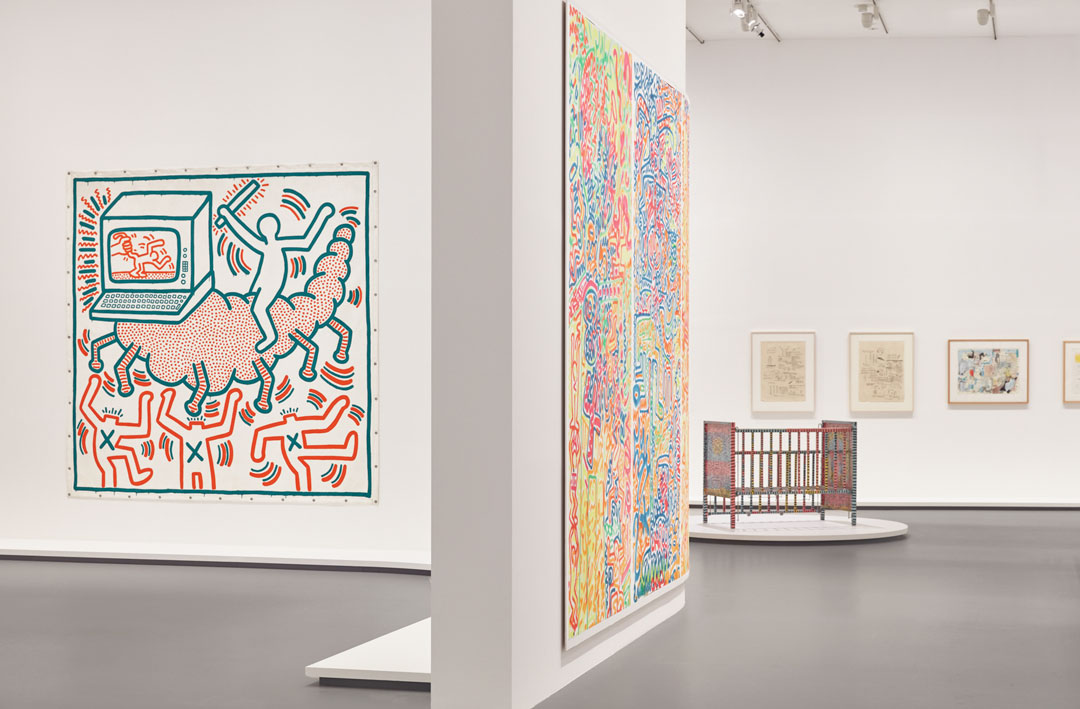 "Of course I'm a fan," KAWS says, "not a bit like a fan. There's so much amazing work here. Growing up in the New York skate world, you become aware of different artists, and I think Keith [Haring] was one of those artists who was like a bridge into contemporary art. Particularly for young people."
Depending on who you ask, KAWS is now the artist carrying on Haring's pop-culture legacy, fusing the worlds of high art and street art, democratising the whole white-wine-and-canapé scene, wrenching art out of the hands of millionaires and giving it back to the people (you can go buy a KAWS shirt at Uniqlo for $19.90—if you're happy to queue). He's a bona fide pop-culture phenomenon with 2.6 million followers on Instagram. Warhol for millennials.
But it's not really that simple. Critics have pointed out a certain disconnect between making 'accessible art' and having your canvases auctioned for $14.8 million. And for someone who grew up tagging billboards in Jersey City, these days KAWS spends more time plotting ambitious gallery takeovers—Texas Modern Art Museum (2016), Yuz Museum in Shanghai (2017) and the Hong Kong Contemporary Art Foundation (2019). Something he's more than happy to admit. "I haven't been around that street art scene for years," he says.
This is why KAWS tends to piss off art critics and traditionalists. All those corporate sneaker partnerships and lucrative merchandising opportunities make High Art people uneasy. Is this artistic genius, or just good marketing? Does the fact that Justin Bieber collects your sculptures somehow make them less good? Well-known critic Anny Shaw has called KAWS 'conceptually bankrupt' (which is pretty much what Robert Hughes said about Andy Warhol back in the day…and look how history came down on that one).
For his part, KAWS couldn't care less about this stuff. He's frankly sick of talking about it. When you make your living deconstructing pop icons like The Simpsons, SpongeBob SquarePants and Mickey Mouse (while earning millions of dollars in the process), criticism comes easy. What's more interesting is how KAWS' work is reaching a new demographic of art-lovers. Go stand in front of his work in the NGV foyer—a towering 7-metre Companion, cast in bronze, cradling what looks like the corpse of the Cookie Monster—then have a glance around. There are kids and teenagers everywhere. They're loving it.
"It's the biggest thing I've done in bronze, period," says KAWS. "The whole thing took over a year. It's rewarding to know that after I'm gone, this piece will still be in Melbourne. I'll see it now on this trip and it'll be fresh, and then hopefully I can return in 20 or 30 years and see it again, with new eyes."
Want to go check out the new Keith Haring X Jean-Michel Basquiat exhibition? It's on at the NGV until 13 April. Same as KAWS' Companionship In The Age Of Loneliness.
Image credit: supplied by NGV