Ditch the standard Netflix and chill this Valentine's Day, because you and your special someone need to #treatyoselves. It is last minute and you're probably stressed that all the good stuff is sold out. Well…
Don't fret, you last minute Valentine's Day lovers. We're here to give you a round up of the best last-minute Valentine's Day plans with tickets still available (at the time of writing).
ALL DAY
Campari House
Melbourne CBD
Are you a morning person? One of those people that spread their love on thick like peanut butter, as your loved ones rise from a deep slumber? Well, you should check out Campari House this Sunday morning and drag your partner-in-crime along for a breakfast filled with love. A Champagne Breakfast for two is $60 and includes a glass of sparkling on arrival, your choice of tea, coffee or juice and a meal off the beautiful breakfast menu. This offer runs from 9-11:30am down the iconic Hardware Lane. Bookings are essential.
Peninsula Hot Springs
Fingal
You'd prefer to shower your lover with an experience this Valentine's Day, rather than foodie delights? Well, Peninsula Hot Springs are offering special gift certificates that you can purchase swiftly online pre-Valentine's Day. We're talking bathhouse bathing for two, bathhouse bathing plus breakfast, or maybe just bathhouse bliss for one. If you're feeling generous, buy a few! Click here to get the full details, and to buy a gift certificate.
ISIKA Spa
Melbourne CBD
Now if this isn't one for the indulgent lovers out there, then we don't know what is. Two chirping lovebirds can enjoy a 60-minute relaxation massage in the Wellness Suite followed by 30 minutes in the vitality pool and steam room - and just because you're special, you'll also get a glass of sparkling each, valet parking and a complimentary $50 Crown Gift card. WOW! The Be My Valentine package costs $320 for two people and is available Monday to Thursday, 1 February – 15 March. To book call ISIKA Spa.
The above option not for you? You'll be living that sweet life if you snap up this offer: the package includes a two-course lunch with a glass of sparking wine and coffee in Neil Perry's fabulous Rosetta. You will then back it up with a one-hour massage or customized facial at ISIKA Day Spa. At just $155 per person, including four hours of valet parking at Crown Metropol, this is the most lux Valentine plan ever. The package is available from Tuesday to Friday from 16 March - 29 April. To book call ISIKA Spa.
Zonzo Estate
Yarra Valley
Oh, if our families and lovers are listening, this is what we want/need/crave this Valentine's Day. A love feast that is open to families and couples, Yarra Valley's Tuscan paradise, Zonzo Estate, is a great pick for your Valentine's plans. Including a plentiful antipasti platter, award-winning wood fired pizzas and a classic Tiramisu – YUM! There's also a complimentary beverage per person. The hardest part; you need to choose between lunch (12pm or 2:30pm sitting) and dinner (from 5:30-8pm). At only $70 per adult, this is a deal and a half.
No. 8 by John Lawson
Melbourne CBD
Be naughty this Valentine's Day and indulge in a four course set menu courtesy of the wonderful people at No. 8 by John Lawson. Featuring only the finest seasonal produce, guests can choose to further treat themselves to matching wines with a complimentary glass of Moet & Chandon Imperial NV. This lover's menu will be available for lunch and dinner at $150 per person.
Zimt Patisserie
Surrey Hills
Get some sweet buns this Valentine's Day at Zimt Patisserie, folks. Instead of loading up for lunch and dinner, do what we all really love to do – skip straight to dessert. Zimt is running an exclusive High Tea for their lucky guests: you will be treated to a 2-hour sitting, including savouries, cakes, traditional scones with jam and cream and an assortment of drinks. Let's not forget the all-important glass of bubbles and complimentary Zimt gingerbread heart! It costs $50 per person; sittings can be booked between 10am – 2pm.
Eureka 89
Southbank
If you're a fan of the Melbourne skyline and its floor-to-ceiling picturesque views, then you need to pop up to the top level of the Eureka Skydeck this Valentine's Day. Bring your sweetheart along for a long lunch (12.30pm – 3.30pm), which includes a three-course meal and matched wines plus a glass of champagne, or an elegant dinner (6.00pm – 9.30pm) that features a signature cocktail upon arrival, a five-course degustation and matching wines. At $180 per person for lunch and $240 per person for dinner, this is your chance at an original Valentine's Day celebration that'll impress the old ball and chain. Bookings are essential.
Morris Jones Restaurant and Bar
Windsor

We want you to drop that packet of spaghetti and treat yo'selves this Valentine's Day, Listers. Luckily for you Morris Jones in Windsor are offering a killer lunch or dinner package for couples and singles. That's right – Morris Jones loves you ALL equally. They are offering a three-course set menu including a glass of Pike & Joyce Sparkling Rose, all for $99 per person. Or, if you're more of 'I'm not buying this bullsh—dust' type of person, book a spot at one of the 'Anti-Valentine's' tables for you and your closest friends. Gosh, both sound GREAT to us! Bookings are essential.
Grosvenor Hotel
St Kilda
Are you single and ready to mingle? Well, don't get confused. Valentine's Day is actually a day designated to the single folk out there as well. St Kilda's Grosvenor Hotel is getting into the matchmaking business and has a Singles Sunday Session that'll win the hearts of all you Tinderellas and Tinderfellas. Live music will play from 12pm before resident music-man Dan Millane takes over for the afternoon crowds. If you're a tad peckish you can order from the a la carte menu that includes small plates, pizzas and steaks. But if you're just in the mood for a tipple there will be $10 Champagne cocktails and $10 pints available from 12-7pm. Doors open at 12pm and entry is free – so you don't really have an excuse, all you #bachie babes.
Lulo
Hawthorn
Just to make it difficult, Lulo are making you choose between a legendary lunch package and a delectable dinner package. Why you do dis, Lulo? At $70 per person, the set dinner menu is four-courses of tasty bites designed to share, including jamon croquettes and churros. The five-course set lunch menu, on the other hand, includes oysters and empanadas with an accompanying glass of house wine or sangria – for just $40 per person. Argh, it's too hard.
Taxi Kitchen
Melbourne CBD
Love will be floating gracefully in the air at Taxi Kitchen this Valentine's Day. Make it the perfect day with a lunch or dinner sitting, including a four-course menu that features a sharing sweets platter. That's very Lady and The Tramp - minus the spaghetti. If you desire an Asian-influenced menu this V-Day then you need to book - and at $85 per person it sounds like a great option to us.
The Auburn Hotel
Hawthorn East
Two lovers, three courses. The Auburn Hotel are hosting a sharing style feast this Valentine's Day that's a measly $59 per person. That's three-courses off the menu accompanied by a glass of champagne and a rose (awww!) The dining room is newly renovated just in time for this romantic occasion, with the dark timber and intimate atmosphere the perfect backdrop for your Valentine's feast. Feeling the Auburn vibes? Well, you need to hurry because bookings are limited!
Bomba
Melbourne

You'll be greeted with a Spanish Wine at the door, and it won't stop there. Bomba will delight your senses with a four-course set menu featuring natural oysters and milk braised lamb this Valentine's Day. This one is bound to impress the ladies… and the fellas, girls! There are lunch and dinner sittings available and bookings are super essential.
Market Lane Bar
Melbourne
A $60 per person, Market Lane Bar has a High Tea package on offer that includes five-courses and a glass of G.H Mumm Le Rose and strawberries - we think YES! You'll be more than satisfied with the selection of sweet and savoury delicacies, and surely your little love bug will be too. This package is available on both 13 and 14 February. Bookings are essential.
Munich Brauhaus
South Wharf
It's Valenstein's Day at Munich Brauhaus. Don't get it twisted – this is no romantic Valentine's Day celebration. This is where you can enjoy a brew with the boys, celebrating bromance and brewmance all at once. Now we can get around that! As well as beer, you'll be able to enjoy a BIG FEED with crispy pork knuckles, golden schnitzels and the all new burgers and dogs. Fellas, this one has your name all over it.
Sake
Melbourne
Well, all you need to do is decide whether you're a lunch or dinner couple - and Sake will sort out all the rest. You'll enjoy a beautiful seven course degustation menu and a glass of champagne for $110 per person. The menu includes delicacies such as soft shell crab, wagyu ribeye and a chocolate mousse sphere with matcha ice cream for dessert. Delish! All completed with a perfect city skyline view. Bookings are essential.
The Ugly Duckling
Richmond
Opening at 3pm, The Ugly Duckling in Richmond offers a special $45 per person Wine N' Dine package for their lucky Valentine's guests. This includes a glass of R de Ruinart Champagne and a selection of antipasto style food including dips and cheese to share. This is a wonderful option for those on the hunt for a classy yet relaxed Valentine's vibe. Reservations are a must.
NIGHT
Mister Bianco
Kew
This is a sure fire way to get your name in that 'good book' you've heard of. All thanks to Mister Bianco in Kew! Chef and owner, Joseph Vargetto, is a Valentine's lover and true romantic, and he has designed a dinner menu that reflects this deep adoration. You'll arrive to a glass of Prosecco accompanied by smaller bites, then you'll sit back and enjoy shared entrees and the choice of three mains, including an Angus dry aged eye fillet 220g, beetroot puree, baby beetroot chips + red wine sauce. YUM. This package costs $95 per person and must be booked.
Mr Miyagi
Windsor
It wouldn't really be Valentine's Day without a Nori Taco, would it? Get down to Mr Miyagi in Windsor with your best pals and/or lovers for an epic feast. You'll pay $95 per person - that includes 8-courses and obligatory bubbles. Don't worry, Miyagi Fried Chicken, Pork Belly Bao Buns and the famous Nori Taco will be on the menu. You better believe you have to book this one, click here to do so right now. It's probably already sold out...
Toko
Prahran
Toko Melbourne is transporting you to a traditional Japanese "izakaya" den this Valentine's Day. At $115 per person, you will enjoy champagne on arrival and a special Valentine's tasting menu. So if your lover adores all things Japanese or you just enjoy a good Japanese feast – you know where to go people. They'll be open from 5pm but dinner spots are limited.
The Botanical
South Yarra
Bring your perfect match to a night of perfect food matches at The Botanical this Sunday. For $75 per person there will be a four-course set menu featuring kingfish carpaccio and pressed lamb shoulder. *drool*. As a special treat, they are charging a small corkage fee if you have a precious little bottle that you've been saving up at home for a special occasion. Get yourself sorted and book your tickets here, before you miss out.
NOTE: If you are single and ready to mingle on Saturday 13 February head to the Botanical for a party to drown your single sorrows - or pick up a Valentine for the following day. The single party runs from 8pm – 1am, so there's plenty of time to check out the potential love interests.
Alluvial Restaurant
Melbourne
You know you're in love when you take your bae to the Alluvial Restaurant at The Rialto for Valentine's Day dinner. You'll indulge with an exquisite five-course menu that includes a glass of G.H. Mumm Le Rosé Champagne on arrival. Not to mention the dessert sharing platter with crisp brownie wafers… now that's romance. Tickets are $100 per person and reservations are essential. For more information, click here.
United Kitchen Dining and Tapas
St Kilda
A 10 course tapas set menu and a glass of bubbles on arrival for just $69 per person… my God, United Kitchen's Valentine's Day game is strong. We're talking guacamole, pork belly tostados and a scrumptious salty caramel doughnut for dessert; the drooling just won't stop until you've finished all 10 courses. Bookings are essential, visit the United Kitchen website to save your spot now.
Rupert
Collingwood
It's all about the power of L-O-V-E at Rupert on Rupert this Sunday evening. Prepare to be dazzled by the decadent three-course set menu and complimentary glass of bubbles on arrival. But that's not all - DJ ValenTom from Burn in Time will keep you groovin' all night with RnB beats. All for $60 per person, Rupert are offering up the ideal Valentine's package.
Epocha
Carlton
You'll be showered in 'Amore' at Epocha this Valentine's Day. Offering a six-course romantic journey for $125 per person, you'll indulge in tasty treats, and of course, champagne on arrival. We're especially fond of the braised short rib, it's basically already melting in our mouths. There are two evening sittings available and bookings are essential here.
The Hotel Windsor
Melbourne

This one's for the hopeless romantics out there - who are so busy they basically need a PR to organise their V Day: you can turn your night into a classy celebration thanks to the Hotel Windsor. This lux package allows guests to experience Executive Chef Joel Alderson's signature contemporary cuisine with accompanying bottle of G.H Mumm Champagne and half a dozen long stemmed roses. They've literally covered everything you could imagine! Reservations are essential.
None of these Valentine's Day suggestions float your boat? Check out our Top 15 Melbourne Food And Wine Festival Picks for great summer plans.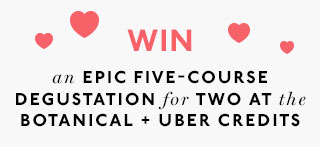 Image credit: Sake, by Jenna Fayhe-White for The Urban List