All you need is once glance down Lygon Street to notice that Carlton doesn't need another Italian restaurant. In fact, there's probably enough pizza and pasta on the strip between Elgin and Queensberry to feed all of Australia. But that's the magic of Leonardo's; even though it's slinging Italian fare, it doesn't quite fit the typical Carlton restaurant mould—and that's why it's such an interesting spot.
First off, Leonardo's Pizza Palace is not on Lygon, so that's a plus. It's housed in Da Salvatore Pizza by the Metre's old venue, which has been given a little bit of a refresh. The 70s vibe is strong: wood panelling, quirky little posters, exposed brick and low ceiling. The back dining room feels warm and intimate, despite the fact that the music is always pumping.
Which brings us to the second and third points of difference of Leonardo's versus your traditional Carlton restaurant: a DJ and a bustling bar. Even on typically quiet nights, Leonardo's is like your fun, loud friend pouring you endless drinks on a Tuesday. And you're in luck because it turns out your fun, loud friend is also a great cook.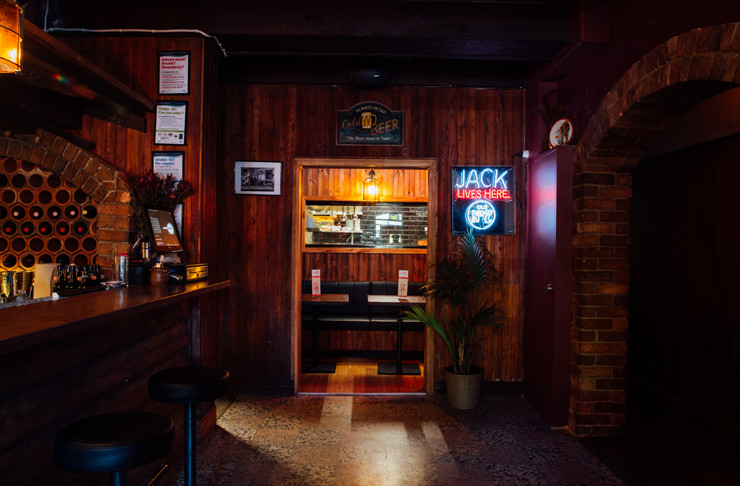 One step through Leonardo's dining room and your nostrils immediately perk up at the woodfire-y smell of damn good dough. One look at the tables and you'll see a smattering of crostinis, pasta dishes, salads, and, of course, pizzas.
The pizzas are served with ranch dipping sauce, which gives the whole thing a very casual vibe. You can take your pick between classics like cheese or pepperoni or dive into the more luxurious flavours like jalapeno or Chinese bolognese.
If you're looking for some pasta, look no further than the rich, Serotonin-producing taste of the classic spaghetti bolognese. For those of you avoiding meat, we recommend the smooth-as-hell mushroom spaghetti. Pair it with a signature cocktail, and you've got yourself one tasty night out.
Speaking of cocktails, Leonardo's can whip up a mean one. Standouts include the new, just-got-on-the-menu Jungle Bird (Jamaican Rum, Campari, pineapple, lime and bitters) and the Air Mail (White Rum, lime, honey and bubbles). There are also plenty of options if you're more into hops or wine (it is an Italian restaurant, after all).
So, while we're on the topic: is Leonardo's a restaurant or a bar? Hard to tell. That's kinda the point, though: owners Nick Stanton, Mark Catsburg, Guy Bentley and Jonathan Harper have brought some of that Leonard's House of Love vibe to Carlton and paired it with some seriously delicious food—the only logical result is Leonardo's. You'll have to go and see for yourself.
Speaking of Italian food, we've rounded up Melbourne's best Italian restaurants for you to try.
Image credit: Annika Kafcaloudis