For two years, every Sunday, I used to wake up, walk down Chapel Street to Prahran Market, and order a cheese toastie from Maker & Monger.
Only the details of the ritual changed. Sometimes I'd reach for Sriracha over the smoky Chipotle BBQ. Occasionally I'd eat on the big communal table and eavesdrop. Some days my inner cheese-whiz craved the onion-y funk of an All American, other days it was pepper-stuffed Pimento.
So when I heard owner Anthony Femia was ditching the 'Chariot of Cheese' for Tuscan marble benchtops, American walnut and a seven-metre, temperature controlled cheese fridge, I was concerned.
Part of the Maker & Monger magic—and I'm sure Anthony would agree—was that the shop was, not to put too fine a point on it, a bit low-fi. Orders were scribbled on bits of paper. The menu was a cramped chalkboard (not out of ironic self-awareness, but because it was fast and easy and cheap). Tables were knobbly, picnic-type affairs. You got your toasties from a big cheese chariot for god's sake.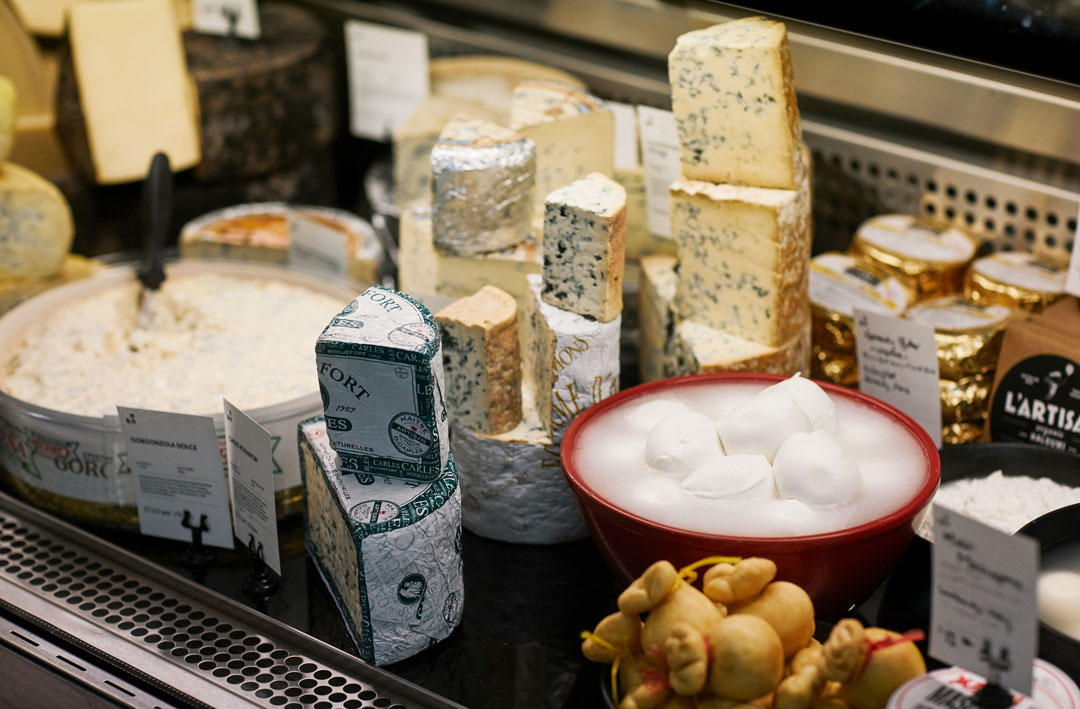 Worrying that your local cheesemonger is becoming gentrified is pretty much the definition of a First World Problem. But that's what it felt like. Maker & Monger was about to go mainstream.
Well, the times, they are a-changin'. As of last Friday, the new Maker & Monger is open for business, not operating from a makeshift market stall, but a gleaming, very expensive "Chapel of Cheese" (Anthony's words), sitting on the site of the old Cioccolato Lombardo. Branded and designed by Studio at Large, with a fit-out from Arteveneta (the same guys that did DOC, Embla and Market Lane). I can't see the French 'Chariot' anywhere. Devastating.
The new shop certainly looks impressive. It's built from riveted steel girders, painted forest green. Mossy subway tiles cover the back wall. And yep, there's the huge slab of rippling marble, all the way from Carrara. No more chalk boards here: Maker & Monger's menu now sits above the counter, each toastie on its own wooden plaque, carefully picked out in sans serif.
The thing that really draws the eye is a wrap-around cheese fridge, stuffed end to end with French goats cheese, cow's milk wheels from the Loire Valley, gooey English camembert, huge discs of washed-rind Munster, dozens of Stiltons, Roqueforts and Parmesans, golden Meredith chèvre, eggy stracciatelle soup from That's Amore, and mozzarella balls, floating in brine like pale dead goldfish.
This thing will trigger a dairy intolerance at twenty paces.
First, the good news. Maker & Monger's toasties taste exactly the same. The All American ($13) is still the best thing between sliced bread (a brain-melting mix of Cabot Cheddar, Californian Monterey Jack, onion and parsley). The Pimento has survived, with its spicy capsicum whomp in-tact. The well-stocked hot sauces are also back, along with little shakers of Japanese shichimi. A nice touch.
Unfortunately, it looks like the triple-cheese Fondue has bitten the dust, replaced by a 'seasonal' toastie that will rotate, depending what's looking funky in the shop. (Fans of the meaty Fondue Special can breathe easy—that's still there). Anthony is also serving up plates of mac & cheese, specialty cheese flights, Ploughman's Lunch and a seasonal soup. Fair warning—I saw the mac n' cheese leaving the pass, and that better be some pretty bloody good mac, because you get about two spoonful's for your $13.
Anthony always said this move was about putting the 'Maker' back into Maker & Monger. The bigger space includes a kitchen and dedicated maturation room, allowing the crew to age cheeses on-site, or whip up bowls of beetroot-infused stracciatelle. It's ambitious and exciting, but I can't help feel that some of the old magic has evaporated. Is that just annoying nostalgia? I don't know, probably. Maker & Monger suddenly feels a lot more 'maker' than 'monger'. Take out the cheese fridge, and this could be any beautifully designed, impeccably branded southside café. All that's missing is the 'Est. 2019'.
It's all academic, really. Maker & Monger is still one of the premier cheese shops in Melbourne, along with Milk The Cow and Brunswick's Harper & Blohm. That hasn't changed. The crowds on opening day suggest we should all be buying shares in cheddar. And the toasties are still worth every penny.
Maybe we just need to give this new shop time to mature. To ripen and funkify. Develop some mouldy, old-school M&M personality. I'll be back next Sunday, hungry for more.
The Details
What: Maker & Monger
When: Opened Friday 21 June
Where: Prahran Market, Commercial Road, Prahran
Keep up to date with the latest new openings around Melbourne on our Food & Drink section.
Image credit: supplied