It's no secret - here at The Urban List we are OBSESSED with burgers. On a daily basis, we're consumed by thoughts of gloriously juicy meat nestled in the middle of a soft burger bun and layered with lettuce, tomato, cheese and an array of sauces. Yep, told you we're obsessed.
So when we were offered the chance to interview Ewart Wardhaugh, head chef at Crown's The Merrywell, we jumped. After all, Ewart is the man behind the Merrywell Burger - a burger so good that numerous sources have named it as Melbourne's best burger!
Want to know the secrets behind the hottest buns in Melbourne? Read on, dear Urban Listers, for we have brought you the making of The Merrywell Burger with Ewart Wardhaugh...
TUL: How did you get into the industry? Did you always want to be a chef?
I started in the business as a 15-year-old when my father got me a job washing dishes at my local pub; he always used to have dinner parties at home and I hugely enjoyed helping him cook the food and from there always wanted to be a chef.

TUL: Where were you working before you came to The Merrywell?
Prior to The Merrywell, I was working in San Francisco with the Morgan's Group Hotels, with stints prior to this at Sandy Lane, Barbados, Wynn Las Vegas and Bellagio Las Vegas.

TUL: So, the signature Merrywell Burger – why do you think it has been so successful?
All of our burgers have been very successful, reason being that they are fresh, cooked to order, 100% beef, served "Pink & Juicy"... all the burgers are fundamentally the same, just different sauces and condiments.

TUL: Can you take us through the steps of making the famous burger?
Making the famous Merrywell Burger, step by step:
Receive a freshly ground burger that same morning
Ensure that you have a searingly hot griddle
Season the burger with a generous helping of salt & black pepper
Place the burger on the hot griddle and with a spatula, press the burger down to form a nice flat, thick burger
Now do not touch for a minute or so, allow the burger to do its thing and form a nice caramelised seared crust
Now flip over and again leave the burger to do its thing on the other side
Now that you have a nice seared burger on both sides, place the caramelised onions and bacon on top along with the cheddar cheese and cover with a lid to enable the burger to cook further and also allow the cheese to melt
At this point, cut your bun and toast on the griddle, placing the bottom half on the plate and the other half on top of the cooking burger
Meanwhile, garnish the bottom of the burger bun with the ketchup, mustard, pickles, lettuce, tomato and special sauce
Now just finish by taking the burger patty along with the trimmings and place on top of the bun bottom with its garnishes
TUL: Are there any other little tips and tricks you employ when making the Merrywell Burger?
Yes, one tip is when you are cutting your buns, ensure that you cut them 3/4 way up the bread, not half way like most cooks do. I do it this way because, with the weight of the burger, you need a good structure to enable you to pick up the burger and eat it; if it was only half way, then the burger weight, along with the sexy juices that ooze out of the burger, would press down the bread and form a thin mushy piece of bun which you wouldn't be able to pick up without it falling apart.

Freshness is a huge key also to getting that nice caramelised crust. Also, don't think too much. Some cooks always want to play around with the patty when it is cooking; leave it alone, let it do its thing. If you play with it too much, there is too much air between the meat and the griddle, which ultimately makes for a less caramelised crust.

Can't be giving away too many more of our secrets!!

TUL: How many Merrywell Burgers do you go through each weekend on average?
On an average week we will use 2,800 burger patties; this is not including our mini Wagyu Burgers. On a busy week, 3,200 burgers.

TUL: What would you suggest as the perfect sides to accompany the Merrywell Burger?
The Merrywell already comes along with a side of chips. This is one of the main reasons why the Merrywell outsells the other burgers – you can't go wrong with a good serving of chips.

TUL: There seems to be a burger obsession sweeping the city at the moment – why do you think Melburnians love this type of food so much?
The burger obsession right now and why the people of Melbourne love this food so much is pretty simple: now most burgers are being made correctly, whereas as in times past, people served burgers more like a meatloaf, with onion, seasonings, breadcrumbs etc in the patty.

A good burger is 100% beef with a good fat ratio, cooked pink, cooked to order, fresh.

TUL: Favourite Melbourne restaurant? (Other than The Merrywell of course).
I wouldn't say I have a favourite – I am always looking for something better than I had before –but I am a creature of habit, so on my day off, I will always go back to Panette cafe (144 Cecil Street) in South Melbourne for my breakfast.

TUL: Favourite bar?
Favourite bar… it's more about the people I am drinking with rather than the bar itself.

TUL: Favourite place for a cup of coffee?
Either Giddiup or St Ali, both in South Melbourne.

TUL: Best way to spend $50 in Melbourne?
Having a beer with the cooks – might be a bit more that $50 though!

TUL: Best way to spend $500 in Melbourne?
Enjoying a good meal at a top restaurant with good company and a good bottle of wine, or two, maybe three…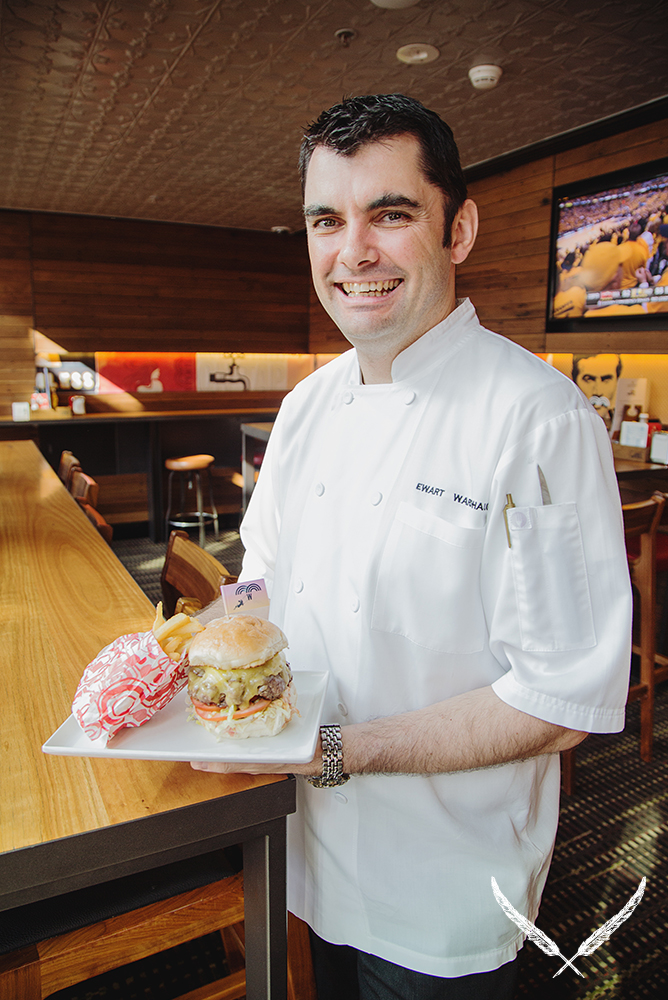 Love burgers? Read more about the best burgers in Melbourne!
Image Credits: Carolyn West, The Urban List.