When it comes to creativity in the kitchen, Melbourne's best cafes are turning out some of the most drool-worthy dishes on our radar. And if there's one ingredient that sums up Melbourne to a tee, it's got to be coffee.
Whether we're soaking our summer fruits in it, glazing our meats with it, or filling our doughnuts with it—coffee is king when it comes to tasty signature dishes. Thanks to Veneziano—one of Melbourne's top roasteries—who supplies some of the best brunch spots in the city with beans. We've rounded up Melbourne's tastiest coffee creations you can order right now. Go get that caffeine hit, people!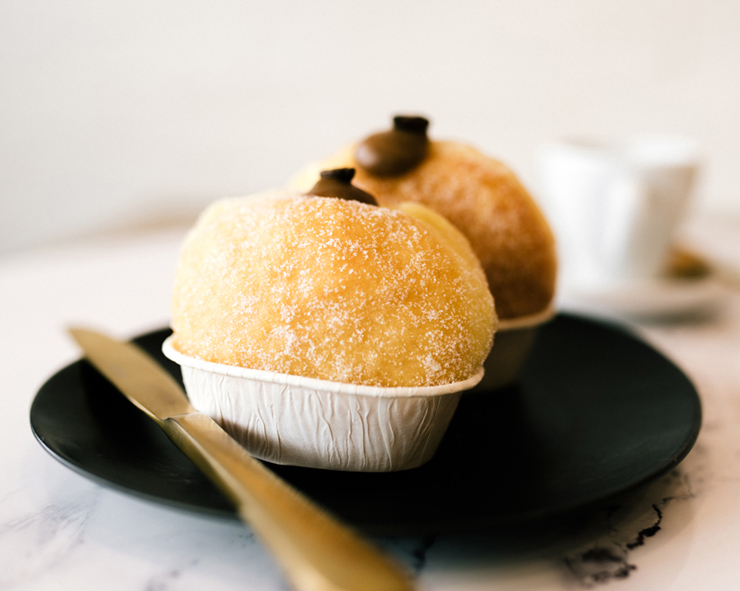 Double Espresso Doughnuts
Le Bakehouse, Brunswick
Brunswick bakery Le Bakehouse serves an epic double espresso doughnut, that comes filled with all the coffee-infused goodness you can muster. Better yet, they'll serve you a Veneziano flat white on the side. The ultimate morning 'pick me up'? We think so!
'Coffee Thyme' Ice Blend
Coco & Thyme, North Fitzroy
North Fitzroy café Coco & Thyme has fast become one of our favourite hot-spots for a filling brekkie or lunch. Thinking well outside of the usual iced latte box, the team here serve a delicious ice blend (imagine a sweet coffee slushie) that's made from Veneziano espresso, avocado, sweetened condensed milk and coconut milk. A cracking choice that's guaranteed to quench your thirst.
Coffee Glazed Bacon Crumpets
CL Cafe & Bakehouse, Surrey Hills
Yes, we're serious. CL Café in Surrey Hills dishes out some of the best breakfasts in the 'burbs, and their coffee glazed bacon served on crumpets with Nutella, saffron Persian floss, and rose petals is one of the most decadent creations there is. Is it cheat day yet?
Espresso Thick Shakes
Son of Tucci, Mount Waverley
Pushing that coffee boat out even further, the team at Son of Tucci have developed a delicious coffee thickshake that's a sweet treat lover's dream. It is the perfect caffeinated cold drink for those of us who are sick of the cold drip takeover. Because coffee should be waaaaay more fun than that.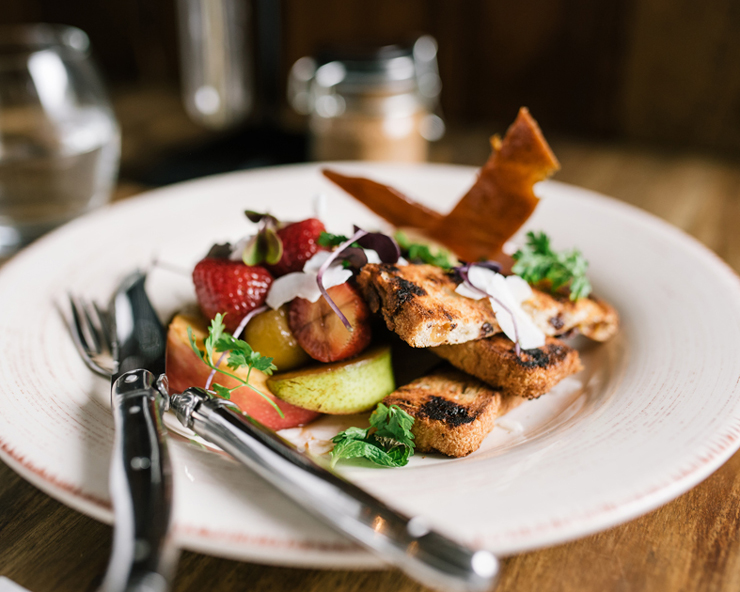 Cold Drip Fruit Salad
The Younger Brother, Ringwood East
Is your healthy streak balking at the mention of baked goods? If so, get your caffeine fix in the form of a cold drip soaked fruit salad at Ringwood's cutest new café—The Younger Brother. These guys are all about mixing the #cleaneating with the #fatfeeds, so if you're still peckish after that super-refreshing summer dish, there's always a slice of tiramisu and a Veneziano espresso to fill that extra gap.
Crispy Pork Belly With Espresso Glaze
Kuaizi Bar, Melbourne CBD
Kuaizi Bar is doing a whole lot of things right, in our opinion, but one of the top dishes on their menu has to be the espresso glazed crispy pork belly. Served with a sour carrot puree and perfectly paired with a Tom Yum Bloody Mary, this is one meat dish you should be ticking off your coffee-lover list, asap.
Coffee Waffles with Truffle Honey
Middletown, Prahran
AKA the most decadent dish in Prahran, Middletown's coffee waffles are the crème de la crème of the coffee dishes on the southside. Served with strawberries, vanilla ice cream and a drizzle of truffle honey, there's no way you'll get away with keeping these all to yourself. Guard them with your life at group brunches.
Espresso French Toast
Vertue Of The Coffee Drink, Carlton
Mascarpone, espresso, pistachio praline, apricot and mandarin all come together in Vertue of the Coffee Drink's incredible espresso French toast. This one is definitely not for the faint-hearted…
Coffee Pikelet Stack With Creme Fraiche & Mandarin
Saint James, Malvern
I know what you're thinking: What the hell is a pikelet stack?! Well, it's basically a pile of freshly cooked pancakes, which you'll find served with a thyme-infused crème fraiche and mandarin topping at Malvern institution Saint James. Hey, I guess you really *do* learn something new every day.
Banana & Walnut Loaf With Coffee Crumb
Auction Rooms, North Melbourne
If you've ever been to Auctions Rooms, you'll know that they don't go halves on anything. Their banana and walnut loaf is the most luxe incarnation of the dessert loaf that you'll find in Melbourne. Topped with coffee crumb, banana yoghurt, and espresso mascarpone, this mouth-watering find is a fab choice for coffee lovers. Um, can we just have a bowl of the coffee crumbs?!
Coffee & Hazelnut Gelato
Messina, various locations
This stuff is as addictive as crack. 'Nuff said.
Editors note: This article is sponsored by Veneziano Coffee Roasters and proudly endorsed by The Urban List. Thank you for supporting the sponsors who make The Urban List possible. Click here for more information on our editorial policy.
Image credit: CL, Le Bakehouse and The Younger Brother by Jess Prince for The Urban List