If there's one thing we know, it's that Victoria is bloody brilliant. But if you've lived here for most of your life (you lucky thing), we'll forgive you for thinking you've seen it all.
Like the famous Great Ocean Road. A classic case of been there, Instagram'd that. And we get it; it's pretty and it's iconic, but us and our feeds are ready for a whole new kind of adventure. Introducing Victoria's mighty Murray Region, aka the ultimate getaway you probably should have done earlier.
And because it's your lucky day, we're about to let you in on a bunch of the best things to do along the Murray River, across three amazing regions that should be right up the top of your bucket list—Swan Hill Region, Sun Country on the Murray and AlburyWodonga.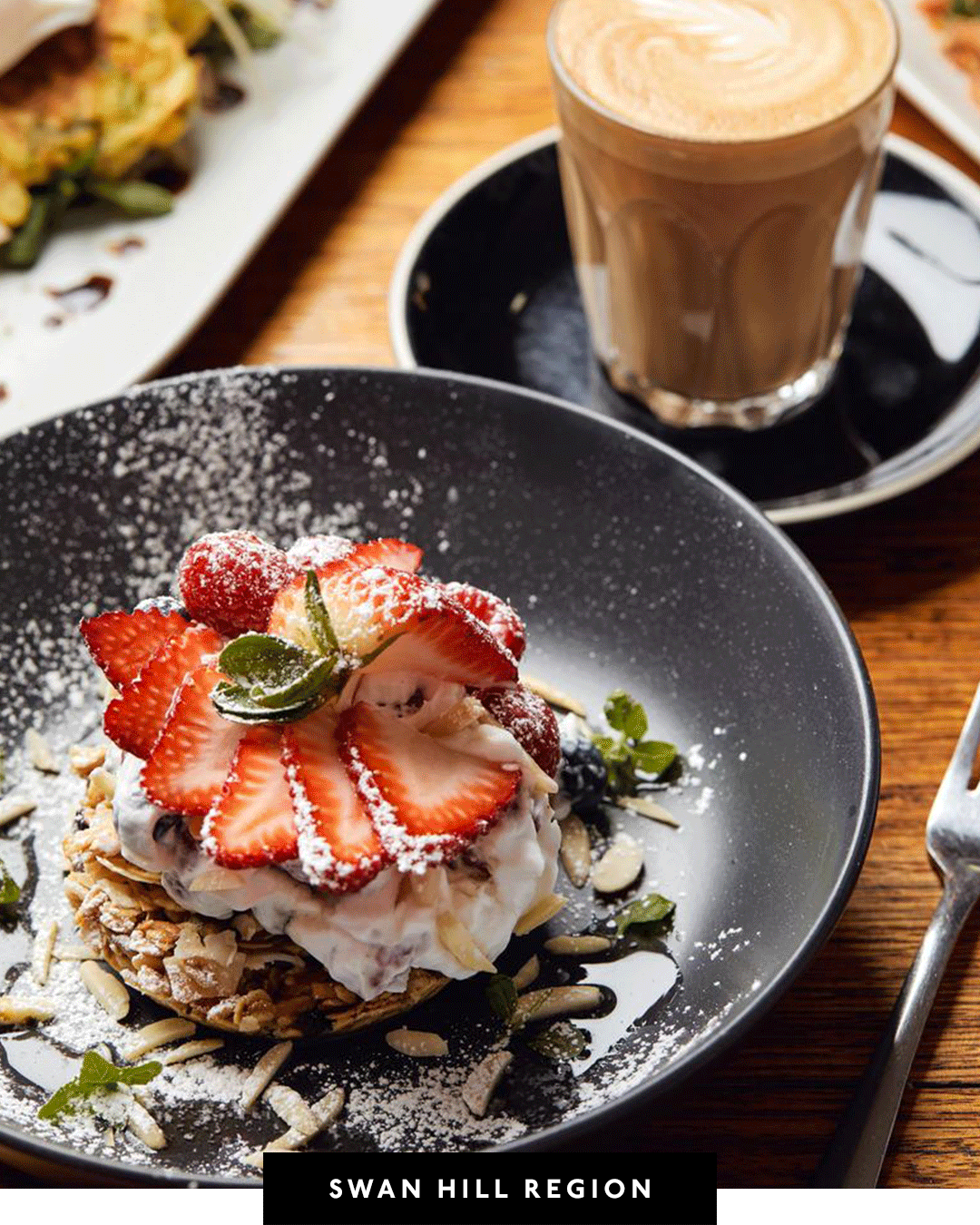 Approximately a three-and-a-half hour drive out of Melbourne (our friends in Sydney have spent longer in traffic) will see you pulling up stumps at this historic yet exciting town. We're talking glamping fit for royalty at the Swan Hill region's epic camping location BIG4 Riverside, premium wine tastings at Andrew Peace Wines and Lake Tyrell, Victoria's largest inland salt lake.
Everybody knows that calories don't count on holiday, and luckily for you and your crew the Swan Hill Region is also home to cute and cosy brunch cafes like Boo's Place Café and Provedore, boasting the best and freshest local produce going around.
If the outdoors are more your flavour, lunch out on the deck alongside the Little Murray River at Spoons Riverside, or check in for a night-time multi-media light shows at the Pioneer Settlement to make the most of the Murray River locale. The Swan Hill Region has a Mediterranean climate with temperatures ranging between 20 to 28 degrees erryday—permission to stay longer granted.
For a more in-depth hitlist, head here.

Ahhh yes Sun Country on the Murray, the kind of place that sounds like it'll wrap you up with a big warm blanket and incubate your cold soul. Well, you're not wrong.
If you're unfamiliar with Sun Country on the Murray, all you need to know is that it's a collection of towns along Victoria's side of the Murray River, brimming with picturesque national parks, the best cider you will ever taste and Victoria's largest inland beach. Yes, really. There's a huge chance that Thompsons Beach is something you've seen in your dreams, an idyllic getaway spot that you'll never want to leave.
Make sure you allow time to kayak at Barmah National Park and of course, eating your way through the delectable region. To ensure you do Sun Country on the Murray right, we recommend losing yourself in the roasted onion olive oil at Rich Glen Olive Oil Estate. Drizzle it on everything. Trust us when we say you'll only find the freshest and best local produce any which way you turn. Basically, if it's locally made, try it.
For a more in-depth hitlist, head here.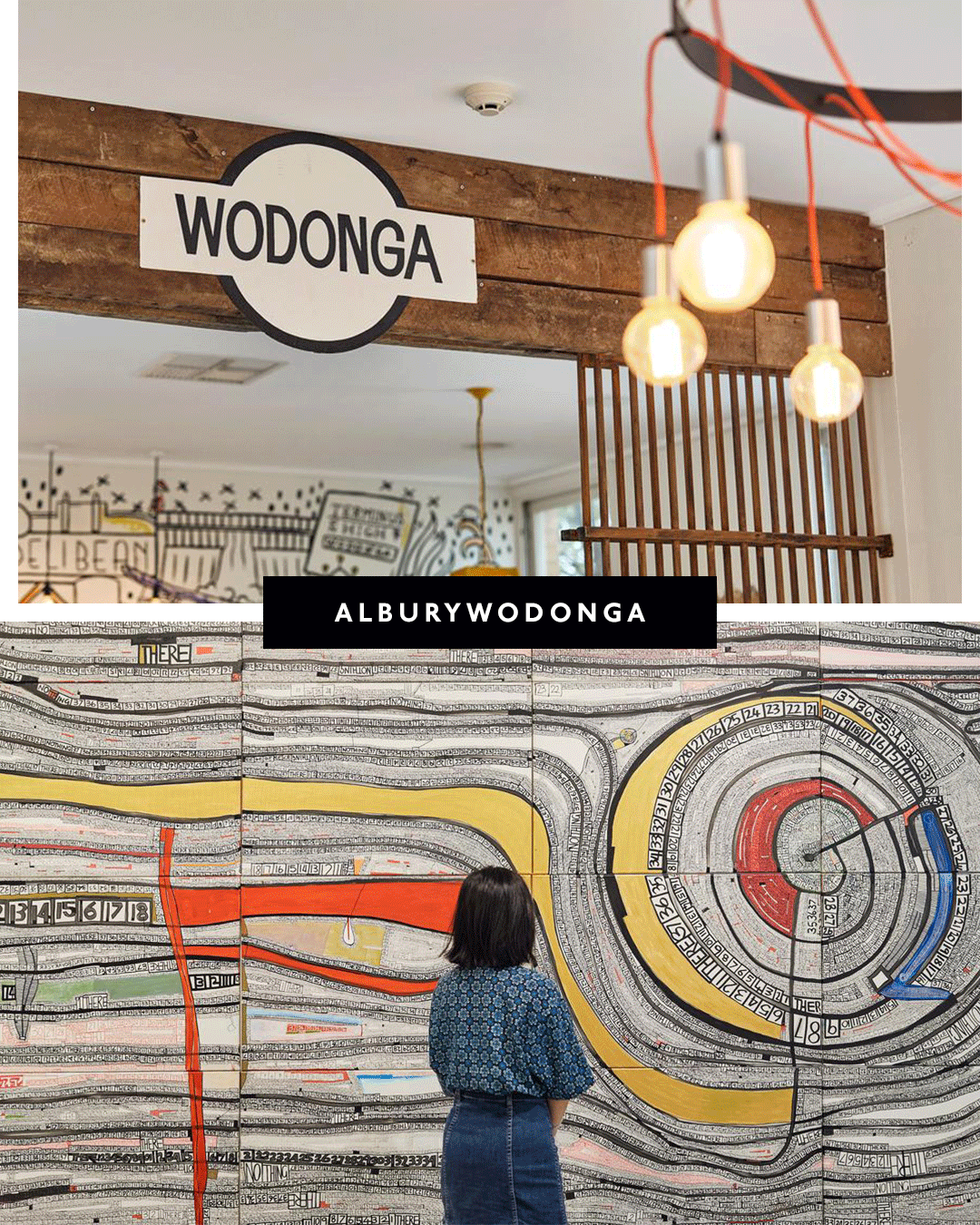 Lastly and sure as hell not least, we've got the twin cities of AlburyWodonga. Believe it or not, in just 3 hours you'll wind up at the bordering cities connecting VIC with NSW. Definitely one of the most unique locations within our state, AlburyWodonga will find its way into your heart with its assortment of contemporary eateries. Food and wine, people - need we say more?
Wodonga's Junction Square is the apex of all that is trendy and tasty in the region, with restaurants ranging from full-sophistication located in Wodonga's historic railway station turned eating precinct, to trendy street-style kitchens in shipping containers.
The up-cycled former train station is a must-visit for hungry bellies with Bean Station, Miss Amelie and The Goods Shed churning out solid feeds on the daily. And if you're after a side of culture with your avo toast you're in luck, these neighbouring towns are a hotbed for the arts; be sure to head down to the Murray Art Museum Albury (MAMA) for your fix.
For a more in-depth hitlist, head here.
Editor's note: This article is sponsored by Murray Region Tourism Body and proudly endorsed by The Urban List. Thank you for supporting the sponsors who make The Urban List possible. Click here for more information on our editorial policy.