Melbourne is no stranger to a foodie fad (or seven) but there's one cuisine that's been growing for some time now. It's gained a shiny reputation for not only being finger lickin' good food, but also more than just a fad. We're talking South American food. More specifically, Pablo Honey's take on South American food.
We know we're painting in broad brushstrokes – South America is pretty massive after all, with a tonne of different cuisines built into it. But as a whole, it's ticking a heap of our boxes.
#1 The Flavours
Now, we know there are going to be a heap of purists out there that have a really clear idea what is (and is NOT) *true* South American food. But we care not for traditional restrictions; we only care for really, freaking delicious food. And to find it is our mission in life. Pablo Honey have pulled together all the best bits of South American cuisine – the meats, spices, seafood and love of any kind of smoky flavour, to dish up the mother of all flavour-bomb filled menus.
We kicked things off with cold smoked salmon, paired with plum, tomato and whipped manchego—an unlikely combination at first glance, but hooly-dooley did the flavours compliment each other.
We also tucked into the chargrilled squid and chorizo. South Americans know their way around a seafood dish, and this one had us cleaning our plate for every last morsel. Pablo Honey have cleverly paired the fresh seafood and flavour-filled chorizo with pickled onions, smoked chilli and chicharron, and we challenge you to find a better combination of flavours on one plate.
For larger plates, we delved into the meaty side of things. In Argentina, they really know their way around their barbecue, and Pablo Honey has well and truly embraced this. For a hearty dish to share, it's impossible to go past the chargrilled beef Tri-Tip, which is has got a little melt-in-your-mouth situation going on, and comes served with chimichurri, roasted heirloom tomato salad and a divine smoked chilli romesco.
If you're up for something rich, the wood-roasted bone marrow is unlike anything else we've tried, and comes with piquillo peppers and charred rye toast.
Leave room for dessert though: the chocolate chilli is every sweet tooth's wildest dream. It's Oaxaca sponge, served with roasted chocolate gel, and frankly we'd be happy if we had to just live on that for the rest of our lives.
#2 The Dranks
Other than South American, name a cuisine that has drinks as good as its food? Nothing? Didn't think so. Pablo Honey has totally NAILED South American on the drinks front, with a heap of specialty tequilas that completely erased our guilt-tinged, early-twenties memories. With everything from $10 to $200 a shot, there's something for all budgets, and the cocktails are a smooth mix of flavours we haven't managed to find anywhere else.
We've got a few stand-out favourites, but you'll be safe with anything from the menu. The Red Hot Chilli Pepper is a lip-smacking combination of lemongrass and chilli-infused tequila, combined with vanilla liqueur and ginger beer. Top that off with a cinnamon float and you can serve us ten.
If you're an espresso martini fan (that's all of us, right?!) you're going to fall head over heels for Pablo's version. Its got a hint of chocolate, with a chilli bite at the end.
#3 The Share-ability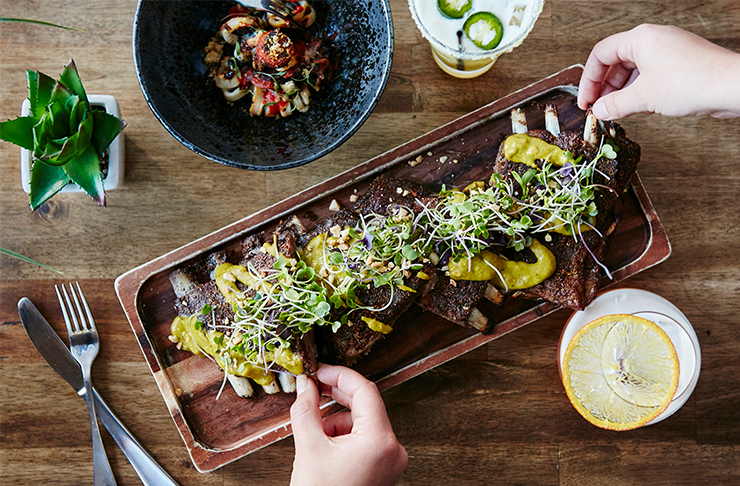 Food is about family and friends, and this is something that South Americans have totally got locked down. Embracing this, Pablo Honey has designed its menu as something that you eat with your, hands, pull apart, order plenty of different dishes and share with all your nearest and dearest. The menu at Pablo Honey is split into small share plate, large share plates, desserts and a dedicated late menu (which we highly recommend hitting-up when you need a late-night refuel).
Editor's note: This article is sponsored by Pablo Honey. Thank you for supporting the sponsors who make The Urban List possible. For more information on our editorial policy, please click here.
Image credit: Michelle Jarni for The Uraban List