Kaff-eine is a Melbourne artist who needs no introduction. At the very least, if you're not familiar with her work, you'll recognise her distinctive style on the side of the Rosebery silo as part of the Silo Art Trail.
Kaff-eine's life experience differs greatly from most street artists you'll find plying their trade around Melbourne, with a background as an equestrian instructor, tree-lopper, public servant, and lawyer, it wasn't in 2012 that she ditched the office attire and concentrated on her art. She now has murals on public walls all around the world.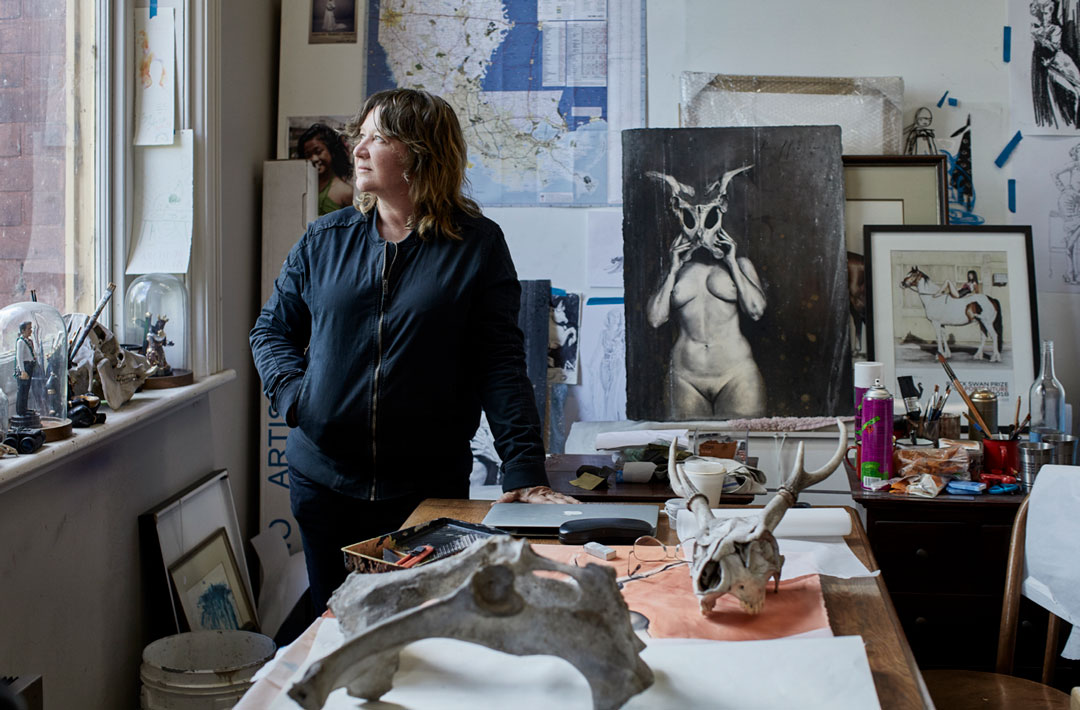 Southern Wild, held in Kensington, is Kaff-eine's latest show, and it's been causing a bit of buzz around town. Facebook and Instagram have deemed her paintings as a touch too spicy and have been continually dropping the ban-hammer on her accounts since she started promoting the show.
Opening on Wednesday 11 December, Southern Wild is being held in a massive warehouse space in the base of the heritage-listed Younghusband Woolstore in Kensington.
The paintings reflect a range of genders, sexualities, desires and body types, including portraits of queer and transgender models. The art celebrates these bodies, and many of the subjects who posed for Kaff-eine have found the art and process to be liberating for them.
"I wanted to see what would happen when people created their own deerhunters," said the artist, "each model chose their own props to bring to the session and posed as they liked. It meant that I never knew in advance what the portrait would look like, nor was I able to shape the tone of the exhibition, but I loved it."
The space that the artworks are displayed in is beautifully lit, and slightly eerie, but it's when you get up close and person with the art that you really appreciate its beauty. Kaff-eine has used watercolour, charcoal, and spray paint to create these photo-realistic figures that gives a beautiful earthiness to each piece.
The works feature hooves in place of the subject's feet and animal skulls in the place of their heads.
"I used to graffiti deerhunters and similar characters in abandoned abattoirs and meatworks—the balance between the hunters, the hunted and what the world would look like with these identities flipped has always fascinated me. Then I found Tallows, which was an animal processing facility in the Victorian-era, and I knew this was where I had to have this show" said the artist.
As part of the exhibition, there will be a special midnight viewing to coincide with the full moon on Saturday 14 December, running from 11pm to 1am.
The Details
What: Southern Wild, a solo exhibition by Kaff-eine
When: Wednesday 11 December to Sunday 15 December
Where: Tallows, 12 Elizabeth Street, Kensington
For more information, head to kaff-eine.com.
Need to hook more art into your veins? Check out our rundown of the best exhibitions happening in Melbourne right now.
Image credit: Annika Kafcaloudis