It feels like The Kettle Black has been a Melbourne breakfast institution since the day it opened its doors to the world in 2014. Brought to us by the same team behind Richmond's Top Paddock, today, the venue is as golden as ever. And best of all, still bringing us foodie news in 2020.
Among many things, the South Melbourne cafe is beloved for its delectable all-day menu which features the regular suspects, in anything but the regular fashion. Think their seasonal breakfast avocado or their chilli scrambled eggs.
The white-walled space has a contemporary feel, adorned with marble, brass and a pop of pea green all throughout the venue. Its aesthetics alone are reason enough to stay a while. It's the kind of place where you'll come for breakfast, stay for the vibes and keep the coffees coming soon after.
Deciding what to pick from The Kettle Black menu is never an easy feat, but if one thing's for sure, there's never a bad time to go to The Kettle Black - they do have all-day breakfast cocktails on offer, after all.
Among their numerous, iconic dishes which they've pumped out over the years, staying true to form, The Kettle Black is closing out this year with a bang — bringing us a brand new and might we add, oh-so-good addition to their menu.
The new addition is a brand new celebratory dish which highlights the release of Connoisseur's new Plant Based ice cream range. To rise to the occasion, they've teamed up with The Kettle Black to plate up a one-off, plant based creation. And it's a must-order.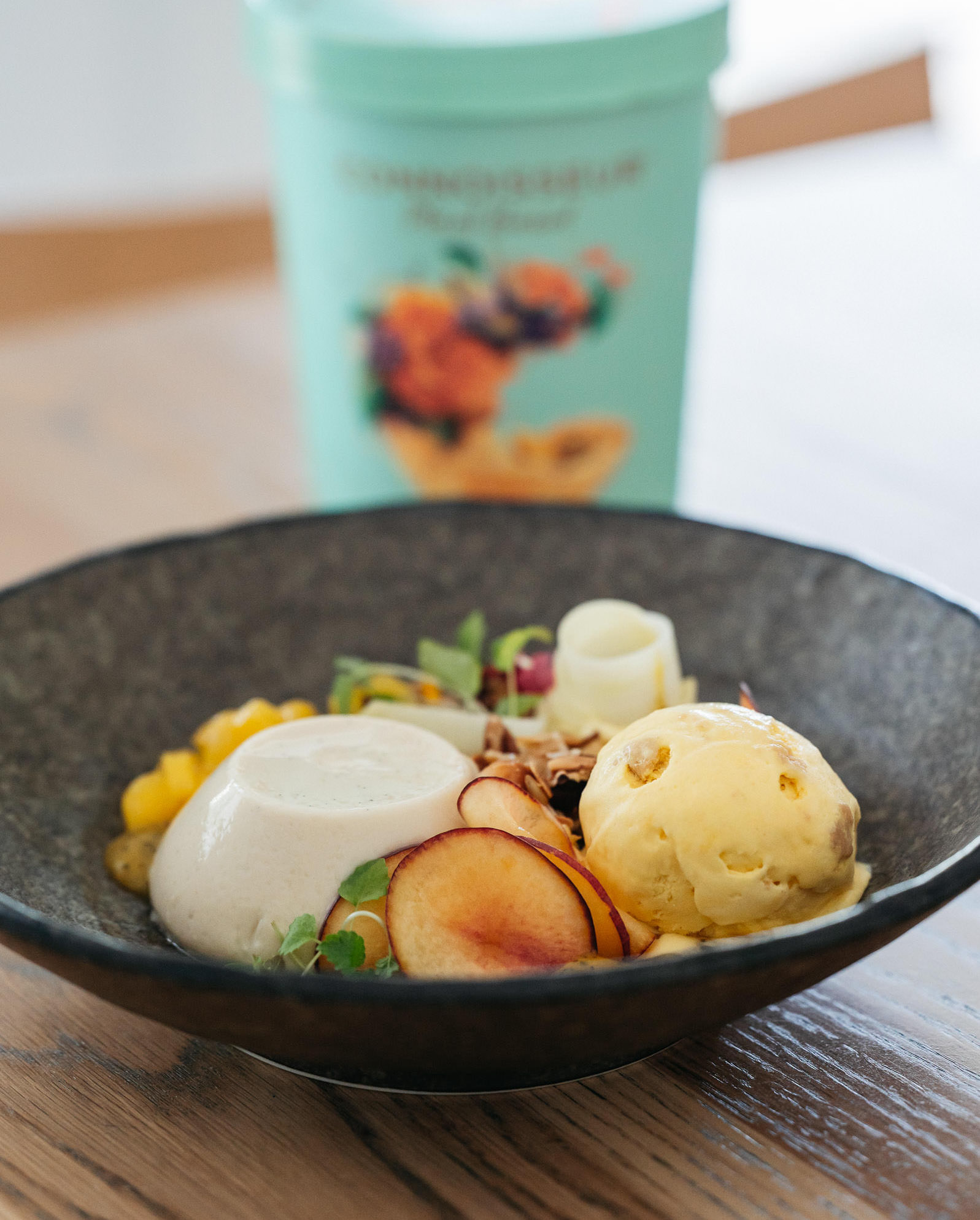 So what exactly is in the dish? On the plate you'll find a vegan, coconut and kaffir lime panna cotta with sprinkles of oat and macadamia muesli, a scoop of Connoisseur Plant Based Mango Passionfruit Oat Cookie ice cream and drippings of passion fruit coulis.
A perfect balancing act, the dish blurs the lines between breakfast and dessert. And while you're too busy wondering whether you're having breakfast for dessert, or dessert for breakfast, you won't even realise that you've gone full vegan.
The Connoisseur collab is only available until December 31 and definitely comes in as a top pick for when you feel like going for something sweet... and only a little bit naughty. The pairing of the oats and fresh fruit make it perfect for a breakfast feed, but when that afternoon snack craving kicks in, pulling up to The Kettle Black for it won't go astray either.
While yes, the ice cream is plant based, that doesn't mean that it sacrifices on the creaminess that we all love ice-cream for. The subtle nuttiness of the oat cookie ice cream pairs perfectly with the tanginess of the panna cotta, all tied together with the passionfruit coulis. And to top it all off, there's fresh mango and stone fruit, which do so much more than just embellish the plate.
Whatever you choose to order, make sure you grab a coffee (or a cocktail) to round out your meal, kick back with their top-notch tunes and above all, enjoy your stay.
Editor's note: This article is proudly sponsored by Connoisseur and endorsed by Urban List. Thank you for supporting the sponsors who make Urban List possible. Click here for more information on our editorial policy.