There are two human reactions when faced with a new speakeasy.
Some people lose their proverbial: they can't wait to find the secret entrance and begin a tactical humblebrag campaign. Other people roll their eyes and groan, like you just announced Melbourne's getting a new dog-casino-cum-organic-jaffle-accountant (patent pending).
We won't keep you in suspense: we really like speakeasies. We really, really just really enjoy speakeasies.
Who cares if they're a bit naff, if alcohol has been perfectly legal since 1933, if the bar has a website and an address on Google? It's a hidden bar guys. It's a bar that doesn't want you to know it's a bar. It's the alcoholic equivalent of building a hidden passage behind your bookshelf or cutting the eyes out of paintings.
If you haven't guessed already, we just found a new Melbourne speakeasy. It's called The Store Room, and it's hiding underneath the Icon Building on St Kilda Rd (you know, the blocky one that suggests the architect got a lot of design input from their five-year-old).
Like all speakeasies, the fun begins before you even step inside the bar. You have to find the bloody thing first. Here's how to do it: see that glass partition next to the Icon Cafe? With the old 80s telephone sitting on a plinth? Yeah, push the number '2' on that. The wall in front of you will slide open like a portal to another dimension. A dimension with lots of booze.
Congrats! You just found The Store Room.
It's called The Store Room because former barber Chris Dunkley was actually using it as a store room for a while. The original idea was a hairdresser, but that didn't quite work out. So the space became a dead-end, stacked with boxes, colonized by spiders, unloved and forgotten. Until Chris thought, 'You know what? A bar would be way more fun.'
The fit-out suggests Chris really knows his op-shops. It's vintage kitsch with the dial cranked to 11: baroque mirrors on the walls, old suitcases, surfboards, bi-planes and other curios hanging from the ceiling, Singer sewing machines trapped behind wire mesh. Luke Skinner from Psss Projects handled the design.
The whole place is underlit with purple and blue LEDs and flickering candlelight. If someone turned The Room Of Requirement into a bar, it'd look a bit like this place.
And don't let the playful vibes (or the giant, soulless apartment block) fool you: this is a drinker's bar. By which we mean they really know their spirits. Head Bar Tender Madiline Loungran has curated a whip-smart cellar. Boutique gins and whisky are the prime suspects, but there's also a few bottles of Agave on the menu (Trombo Reposado, Decada and Bruxo Mezcal), plus spiced rum and small batch wine.
There's no kitchen at the moment per say. You'll have to make do with little alco-soaking jaffles, or platters of Fino salami, bell peppers and aged prosciutto. They're also slinging some interesting cheeses—the Berry Creek Riverina buffalo caught our eye. Load up a plate with some figs, grapes and crackers and go nuts. If you need a proper feed, you can always wander down Fitzroy St to Supernormal Canteen or Mrs Hopper for a post-drink nosh.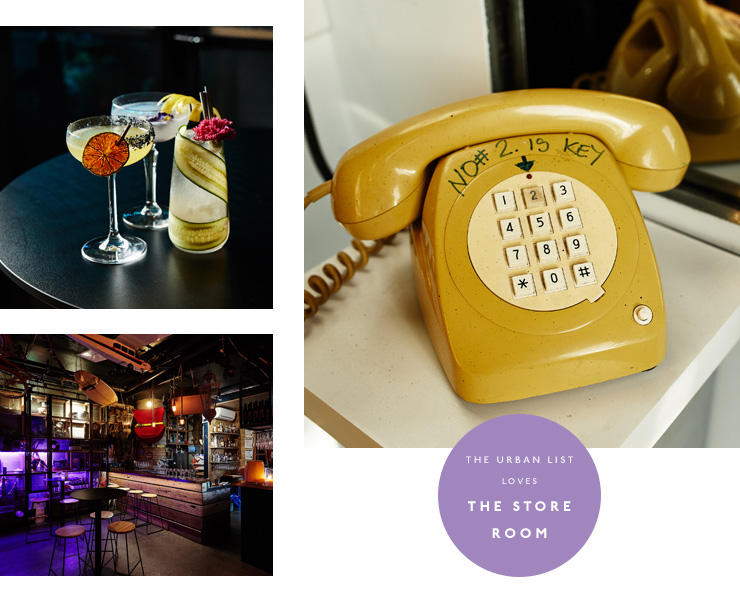 It gets better, too. Chris and the team are running monthly poker nights, including tunes and booze, with all the proceeds going to charity (seriously, why don't more bars start doing this? Cracking idea). Keep an eye on their social channels for upcoming dates and times.
The thing no-one ever admits about Speakeasies is this: you can't hang your hat on the secret entrance. The bar inside actually has to be good. Otherwise you've just built a very elaborate wine cellar.
The Store Room ticks that box and then some. Chris and the team have created that rarest of Melbourne experiences: something you want to do more than once.
Looks like the secret's out.
Want to learn more about The Store Room? Check out our Directory page.
Image credit: Griffin Simm