Glen Waverley's Kingsway has gotta be one of the most underrated foodie strips in Melbourne. Where else can you get freshly hacked BBQ char siu, crispy-fried pork and prawn dumplings, smothered in chilli oil and black vinegar, AND cutting edge cafe cuisine, all within easy reach?
Glennie's always been pretty good at the first two (the dumpling game here is strong). But there was a time when the Kingsway cafe scene was dominated by Gloria Jeans—don't judge, those caramel-topped iced chocs were fierce.
Fair to say the days of stale muffins and 'Grande Lattes' are long gone. House prices have skyrocketed, and the trendsters have moved in. And none more trendy than Kingsway's newest resident, White Mojo Plus+.
This is the third instalment in the White Mojo empire, the first two being runaway success stories in Balwyn and the CBD. Now it's Glen Waverley's turn to try off-beat creations like the Croissant Burger: a buttered croissant stuffed with crispy soft-shelled crab, smoked eel, chipotle mayo, pickled cucumber, chorizo crumb and a fried egg (we think our left artery just clanged shut).
The Croissant Burger is a good example of the kind of zany, Insta-porn stuff that forged the White Mojo rep. 'Play it safe' isn't really in the group's vocab.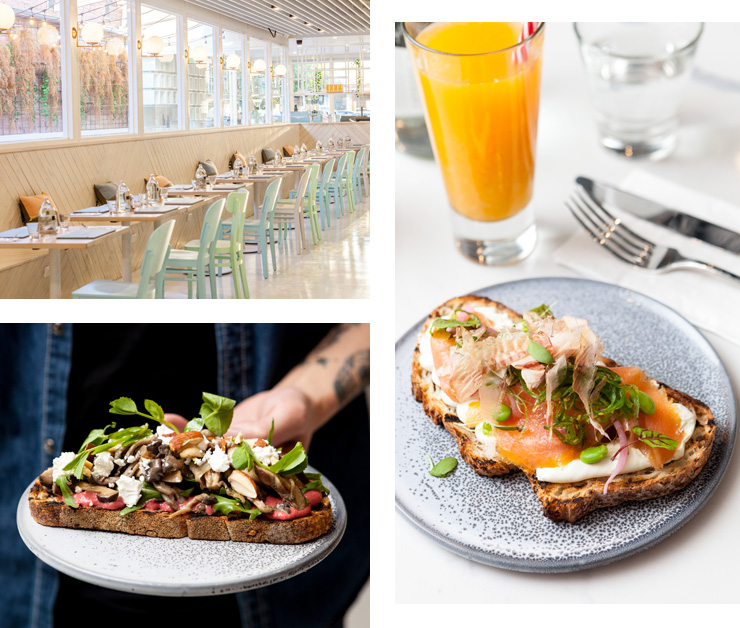 So how does Plus+ stack up to its White Mojo siblings?
For one thing, it's open later. This is an all-day diner, pumping out dinner until 11pm. And it's got a drinks list to match—by-the-glass bubbles like King Valley Prosecco, or white wines from the Margaret River, Marlborough and the Barossa. There's also a surprisingly well-stocked cellar of local and international whisky (nice to see Starward single malt making an appearance), plus craft beer, vodka, gin and tequila. Enough booze to keep Saturday night buzzing.
White Mojo Plus+ is also a little more ambitious than its sisters. There's a coffee roastery on-site, caged in a glass cube, so you can see the machine at work. There's an in-house toast bar too, running till 10am, where you can get chef'd-up creations like whipped smoked eel butter, organic honey and black lava salt on sourdough, or burnt brioche topped with fresh strawberries, housemade granola and vanilla ricotta. Butter and vegemite, this thing ain't.
The brunch menu runs until 4pm on weekends, which is a nice touch. There's a few White Mojo classics on there, as well as fresh faces like the Mad Mojo Waffle (deep breath here): peanut butter snow and semifreddo, passionfruit curd, raspberry gel, freeze-dried and fresh fruit, vanilla ricotta, black sesame paste and an ink waffle cone, all loaded on two buttery homemade Belgian waffles. Phew.
Carb-loaders should make a bee-line towards the Chicken Croque Monsieur (roast chook, Dijon, béchamel, Swiss cheese and caramelised onion). Should you whack on a fried egg and upgrade to a 'Madame'? Yes—yes you should. For a guilt-free alternative, check out the Green Goddess: diced av', green pea and edamame mash, cherry tomatoes, feta, chickpea dukkah and a poached egg, drizzled with sweet pomegranate molasses.
The fit-out is classic Melbourne light. Easy on the industrial aesthetical, heavy on the mint pastel colour scheme, hanging Edison bulbs, white marble and ghost-grey timber. There's a big communal table inside (perfect for Saturday paper-reading), but the highlight is the al fresco courtyard. A long deck space, dressed in hanging plants, beneath a retractable roof that just cries out for Summer bevvies.
The cafe was absolutely buzzing when we dropped in for a stickybeak, so you can expect a short wait on tables during the weekend rush. For serious brunch addicts though, the wait will be well worth it.
Plonk yourself down near the lion's head fountain and order up a signature vegan 'black latte', kick back and soak up the Mojo.
Want all the White Mojo deets? Step right this way.
Image credit: White Mojo Plus+