Hey Mum and Dad, what have you got planned for your kids these winter school holidays in Melbourne? Zilch? Zero? Absolutely nada?
Never fear, there are heaps of things to do these school holidays in Melbourne, with everything from themed high teas and kiddie music festivals to zoo sleepovers making it onto our list. Oh, and we've also thrown in a few things that won't bore you parents to absolute tears (there's only so many craft workshops an adult can take!)
So, without further ado, here's a list of the best school holidays activities in Melbourne, plus a few out of town events that are well worth the car ride.
Clip 'N Climb | Richmond
One day into the school holidays and the kids are already climbing the walls? Scoop 'em up and take them to Clip 'N Climb, the newest adventure centre to hit Melbourne. It isn't your usual indoor rock-climbing centre here, no siree! Clip 'N Climb boasts 33 unique and challenging climbs for kids (and their parents!) to tackle, as well as the Leap of Faith and a vertical drop slide. On Thursday the 10th of July, Clip 'N Climb will celebrate school holidays with Onesie Day, inviting all ages to climb into their most fabulous all-in-one and scale the walls.
Melbourne Zoo | Parkville
So, you have a budding zoologist on your hands? Melbourne Zoo's school holiday program, Kids Go Wild, will give all Bindis and Bobs a behind-the-scenes view of zoo life, with heaps of activities, games and up-close animal encounters to keep them busy. The day-long program runs from 8:30am 'til 3:30pm every weekday during the school holidays, making it perfect for working parents!
If you kid is more PI than zoologist, they're sure to enjoy Go Undercover, a clue-driven, educational tour of Melbourne Zoo. Kids will be given clue cards and taken on a wild journey through the different enclosures, all the while learning about orangutan habitat preservation. Fun and socially responsible, big tick!
Werribee Open Range Zoo | Werribee
These school holidays, let your wild child run free at Werribee Open Range Zoo's Wild Nights. Little kids (and big ones too!) can explore the zoo as it comes to life after dark with thrilling fire shows, animal encounters, marshmallow toasting and a whooole lot more! Those looking to keep the night going can stay overnight at the Slumber Safari Camp, complete with luxurious tents and electric blankets (now that's what we call camping!).
Healesville Sanctuary | Healesville
Pop on your woollies and head to Healesville Sanctuary to play in the snow! Okay, so this snow may be faux, but heck, that doesn't mean you can't make a snowball or two. The sanctuary's Ice Queen will also be there to teach kids how animals keep warm when the temperature drops to sub-zero. Educational and fun, it's the ultimate school holiday activity!
Dinosaur Adventures | Caulfield
Is your kid a dinosaur enthusiast? Well, have we got the school holiday activity for them! From the 21st of June 'til the 20th of July, the Caulfield Racecourse will host Dinosaur Adventures, an interactive exhibition that recreates a prehistoric world full of roaming, life-size moving dinosaurs. Apart from the amazing animatronics show, kids also have the chance to become a Palaeontologist for the day, and are given their own digger uniform and a fossil to chip away at. There will be lots of other prehistoric activities for your little ones to partake in, including dinosaur sand art, a dinosaur library, fossil displays, dinosaur inflatable activity-lands and dinosaur sand pit!
High Tea at The Windsor | Melbourne CBD
During the school holidays, The Windsor is offering its famous high tea at the same cost as your child's age. So, if your little tucker is three, you'll only have to pay a measly $3! Unfortunately the same pricing system doesn't apply to adult tickets (if only, if only!), but it sure as heck is a cheap way to enjoy some tea and petite fours with your little sweetie.
Mr. Men Little Miss High Tea | Southbank
Can't get enough of the ol' high tea? Neither can we! The Mr. Men Little Miss Children's High Tea at The Langham is another great school holiday activity in Melbourne. The afternoon's treats are character-themed, meaning you can tuck into Little Miss Sunshine honey joys, Mr Messy fairy floss cupcakes, Little Miss Dotti fairy bread... Deeeelicious!
Bayside Lego Fan Expo | Moorabbin
Australia's leading Lego masters (yep, it's a thing) are descending on Kingston City Hall for the Bayside Lego Fan Expo, running from the 11th 'til the 13th of July. Organised by the plastic block-mad folks at Inside the Brick, the expo will feature huge city and train layouts, spaceships and ninja creations…now is that cool, or is that cool? There'll also be an activity area where mini masters can play.
Australian Shark and Ray Centre | Dandenong South
Is your kid being particularly pesky these school holidays? Feed them to the sharks! Just joking…The Australian Shark and Ray Centre's creatures are particularly friendly, and we're sure heaps of kids would jump at the chance to get up and personal with Gigantor, a three-metre long, 150kg Tawny Nurse.

Image credit: Queen Victoria Market.
Queen Victoria Market | Melbourne CBD
From hands-on worm workshops to scavenger hunts through the marketplace, there are heaps of things to keep kids entertained (and well fed!) at the Queen Victoria Market these winter school holidays in Melbourne. Make sure you also check out the Itty Bitty Book Van, a travelling children's bookshop, for their exciting story telling sessions.
Medibank Icehouse | Melbourne CBD
Get frozen (in the best way possible) these winter school holidays at Medibank Icehouse. From the 30th of June 'til the 13th of July, the Icehouse is hosting Winter Skate Festival with a fun Disney Frozen theme. There will be a variety of exciting family-friendly activities and shows on offer, including Frozen performers, Olaf snowman building and 'Let It Go' karaoke competitions.
Princess for a Day | Elsternwick
All little girls are cordially invited to attend Princess For a Day at Rippon Lea House and Gardens these school holidays. Running as part of the Love, Desire & Riches exhibition, the morning sessions will include special crafty activities for little royals. Come dressed up as a princess and win a prize! The ultimate school holiday fun for your little princess.
Creative Kids After School Club | Docklands
Want to 3D print your own superhero figurine? Ummm, of course you do! At the Creative Kids After School Club you can do just that, plus a whole lot more. Held in the Makerspace at the new Library at The Dock, the session will teach kiddies how to make their own figurines, create jewellery, design games, get crafty with paper, comics and more!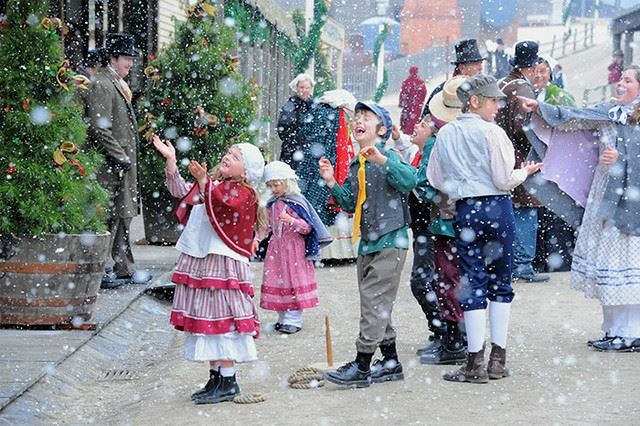 Image credit: Sovereign Hill Facebook.
Christmas in July | Sovereign Hill
Celebrate Christmas in July these winter school holidays at Sovereign Hill. There'll be heaps of hands-on activities for kiddies, including gingerbread decorating and angel making, as well as a full theatre program. The team behind Melbourne's White Night will put on a dazzling Christmas light show each night, transforming Main Street with grand-scale projections and spectacular lights.
Kryal Castle | Leigh Creek
These winter school holidays, kids can come face to face with dragons at the new and improved Kryal Castel Medieval Theme Park and Resort. As part of the Carnival of Kryal's Dragons, kids can learn the myths and legends of the medieval creatures, watch the daily duel of the dragon families at the jousting arena and wander through the dragon egg garden. Perfect for parents who are also GoT fans.
Fun4Kids Festival | Warrnambool
Heading away for the school holidays? Make sure you check out Warrnambool's Fun4Kids Festival, running from today until the 6th of July. Australia's biggest and best kid's festival, Fun4Kids will welcome internationally renowned performers Justice Crew, Jai Waetford and Taylor Henderson (we're already fan-girling!). Other activities include cooking classes, an animal nursery, ten pin bowling and heaps more.
Flagstaff Hill Maritime Village | Warrnambool
Flagstaff Hill Maritime Village boasts Australia's richest shipwreck collection in an 1870s-style village overlooking the bay. There are heaps of school holiday activities on, including cooking classes, jewellery making, quilling and other 19th century-style activities. Stay 'til dusk to check out the Shipwreck Sound and Laser Show, an epic depiction of one of Australia's most infamous maritime disasters. Kids, present your Fun4Kids ticket to get in for free!
Tower Hill | Warrnambool
Tower Hill, nestled inside a dormant volcano just west of Warrnambool, is one of the most fascinating geological formations in Victoria. Experienced guides lead daily tours, sharing their knowledge about the volcano, indigenous lifestyles, wildlife and flora. You and your kids can see native animals (there are heaps of kangaroos hopping around!), learn all about bush tucker, take a lesson in boomerang throwing and gain an understanding of the rich local Aboriginal heritage.



Flagstaff Hill
Consider yourselves warned – with such awesome activities on offer this winter school holidays, you're mini me's won't ever want to return.