Created in direct collaboration with Third Drawer Down and British visual artist David Shrigley, the Third Drawer Down X David Shrigley General Store concept store is about to become your new favourite place to be.
Exuding David Shrigley's wry sense of humour, the pop-up store will display the latest products made in collaboration with Third Drawer Down, including an exclusive range of t-shirts, a reusable shopper, and a black Ridiculous Inflatable Swan-Thing, the latest version of the original white swan which made a major splash globally because it looks—you guessed it—ridiculous.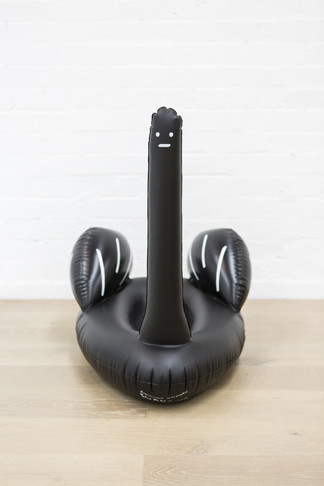 Third Drawer Down is also giving away a giant 2.5-metre Giant Ridiculous Inflatable White Swan-Thing on their Instagram, so you'll want to get your hands on it ASAP. (We'd use it as a wacky avant-garde decoration piece if we were you.)
Launching on Thursday 16 May wrapping up on Sunday 16 June in Melbourne at the Third Drawer Down flagship store in Fitzroy, the concept store is scheduled to pop-up all over the globe, in London, Tokyo, New York, and more.
The white Swan-thing recently went viral on social media, so get it on the hype while you can.
The Details
What: Third Drawer Down X David Shrigley General Store
When: Thursday 16 May until Sunday 16 June
Where: Third Drawer Down, 93 George St, Fitzroy
For more info, click here.
Looking for more Ridiculous Inflatable Swan-thing-related reads? Head over to our Style & Design section.
Image credit: supplied