From your most carnivorous connoisseur to your off-duty model, anyone with a mouthful of tastebuds will agree that the ultimate culinary delight is not something that Heston Blumenthal fashioned from a hosepipe and a smear of horseradish, it's that of the humble burger.

Burger from Badger vs Hawk, photography by Katie Wilton.

Though Americans will maintain the burger is their specialty (I hear a chorus of waistlines in concurrence), you can't go two cafes down in this town without finding a wagyu pattie and a speckled sesame bun on the menu, clearly showing the demand for hot beef and buns are at an all time high. By logical extension, there's nothing less than an A+ expected when it comes to the burger sum.

However, if everyone gets it right, who does it best? Where can I get a burger that is perfectly suited to my needs? Where can I get brioche, beets and blue cheese? How do I eat a burger without getting aioli in my beard? Wah-lah, come forth and enter The Burger Book.

The project of creative trio, Katie Wilton, Grace West and Ethan Jenkins, The Burger Book is the culmination of endless hours of hard work chowing down, waxing lyrical and snapshotting everyone's favourite carbo-combo citywide to bring you everything you ever needed or wanted to know about Melbourne's extensive burger scene. In 250 pages of glossy, literary perfection, they've amassed burger shop histories, stories from owners, categorised burgers depending on your mood, and they even got a foreword from the Grill'd tycoon and future Australian Prime Minister, Simon Crowe. It's the only burger book of its kind in Australia, and a slam-dunking triumph from a group of first time publishers.

We chatted to the author Ethan about the release of the book and its reception, where the trio plan to go next, and, most importantly, if they want fries with that.

TUL: How did you decide you wanted to create The Burger Book? What were you doing beforehand?
Jimmy's Burgers approached Smudge Publishing to create a book, and it was from here we started to co-write The Burger Book. Before starting at Smudge Publishing in 2013, I was working my way through uni and the hospitality scene. Never in a million years would I have thought I'd get to forge my degree and my foodie ambitions into the one job.

TUL: How did you meet Grace and Katie and decide to team up for The Burger Book?
Grace, Katie and myself all work for the awesome crew at Smudge Publishing. We are a small team, on the boutique publisher end of the publishing spectrum, but we know how to have fun.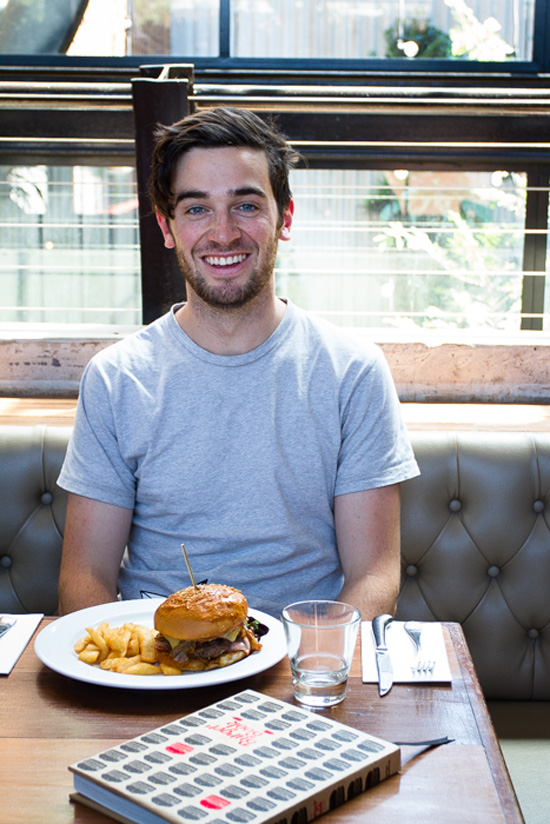 TUL: How long did it take to bring the book to life?
Let me answer that question with another… How long is a piece of string? Most of our books take around the 6-months mark. The Burger Book, however, was a fickle project, as we were right on trend. We started the project and new burger places kept popping up, so in all it has approximately been a 12-month journey.

TUL: What were some of the challenges with publishing the book?
Grace, our graphic designer, called this one out from across the room – "looking at delicious burgers all day!" She is so right! Everyone in the office would be guilty of pausing behind her computer, just staring to the point of drooling. However, it was a blessing in disguise as it often prompted earlier lunch breaks.

TUL: What has been the best part about publishing The Burger Book?
Definitely a no brainer! Without a doubt, getting to try delicious burgers.

TUL: Are you planning to do a follow up book? What's next for you?
We are planning to take The Burger Book to Sydney. However, in the near future we will be releasing a book on the specialty coffee scene that Melbourne is so renowned for. I love being able to dive into a topic and find out the history of why something is so popular in today's world.

TUL: How many burgers were harmed in the making of this book?
Each burger was nurtured with the utmost care and then, as soon as it had its picture taken, it was time to chow down. Let's just say luckily Katie did a lot of the photography, otherwise more burgers would have been harmed.

TUL: How do you feel about Melbourne's many cuisine specific blogs and did that deter you from publishing a book at all?
Melbourne is renowned for its food culture and we are probably nearing two cafes for every person that lives here, but that doesn't stop new cafes popping up and being successful. Heaps of people talking about food isn't a deterrent, we just choose to be different and I feel we have definitely found our niche in the market. Although blogs and people reviewing food are great, you can often get a very opinionated – sometimes negative – point of view. We give the owners a chance to tell their story, talk about their history and passions and where they source their food.

TUL: There's been a huge surge in the "gourmet fast food" scene in Melbourne the past couple of years; where do you think it's heading?
I think some of the greatest things to have happened with gourmet fast food is that people are taking the idea of fast food and turning it on its head with good quality local ingredients. I'd love to see people take a liking to proper Italian style pizza; there are a lot of people doing some great stuff out there already.

TUL: Do the States do it better? Why?
Having never travelled to the States, I feel like I am unable to make a comment. But I do have American friends and feel I should take this opportunity to say Australia does it better, WAY BETTER!

TUL: Do you remember your first burger? Your last?
I remember my first burger was from a fish 'n' chip shop and it was a disaster. Greasy juices were flowing down my arms to the stains pooling in the elbows of my jumper and burger ingredients were leaving a trail behind me as if I were trying to find my way back from a gingerbread house. Although it was messy enough for my father to take out shares in a napkin company, it was delicious! My last was before a gig on Brunswick Street recently at Brother Burger and the Marvellous Brew; it just says it all there in the name.

TUL: Where's your favourite burger in Melbourne?
I don't like to play favourites, but I am one of three boys and it is without a doubt I am the favourite. I'm not going to go straight out and say I have a favourite, but Tuck Shop Take Away in Caulfield have a great go-to burger. Particularly because I am a nostalgic person and they take advantage of that – they have great treats like redskin-chocolate brownies and a lamington soft serve.

TUL: What's the strangest thing you've ever had on a burger?
Some may question its validity as a burger, but as it is called a burger on the menu, I'll roll with it. Soft-shell crab, and it was AMAZING!

TUL: Best place to consume a burger? Bathtub, beer in hand, rooftop, grassy knoll?
All of the above. Except perhaps not the bathtub; I feel like at first it may be a great romanticised idea, but hot meats and nudity are a pair that should never meet. It's quite like when Ozzy Osborne and Miss Piggy teamed up to cover Born To Be Wild – it looks great on paper but the execution is going to hurt.

TUL: What should never, ever be on a burger?
Half a cockroach, a hair, a DVD of the 1997 film Batman & Robin (the one featuring George Clooney as Batman and Arnold Schwarzenegger as Mr. Freeze; man that movie sucked!).

TUL: Do you want fries with that?
Yes please!

TUL: Pickle or no pickle?
I feel like I have witnessed a lot of pickle neglect throughout my childhood. Although pickles racing down the window are a great way to pass the time, I also do love the flavour of a pickle in my burger.

TUL: Shake or soda?
If I had to choose between the two, I'd probably go a shake. I can be a very moody eater and sometimes milk is a bad choice; in that case, beer.

TUL: Burgers aside, where's your favourite place for a knock off beer in Melbourne?
Naked In the Sky. For those of you who don't know what I'm talking about, let your imagination run wild.

TUL: Burger? Ha.
I see what you did there, constructing a question of no direction to leave room for an open-ended answer of my choosing. In that instance I would like to quote one of history's greatest thinkers: "But why did I have the bowl Bart?, Why did I have the bowl?" – Milhouse Van Houten.

The Burger Book Victoria
Smudge Publishing | RRP $39.99
Purchase here or at selected stockists, including Oscar Cooper
For more info, check out their Facebook
All Images: The Burger Book