There are two sets of eyes, teeth, limbs and a whole heap of perspiration behind Northcote's much loved Penny Farthing Espresso and Fitzroy roaster, Industry Beans, and it all belongs to sibling duo and cafe creating savants, Trevor and Steve Simmons.

The two brothers have succeeded in capturing the essence of the two most important, yet often conflicting, elements of cafe culture. The homely, living room quality of Penny Farthing, where locals call it their "local" and the food is simple and quietly exceptional. Paired with the slick, well-oiled machine that is Industry Beans, a warehouse decked with a formidable roaster, cupping rooms and training rooms, dedicated to excellence (minus the pretension) and holding experimentation forefront, with some seriously cool products to boot – think coffee caviar and latte pearls.

In anticipation of Industry Beans' first birthday on March 7th, I spoke to Trevor about all things Trevor, what the future holds for the brothers, and if I could have one of his band's CDs.*

TUL: Where did it all begin, your venture into hospitality?
Ah, me personally? When I was sixteen, my older brother Steve was working functions in Ballarat (where we're from) and needed someone to help out. So I stepped in to sling beers and since then began a whole career of working in hotels and restaurants. Then, four years ago, we set up Penny Farthing Espresso.

TUL: How old were you then?
21. We just went for it. We had no money, just went into the bank and asked for the biggest loan they could give us and we built Penny Farthing with a 65-year-old retired Dutch builder, who showed us how to build for twenty bucks an hour and off we went! Three months later, we had what you'd call a rustic fitout for the cafe, but four years later it's still standing.

It started as an espresso bar with Steve and I on the floor and a man in the kitchen, and as more people came to love it, we decided to grow it into cafe style food, and then came the dinners and the bar.



Baked apple bread with coffee caviar!

TUL: That's a pretty quick journey.
Yeah it was. But two years ago we realised we'd been roasting our own beans and from there Industry Beans came about.

TUL: What's are the best things about owning two very different cafes?
Penny – probably the atmosphere and community culture that comes with it; it's like walking into your own lounge room. Industry Beans is starting to have that, it's starting to feel more lived in and homely after a year. But with Industry it's more about having a place to roast coffee, because we both love that.

TUL: How is it working with your brother?
Gold. Love it. In the beginning we weren't hanging out day to day like we are now, but four years in it's very rare that we wouldn't see eye to eye. Steve's a trained engineer and comes from a more systematic background, whereas I'm hospo. I've always managed restaurants – started when I was eighteen. He loves the technical side of things – the machinery, the roasting process, research and development. I came from a music background, so we definitely have our own separate expertise to offer.

TUL: Got a Youtube account to yourself yet?
No, but I have four hundred copies of the only album my band ever made. Do you want one?

TUL: Let's talk about something else; Industry Beans is really into coffee chemistry, no?
Love it, there's no point getting boring with your product, 'cause otherwise you'll just get over it. So we started experimenting with organic and chemical avenues and plant extracts to change textures, tastes, all of the senses involved. We are really just trying to show coffee in a new light. Nothing wanky or too serious, for us it's just doing something different.

TUL: Are there plans for any more ventures over the next couple of years?
Of course! We're helping our new wholesale clients open their cafes interstate, so more of the consulting side of things. So it's like setting up your own café, but without any of the liability or stress. It's pretty rewarding being able to pass on all the stuff we've learnt over the years, as well.

TUL: Do you think other cafes in Melbourne have been receptive to your brand? Do you ever work with other coffee roasters in Melbourne? Or is it as oligopolistic as it sometimes appears in the industry?
It's such a cool culture. There are no competitive vibes; there's no one trying to overtake each other. Everyone's trying their own approach to roasting, especially the main players out there. But there are also plenty of smaller guys, trying to do their own thing. We're pretty happy just promoting the industry that we're a part of, and Melbourne with it. We're pretty happy how we've directed ours as well, sort of the high-end specialty market, but at the same time we're entirely accessible to any kind of coffee consumer.

TUL: Would you ever want to start up something interstate? Or overseas?
Well, yeah, everyone seems to be packing up and heading to Brisbane. Melbourne's certainly got so many cafes, but I guess we don't like to follow trends. We moved to Fitzroy before it was cool – claimed it.

TUL: Coffee trends? Do you subscribe?
Well, there's always a reason why something is trending, and that's because they're really effing good. You can't help yourself. The chemistry doesn't really seem to be a trend. People have come past and said "Oh yeah we'll put that in our cafe next"; we'll just look at them and think, nah you won't.

When you're a business owner, the amount of time, energy and effort expended into coffee chemistry isn't a money making venture, it's all for the love of it. But, yeah, in terms of brewing methods and following trends, we try not to but sometimes you can't help it, especially with things like cold drip – and our cold drip is awesome by the way. We just love coffee. All of it.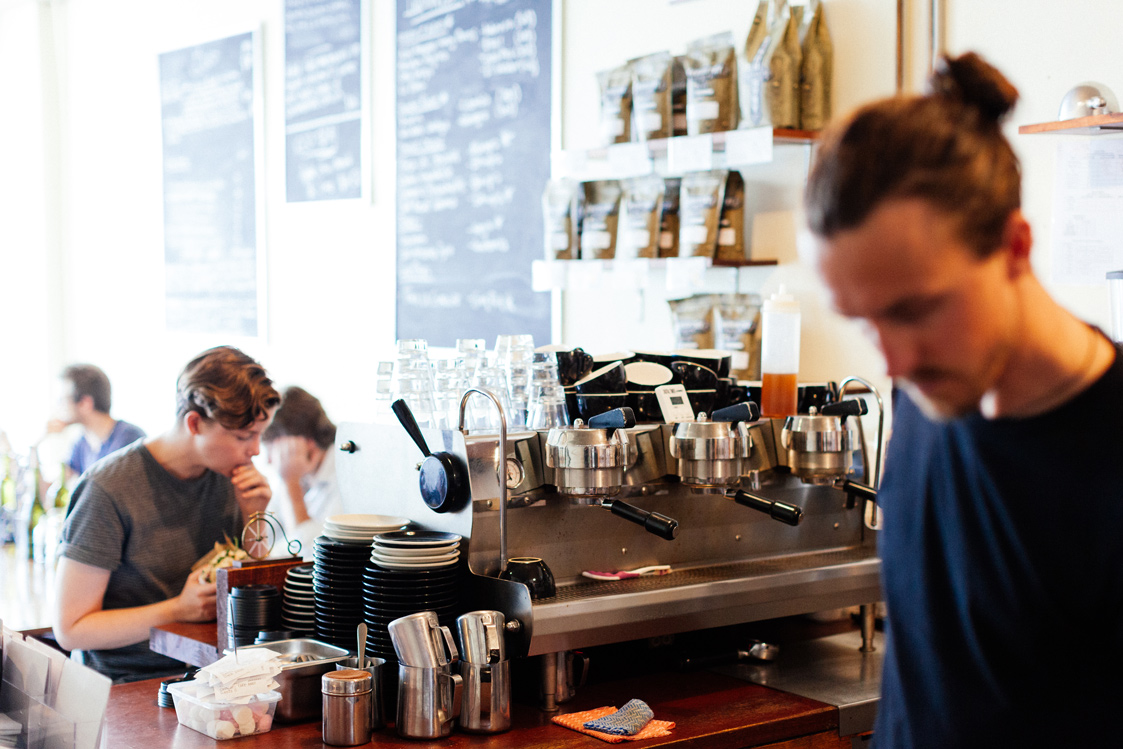 Penny Farthing Espresso

TUL: Do you think you'll stick with coffee and cafes?
Yep. I love it. We've found our market. It's a limitless product and we can only take it further.

TUL: How do you have your coffee?
Long black, but we also drink shorties and a lot of filter coffee. Pretty much anything without milk because we're drinking so much of it every day.

TUL: Nein milch!
Oh I do because I have to know what it tastes like; it's 90% of the market. But I drink everything. We made a cold drip soft drink over the summer. It was amazing. It had all this citrus and fresh herbs in it, and was just great.

TUL: What's your favourite place in Melbourne for a knock off drink?
Being a Carlton local, I really like going to Rathdowne Street for a drink at Gerald's. Gerald's is cool. They won bar of the year two years ago; it's pricey, but it's definitely worth it.

TUL: If you could have anyone bring you a coffee, who would it be?
My brother. Or Mick Jagger – he might drop it though. Actually, my mother. They got the first espresso machine in our town, and she still maintains she can come make coffee for us if we're a barista down. She's pushing sixty and only makes cappuccinos, though.

TUL: What would be the best way to spend a pineapple in Melbourne?
Drink a $50 coffee. Can you do that anywhere? Maybe we'll start doing it for the sake of this question.

TUL: Wrap it up?
Well, it's the first birthday party for Industry Beans here on March 7th; we'll have free coffee all day, DJs and free brew classes all day. We're giving out free badges that I made – I think badges are coming back. Everyone says badges aren't cool yet, but I think that's stupid. The birthday signifies the next step in our operation, launching the new website, and all of that. We won roaster of the year with The Age last year, so we're quietly confident that we'll be sticking around.

*Trevor should stick to his day job.

Image Credits: Kris Paulsen.