Can't get enough of 2013 Melbourne Cup guides? Let us treat you to one more, then.
Our team of racing experts* cut through the nonsense** to bring you the most comprehensive*** horse-by-horse analysis of this year's race.
By the time you're finished reading, you should have a clear idea of where best to invest your hard-earned cash come Tuesday afternoon.****
That's right. We're bringing you another year of The Urban List's Unreliable Melbourne Cup Betting Guide.
*not actually true, it's just one guy
** yeah, not really
***this is bordering on libellous
**** Trust anything you read here at your peril.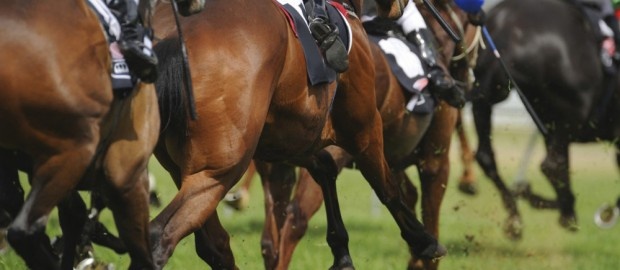 1. Dunaden
Odds: $35
Pros: The 2011 Melbourne Cup winner will wear the number one, race from barrier one, and carry the heaviest weight in the field due to his glowing credentials. He's pretty much the Alpha Male of the group.
Cons: Off the top of my head, the last eight year old to win the Cup was Catalogue, back in '38. Not only that, Dunaden's jockey Jamie Spencer will wear bright yellow silks bespattered with pretty blue stars, which kind of detracts from the whole tough guy image they are trying to project.
2. Green Moon
Odds: $31
Pros: This horse won last year and now it's at these odds? This is a GREAT bet, surely.
Cons: There is a very, very vague possibility, no matter how ridiculous it might sound, that the bookies know more about horseracing than me and have Green Moon at long odds for good reason. You can decide who you want to believe.
3. Red Cadeaux
Odds: $51
Pros: In his last 10 starts, this stayer has raced in seven different countries. If only there were some word to describe someone who literally trots all over the globe. He has done pretty well, too, and finished a very close second in the Cup back in '11.
Cons: Does Red Cadeaux move around so much through a sense of curiosity and adventure, or is it because he is hiding from something? Could that thing that he's hiding from be... himself? My Grandpappy told me never to bet on a horse going through an existential crisis.
4. Sea Moon
Odds: $15
Pros: Horses with the word 'moon' in their name have won EVERY Melbourne cup since 2012. It only takes a small leap of faith, then, to conclude that Sea Moon has a 50% chance of winning the race.
Cons: Green Moon is the other moon horse and he won last time, so maybe it's less than 50%. I'm no mathematician so you guys work it out.
5. Brown Panther
Odds: $19
Pros: Tremendous restraint was shown by the owners of Brown Panther not to opt for one of the more traditional panther colours, such as black or pink, when naming their pony. Quirky name aside, BP has beaten the likes of Mount Athos recently and therefore appears to be a proper horse.
Cons: The owner is former English Soccerball player Michael Owen. The Poms pummel us in cricket, rugby and just about everything else these days, so do we really want them to claim our great race as well? The answer is no.
6. Fiorente
Odds: $7
Pros: The favourite. Ticks all the boxes. Finished second last time and has been watching Rocky III on loop ever since to get pumped for his next shot at the title.
Cons: This horse's trainer, Gai, is only famous for being Tom Waterhouse's mum. She is totally just living in the shadow of the luminous glow of his million-kilowatt smile. JK, Gai, love you girl! Also, I told you last year (and was proven right), the favourite never wins. Fact.
7. Foreteller
Odds: $26
Pros: After spending his early life in France, Foreteller came over to Australia, played up his French accent, and made a moderate success of himself. Like Manu from My Kitchen Rules.
Cons: Like Manu, this guy has a limited repertoire (random pot shots at TV presenters.com). There's no way he will win.
8. Dandino
Odds: $9
Pros: Jockey Ryan Moore copped a lot of flak for his poor ride on the favourite last year, Mount Athos, and will be out to make amends this time around. If he can prove the haterz wrong it would be a tale of redemption more heart-warming than those movies The Shawshank Redemption and Les Miserables combined.
Cons: Ryan Moore let a lot of people down in 2012. A lot of people. He is a terrible jockey, and not to be trusted. (Ryan, if you're reading this, sorry bro, don't take it personally. I can't even remember last year's race, and if I did, I would have no idea how to tell whether you had a bad ride or not. Surely you just have to sit on the horse and whack it with that stick when you want it to go faster? I'm sure you did your best, dude, people just be drinking too much of the Haterade.)
9. Ethiopia
Odds: $71
Pros: Despite a history punctuated by tumult, Ethiopia is a country with an extraordinarily rich and ancient culture, and is believed by many scholars to be the cradle of humankind. Sitting at the crossroads of three great civilisations, this landlocked African nation is the only country on earth to have never been colonised (barring five years of partial occupation by Italian forces during the Second World War).
Cons: According to the CIA World Factbook, Ethiopia's location in the geologically active Great Rift Valley makes it susceptible to earthquakes, volcanic eruptions and frequent droughts as well as other environmental issues like deforestation, overgrazing, soil erosion, desertification and water shortages in some areas from water-intensive farming and poor management.
10. Fawkner
Odds: $15
Pros: Won the Caulfield Cup this year, which used to be a good sign coming into the Melbourne Cup.
Cons: He's grey, so if you're a ranga you can probably relate (I explained all this last year).
11. Mourayan
Odds: $126
Pros: If you bet $1000 on Mourayan and he wins, you would have enough money to buy this Alfa Romeo.
Cons: There are more fun ways to waste $1000. For example, you can hire 18 Lucho Libre wrestlers to be your entourage and follow you around at the track all day. Believe me, you can.
12. Seville
Odds: $21
Pros: Arrived from England 18 months ago before deciding to extend his gap year indefinitely. Has done his six-month stint picking fruit and therefore has extended his visa for a while longer. Now working as a race horse, Seville has actually shown quite a bit of promise, winning the Group One Metropolitan and finishing seventh in the Cox Plate.
Cons: Will need to stay off the lash leading up to the race if he has any chance of running the distance.
13. Super Cool
Odds: $41
Pros: Was considered one of the favourites earlier in the year, but has had some patchy results since and now nobody knows what to expect.
Cons: If you give yourself a name like Super Cool, you really want to be able to back it up. Has this pony ever won the Jack Rabbit Slims Twist contest by dancing with Uma Thurman in his socks? Has he ever ridden a motorbike across South America then led a ragtag guerilla army to victory over an evil regime like Che Guevara? Can he croon like Dean Martin or play guitar like Clapton? If not, you have to question everything about Super Cool's credentials.
14. Masked Marvel
Odds: $26
Pros: One of six horses in the race owned by the megarich Lloyd Williams, who raids the Melbourne Cup the way Ghengis Khan once terrorised Eurasia, Masked Marvel has beaten the likes of Brown Panther and Sea Moon before.
Cons: Like Adele, he peaked in 2011, and has failed to produce anything noteworthy since.
15. Mount Athos
Odds: $9
Pros: The 2012 favourite ran an unlucky fifth, but has spent the last 12 months gearing up for a revenge mission at this year's Cup. World's-worst-jockey Ryan Moore has been kicked to the curb (Ryan, see above. Namaste.) and hot shot Craig Williams is now on board. Will be very hard to beat.
Cons: This mountain on the Chalkidiki peninsular, in Greece, can only be accessed by boat. It has also drawn barrier 22, which is a major bummer.
16. Royal Empire
Odds: $21
Pros: The lone representative of the powerful Godolphin stable at the 2013 Melbourne Cup, Royal Empire has been prepped to perfection for a tilt at glory. Has the sort of name that suits a Cup winner, and victory would allow TV producers to use Lorde's Royals as the theme music for post-race montages.
Cons: Um, he hasn't had any lead-up races in Australia so there are some doubts as to... sorry I am just listening to Lorde on 'The Youtube.' Do you know that chick is like 16? What a time to be alive.
17. Voleuse De Coeurs
Odds: $15
Pros: A gun mare from Ireland who was snapped up by Australian interests and shipped over for our great race, Voleuse De Coer's name translates on Google Translate as 'Thief of Hearts.' Gorgeous.
Cons: Further research reveals that Thief of Hearts was a 1984 Jerry Bruckheimer-produced movie, which, according to that video clip, was loosely based on my life.
18. Hawkspur
Odds: $15
Pros: If you have a Southern Cross tattoo and a bumper sticker that says 'Aussie Pride,' Hawkspur might be the horse for you; he was born and bred in Australia and trained here as well. Never even been overseas, except to Straddie that one time with the boys.
Cons: There might be a bit of nationalism driving the betting on this pony, as he doesn't seem to have the record to justify these short odds. Also sounds a bit like a Decepticon. 'Starscream, Skywarp, Hawkspur... attack!'
19. Simenon
Odds: $18
Pros: Another Irish entry who is used to running both flat and hurdle races of up to 4369 metres. Hang on, what? Who is this mythical beast? The Melbourne Cup runs at 3200 metres and is much further than most of these horses are used to. Simenon is like a gnarly CrossFit freak competing against your mother's Pilates class.
Cons: A week ago you could have got Simenon at $81 so you really should have bet on him then. Not much point now.
20. Ibicenco
Odds: $61
Pros: Ibicenco recently won the Geelong Cup, which portends well when it comes to the big race, and he's carrying a light weight as well.
Cons: Both trainer Peter Moody and jockey Luke Nolan are going through a bad patch at the moment. Something like this, I assume.
21. Verema
Odds: $12
Pros: Wahay, look at those odds! Verema is right up there with the favourites, presumably because she is trained by a French fellow, Alain de Royer Dupre, who has a much better name than you.
Cons: In my experience, French ladies are irresistible but ultimately untameable, and in the end will leave you alone and broken hearted. (You would be right in assuming my experience of French ladies comes from movies and not reality.)
22. Dear Demi
Odds: $19
Pros: With a perfect preparation and light weight, Dear Demi has been backed heavily by her owner, John Singleton, a man who knows a smart bet when he sees one.
Cons: Despite her status as a Hollywood heavy hitter in the early '90s, with films like Ghost, Indecent Proposal and A Few Good Men enjoying great success at the box office, her career has been on somewhat of a downward trajectory since Striptease in 1996. And that whole six-year marriage thing with Ashton Kutcher was just embarrassing for everybody.
23. Tres Blue
Odds: $19
Pros: Gai's second runner in the big race, Tres Blue is the baby of the field. He comes from France, where he is only three, but in Australia he is a four-year-old. I don't understand how the horse age thing works either.
Cons: With only 10 races to his name, he is also the most inexperienced of the bunch. Other horses to Tres Blue on his first day: 'Did you get that from your text book, rookie? Get out of my face!'
24. Ruscello
Odds: $41
Pros: Won the Lexus Stakes on Saturday which earned him a last gasp place in the Cup.
Cons: His trainer, Ed Walker, was hesitant to make him run again on Tuesday, but was talked into it by the owners. He then drew the WORST barrier, number 24, so he must be really peeved. It's like when the only reason you go to a party because such-and-such will be there, and then you get there and such-and-such isn't even there so you're like, this is so lame, why am I here, and you get drunk on Fruity Lexia and pass out behind the bins in the driveway. But I digress. This horse has no chance.
TUL Note: After a six-year stint as a freelance journalist in Buenos Aires, Daniel is back in Brisbane to find that his knowledge of Argentinian football is of little practical value here. Luckily, his other areas of expertise, such as eating food, drinking wine, and writing about it, are applicable across most cultures.
Image credit: Events.com