You know a place is doing something right when pedestrians stop and poke their heads around the door. According to owner Georgia Poliwodzinski, that's pretty much standard at Mr & Mrs P, Brighton's classy new late night eatery. People aren't used to seeing this sort of thing on Bay St. Cafes, sure. Brighton does cafés like the Atlantic Ocean does water. But it's been crying out for something like this: an up-market cocktail bar and restaurant where you can seriously woo a Tinder date. No wonder it's turning heads on the sidewalk.
"We wanted something local. Something that wasn't just a pub," says Georgia. "And that's really all there was here. But now we've got a venue that ticks all the boxes. You've got a bar downstairs, fine dining upstairs, beer garden out the back and live music on Fridays."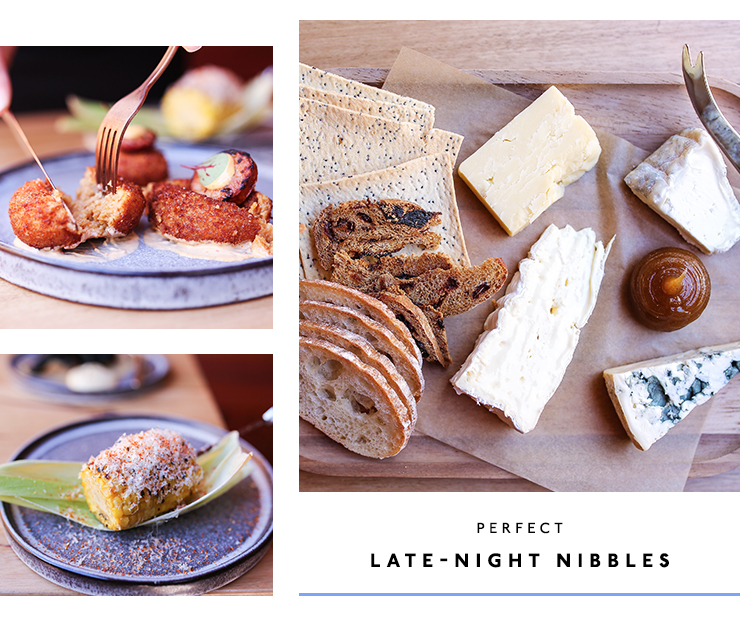 You get the feeling Mr & Mrs P has nailed the whole Brighton vibe. The venue borrowed a little exposed-brick-edge from north of the Yarra, but the fit-out has the south-side elegance that bayside residents kind of expect. Turn left at the kitchen, past a window where you can spy Executive Chef Matthew Butcher, hard at work, and you'll find a cosy little timber-lined beer garden. Up top there's a fine dining and event space with a fireplace and wall-mounted tellie (good for those 21st speeches).
The whole thing took Georgia and hubby Greg about 12 months to complete (the place used to be a Taco Bills, although you'd never guess). But they come with some experience under their belts: this is the couple that brought the Treehouse Lounge to Balaclava. Mr & Mrs P is their second venture together and, if the cocktails and food are anything to go by, they're onto another winner.
The menu is a mix of wine bar-style share plates and up-market pub classics. Start the night with a little charred corn (lathered in truffle butter and grated manchego), then step it up with something a little more substantial. We'd recommend the potato croquettes with chorizo and paprika, the scarily-addictive Spicy Prawn Taco (served in lettuce cups, because Brighton) and the Robbins Island Wagyu Beef (tender cubes of blushing beef served on buttery Risoni). The flavours are clean and modern, with a nod towards the comfort-food end of the spectrum. Butcher, who trained under Gordon Ramsay and Shannon Bennett, has put together the perfect Friday night menu. It's almost guaranteed to kick-off table arguments over what to order.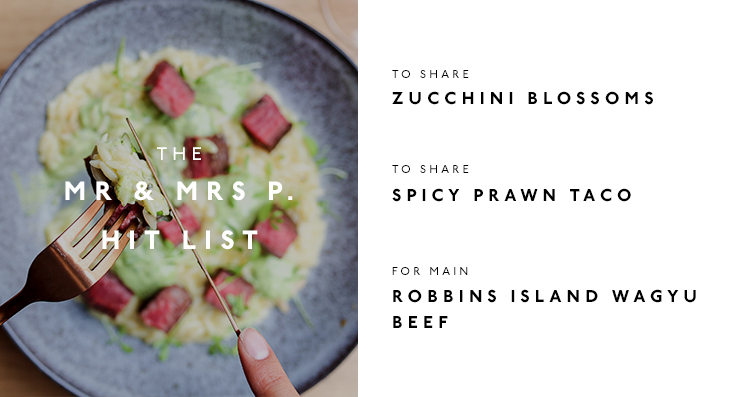 There's a good range of spirits on offer, and Furphy on tap, which we always like to see. Hops-lovers will also enjoy the bar's rotating mystery cleanskin. But really, if you come to Mr & Mrs P and don't flirt with the cocktail menu, you're doing it wrong. Take the Matcha Made In Heaven, a sweet-as mix of Belvedere vodka, lychee, elderflower, basil, lime, ginger and matcha (trust us, it works). Guys, don't worry, there are manly options too. Our pick is The Axel Foley: Glenmorangie Original mixed with caramel, pear nectar and lemon. James Bond would probably love it. The best of the bunch though might be My Lady Beverley: a frothy mix of Bacardi oro, Licor 43, lime and cinnamon, served in a crystal coupe.
"For us, it's all about the love," Georgia says. "Our hashtag is #alovestory. That's a bit of a nod to me and Greg, but also our love for good food and good wine. It's about giving the customer a great experience."

Design credit: Gabrielle Stjernqvist