Crack out your favourite crocheted parasol and white silk gloves because Chapel Street's newest cafe contender is a clean-eating, farm-to-fork café experience that's also just a little bit ~fancy~.
Formerly a bank building, this hot little piece of real estate has now been transformed into a relaxed and clean-cut urban café with the capacity to seat a hundy of your closest friends. While by day, Abacus Bar & Kitchen is a casual café and soy latte-sipping hotspot; by night the low-hanging orb lamps dim and the venue become a suave and very chic South Yarra restaurant.
Walking into Abacus Bar & Kitchen, it becomes immediately apparent that dungarees and rip-off Birkenstocks were not an appropriate clothing choice this morning, but then again there's a six-metre fig tree growing in the centre of the café so obviously this place has thrown the rule book out the window (and right into the KFC kitchen next door).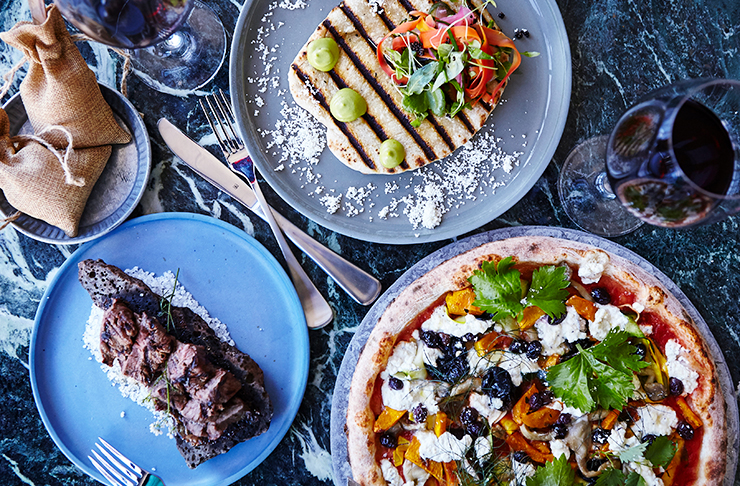 Other than being sandwiched between a couple of fast food outlets, this venue shares no resemblance to its cheap counterparts whatsoever and instead *breathes* utter class (without ramming it down your throat and scoffing at your pronunciation of 'béchamel').
The décor of the venue is absolutely on-point for the Chapel Street food scene. The open-plan venue space features a high ceiling, dark marble table tops, carefully contoured wooden benches, cement walls and flooring, low-lying light orbs, and scattered pastel throw cushions, all complimented by an array of sub-tropical plants sourced from Northern NSW, because anyone who's anyone knows that indoor foliage is the difference between a four and five star review.
But enough about the décor; let's talk food. Abacus' menu is described as 'modern Australian with a Spanish and North African twist', which is quite honestly every bit as delicious as it sounds. But unlike most Melbourne venues, this café prides itself on the transparency of its menu–they know where every ingredient came from, and you can be assured it was sourced locally. So even before you're six pizza slices deep, you can be comforted by the fact that you're supporting local business (and a steady increase in BMI).
On the day menu you can choose from goodies such as the pumpkin croquette with goat's feta, avocado, black beans, corn and poached eggs, or cape clear rashers with pigs cheek, crackling, blond sausage and chutney, amongst a host of other dishes. The day menu is also accompanied by freshly baked bread and pastries, as well as nitro coffee on tap from local brewers–Padre Coffee (hell-yasss).
Skip ahead a few hours and you'll hit the night menu where you can choose from either share plates or a stream of delicious pizzas. We can highly recommend the honeycomb wood-fired toast and the pork belly with mushrooms, seaweed butter and parsnip share plates. As well as the parmesan béchamel, pumpkin, pickled zucchini and goat curd pizza. The share plate portion sizes aren't anything to write home about, but the pizzas are certainly enough to stop you popping over the road for a Big Mac afterwards.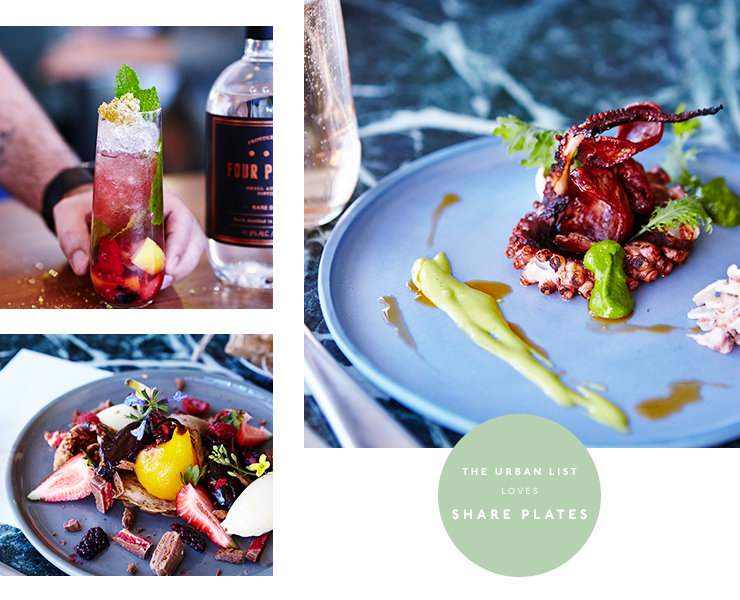 Throw an absolute spanner in the works by bringing your favourite celiac and you'll also find that the staff there are happy to accommodate dietary requirements if need be #bless.
In terms of wetting your whistle, the drinks list includes a range of craft beers and local wines as well as an assortment of classic cocktails and spirits, they also have very attentive waiters who are constantly topping up your water supply if H20's your poison.
And in terms of people you should take to Abacus, these include your mother, your mother-in-law, out-of-town friends, potential employers, people you're trying to impress and/or woo, the people you're about to go and see Hidden Figures with at Village Cinemas Jam Factory and even just yourself for a bit of 'me' time.
Though the appearance of the restaurant itself is very clean-cut and chic (and very much not China Town cheap eats), the atmosphere is as inviting and casual as if it were, plus the staff have totally got your back if you want to change your order of honeycomb toast to hand-cut chips at the last minute. The menu itself encourages guests to take their sweet time eating by selecting a couple of dishes to begin with and then ordering more as the day wears on, i.e. if it takes hours for Felicia to fess up about ripping your new black jeans, then so be it.


All in all, Abacus Bar & Kitchen is a great place to put down roots for a few hours on a Saturday afternoon, or even for twelve hours on a Monday if that floats your boat (we don't judge), because the vibe is great, the décor is chic and the food's delish, if not a little 'spenny.

Image credit: Michelle Jarni