With the wintry months and Melbourne's annual dose of arctic-like temps upon us, it can be a difficult to find things to cheer about. But one thing we're rejoicing over here at TUL HQ is the welcome re-introduction of porridge into our daily diets!
There aren't many better ways to start the day when its so damn frosty, so we've scoured the best cafes in Melbourne and eaten more porridge than Goldilocks herself to bring you our list of where to find the best porridge in town.
TOP PADDOCK (Richmond)
One of the best cafes in Melbourne, Top Paddock gets more than one nod for the best porridge in Melbourne, with two varieties on offer during the winter months. Top Paddock's traditional oat porridge is served with strawberry and rhubarb compote, rapadura sugar and pistachios. The stunning presentation almost makes it too picturesque to eat…almost.
INDUSTRY BEANS (Fitzroy)
Industry Beans has a seasonal, constantly changing menu, ensuring that with the cooler weather a porridge dish is a highlight! Another of Melbourne's cafes opting for a non-traditional take, Industry Beans serves a chia and polenta porridge with vanilla poached pears, coconut milk, cranberry reduction and mint – a definite on our list of the best porridge in Melbourne!
NEIGHBOURS CAFE (St Kilda)
An Urban List favourite, Neighbours Cafe once again gets our tick of approval with their porridge. Head to Neighbours if you want a warm feeling of nostalgia on the side of your warm bowl of porridge – sticking to the basics, Neighbours Café porridge has a wholegrain oat base, with cinnamon, fresh banana and strawberries, and a side of brown sugar for the sweet toothed out there.
RICHMOND HILL CAFE & LARDER (Richmond)
Perhaps most well known for its fromagerie and outstanding house-made deli goods, Richmond Hill also has a consistently mouthwatering breakfast menu featuring some of the best porridge in Melbourne. Infused with cinnamon and served with super fruits compote, organic yoghurt, toasted sesame seeds and pistachios and Manuka honey, this is a true winter warmer.
DEAD MAN ESPRESSO (South Melbourne)
Dead Man Espresso features consistently on The Urban List due to its always-impressive coffee and food. Dead Man dishes up one of Melbourne's best porridge dishes – a delicious steaming oat porridge full of grains and seeds, served with wild figs, cacao nibs, goji berries, cashew cream and poached pears.
LOLO & WREN (Brunswick West)
Did someone say banoffee porridge? Yes folks, you heard us right! Whilst potentially removing the 'healthy' from what is typically one of the healthiest breakfast choices, Lolo & Wren's take on porridge is an absolute must-try this winter. Delicious creamy oats are served with crunchy coconut crumble, a dollop of date and banana puree and to top it all off – a spoonful of dulce de leche. One of the best cafes in Melbourne, the fritters here as also epic – featuring in our recent round up of best breakfasts in Melbourne.
ST ALI (South Melbourne)
We're not ones to play favourites, as we love all our food babies equally; however, the porridge at St Ali just might be our favourite and gets a neck-jerking nod for being up there with the best porridge in Melbourne. The 'Jamaican' Me Crazy' comes with Flip Shelton 5 grain porridge (mmm, so grainy), rum soaked sultanas (rum with breakfast? Yes please), crystallised ginger and panella. YUM! The team at St Ali sure know their way around a great way to start the day – their famous My Mexican Cousin corn fritter dish also earns a nod in our search for the best breakfast in Melbourne.
BRIGHTON SCHOOLHOUSE (Brighton)
The Brighton Schoolhouse has the tough daily challenge of keeping all the yummy Brighton mummies happy as they brunch their leisurely days away. And with porridge being an ever-popular choice for health-nuts donning Lululemon lycras, Nike Frees, and North Face puffer-vests, the Schoolhouse was under a lot of pressure to produce some of the best porridge in Melbourne. Luckily, with the title 'Lululemon athlete porridge', they do not disappoint. Made with poached rhubarb, buttermilk, toasted ginger bread, freeze-dried rhubarb, almonds and rosewater yoghurt, it ticks all the porridge boxes.
THE COUNTER (Hawthorn)
The Counter serves up a creamy almond milk super seed porridge with a rhubarb peppercorn compote. Topped with popped amaranth, chia seeds and toasted flaked almonds, this ticks all the flavour and health boxes and will keep you going well until lunchtime.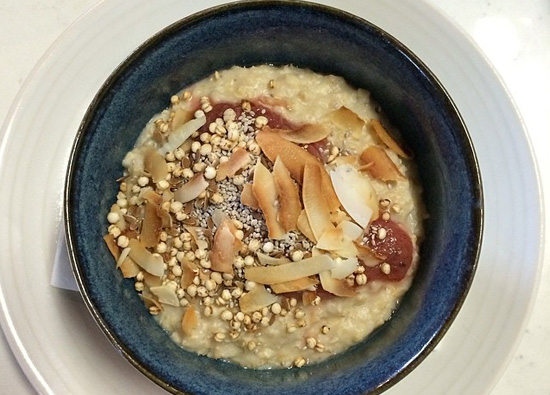 Image credit: Instagram
THE ARTFUL DODGER (Elsternwick)
Last on the list but by NO means least, The Artful Dodger in Elsternwick has a quinoa and black rice porridge that is out of this world delicious. Topped with organic 5am yoghurt and coconut flakes, the dish is actually bursting at the seams with flavour. You won't get anything like this anywhere else, and it's a truly unique dish that you simply must try this winter. Not only our pick for best porridge (yeah, we're calling it), this is a worthy contender for the best breakfast in Melbourne.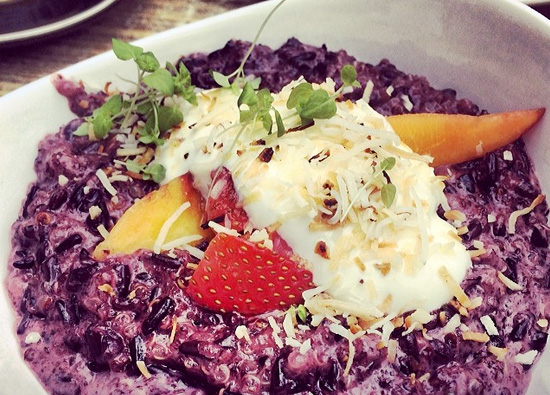 Image credit: Instagram

Main image credit: Naturally Ella