Do you even NOLA? (That's New Orleans, Louisiana, for those that don't know). If you don't, you had better start, because this magical land of shellfish, drinking on the street and jazz bands is more magical than every single Disney Land put together. There's something in the water here, and it's not just alligators.

I'm going to go ahead and say that 48 hours in New Orleans isn't enough, but if that's all you've got, that's what we're going to work with, and work we will. Sleep when you're done, sugar, because there's plenty to do. Apart from sweat. You're going to sweat a lot, just accept that now.



5pm
Landed? Check. Hightail it to your hotel or AirBnB and drop your bags. I say AirBnB because the architecture in NOLA is simply amazing, and the old houses are a joy to experience. Although you won't be spending much time in your room, so a hotel will do just fine if that's more your thing. Henry Howard Hotel is pretty much the best place in the world, and it's dripping with old world charm (I'm going to use that term a lot, btw).
6pm
You know what's fun? Drinking. In the street. So get your butt onto the street car and head down to The French Quarter's famous Bourbon Street for some good old fashioned boozing. One of the top selling points of NOLA is that they're suuuper relaxed on the whole public drinking thing, so you're absolutely more than welcome to get yourself a drink at one bar, listen to some jazz, pour your drink into a plastic cup and walk straight into the next one. So friendly, so boozed.
8pm
Getting peckish? Course you are. You're about to be wowed by the butteriest, most delicious, most moreish prawns you've ever devoured. Find your way to Deanie's Seafood Restaurant, a homely, diner-style establishment specialising in all kinds of mouth-watering southern goodness. A bowl of soul-soothing gumbo is a must, as well as their famous BBQ shrimp, doused in a spicy butter than you might just want to slather all over your skin. Do it, it's worth it.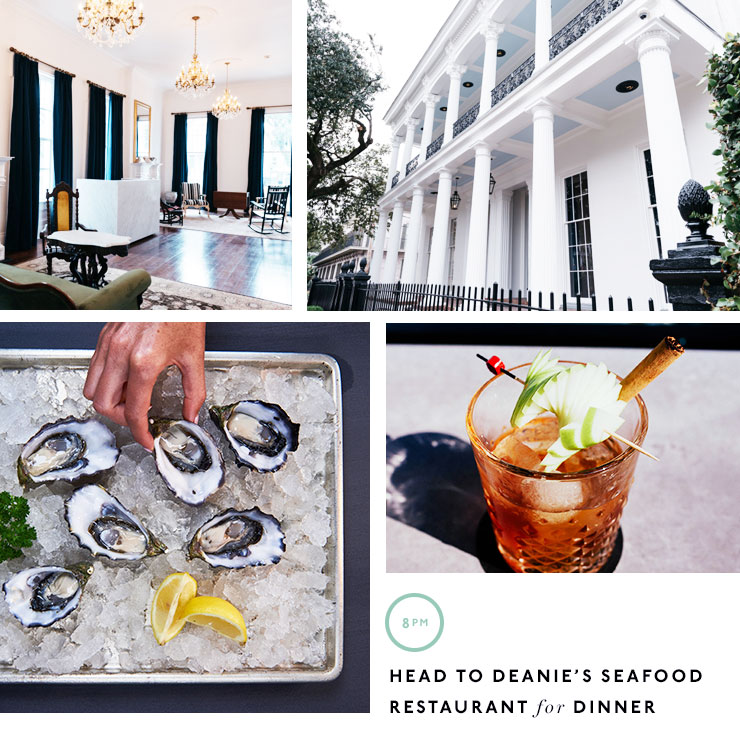 11pm
Feeling game and boozed? You can't do NOLA without a little graveyard tour, so get your wits about you and join one of the super-spooky late night ones. New Orleans is famous for its incredible graveyards (you have to see them to believe them), so go check it out and potentially sleep with the lights on.
1am
Need a good, stiff drink after that? Fair enough. How about some jazz as well? Head to The Spotted Cat in Marigny for a thumping good time. Drown out your fears with the booming sounds of a trumpet, dance a little if you feel like it, and mentally prepare yourself for the next few days.



9am
Up and at'em, friends! Whether you got a wink of sleep or not, get your fine behind out of bed and hightail it to The Garden Quarter. It's pretty much the most affluent area in the city, so it boasts some of the most incredible houses you will ever see. Ever. Drop by Hivolt Cafe on the way for a seriously good coffee and a snack (we're going to get some good grub later), and then do a little self-guided walking tour, stopping to gawk at all of the mansions. Bonus points if you can spot the one from American Horror Story: Coven.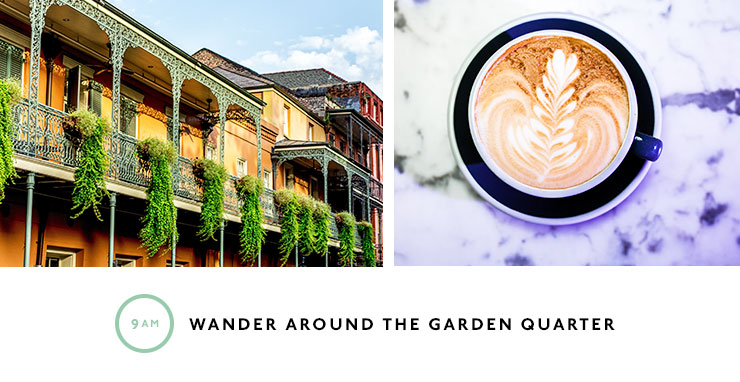 12pm
Food. Is. Calling. Find your way to Parkway Po'Boys, the original home of this iconic, delicious, and messy sandwich, and join the queue. It might not look like the best place in the universe, but if it's good enough for Oprah and the Obamas (and it is– you'll see their photos on the wall), it's bloody well good enough for you. Make some friends if you like, you might be waiting a while. My advice? Share the love. The surf n' turf is ever-popular, as is the delicious fried prawn sandwich, and the oyster one if that's more your thing.
2pm
How bloody delicious was that!? Told you. You need to walk it off, and do some shopping, so make your way back to The French Quarter and wander around the many shops, galleries and antique stores. Marvel at the enormous jewels and crazy-expensive artwork, and make a mental note to come back when you're rich. If you're already rich, score. Go crazy.
4pm
You really, really need to get some Beignets inside you, stat. And honestly, the only place to do that is at the home of them: Café du Monde. You'll notice it because, well, it's huge and crowded. But these people aren't wrong. What are beignets? Hot, deep fried choux pastry covered in powdered sugar. Grab a café au lait, or a black coffee if you need something with the sugar. Heaven.
6pm
Cocktail hour has officially begun! And it's all about Catahoula, a relatively new bar in NOLA's CBD, where the Vieux Carre Cocktail is a godsend after a long day in the heat. Take your time here, it's only a quick stroll to dinner. Which, spoiler alert, is effing delicious.

7:30pm
You've got to have one blowout meal, right? And in this case, it's going to be Josephine Estelle, an award-winning restaurant that perfectly combines Italian cuisine with Southern American flavours. Sounds weird, but it works. Case in point: Mafalde pasta with Maw Maw's Gravy. Located in The Ace Hotel, this is a spot you'll never forget, plus it's got that old world charm thing going on. You know what I mean, or you will soon.
10pm
I have three words for you, Kimmy: Bachanaal Wine Bar. It's got everything; copious amounts of old-world wine, excellent food (if for some reason you're still hungry), awesome local music and some top notch cocktails. It's the kind of place you'll wish you discovered earlier, even if it's literally the first thing you do when you arrive in NOLA. Settle in, and be sure to stay until the very last minute to soak it up.



9am
Why so early? A swamp tour, of course! It might sound a little touristy, but the swamps are like another planet, and you simply have to see these little ecosystems to believe them. You'll be taken out by a local and see all kinds of native wildlife: alligators, turtles, snakes, and more. You absolutely won't regret this, I promise.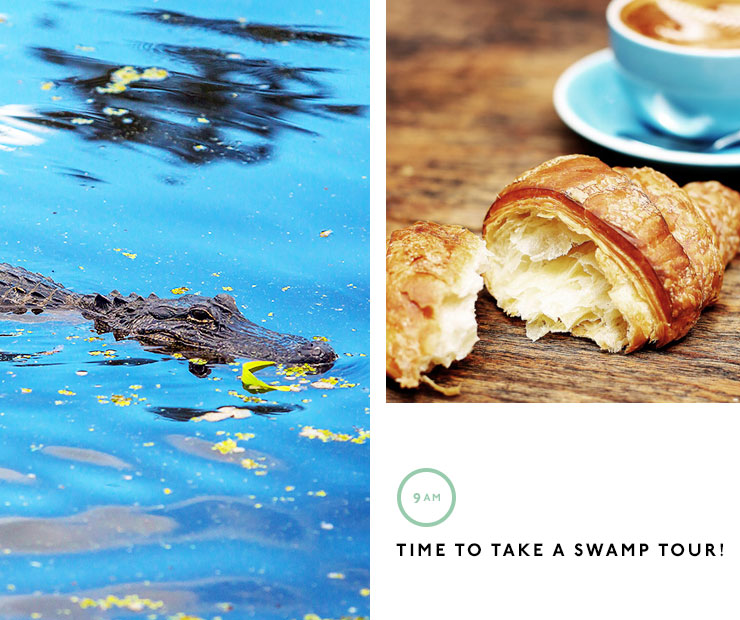 3pm
See? Told you. I bet you're hungry, so pop over to Central Grocery & Deli in The French Quarter and treat yourself to the original Muffaletta sandwich. What's that, you ask? It's a big, bready sandwich stuffed with cheese, meat, sauce, and olives. Thanks to the Italian influence in NOLA, these have become something of a local specialty. If you really want to do some research, share this one, and then head to Frank's and compare the two.
4pm
As the sun sets on your wild 48 hours in NOLA, grab yourself a drink and take a stroll around Jackson Square. Pause to notice how much the Saint Louis Cathedral looks like the castle in the beginning of Disney movies, and sigh as you remember you really need to be going. Check your bank balance, and book your next trip. It's been a dream, right?
Got the travel bug? Spend the next 48 Hours In Mexico City next.
---
Design credit: Gabrielle Stjernqvist