What better way to let the whole world know that you're a Christmas nut than by displaying your love for the festive season emblazoned across your chest? Sure, we may not have the weather for it, but we'll be damned if us Aussies can't look as ridiculous as our northern hemisphere companions come the big day. Sweat or not sweat.
It's time to thoroughly modernise your Christmas cover up; from politics to pop culture and perfect puns, here's 8 perfectly hideous Christmas jumpers to give you that festive feeling.

#1 Have Faith
This glorious ode to Kim K and her gravity-defying assets has left us in a festive flurry. Pass the eggnog...?
#2 RIP Barb
Netflix binge addiction is real, guys. This Christmas, show your socially crippling affliction with pride, with this super tasteful Stranger Things jumper. Barb would totally rock this knit…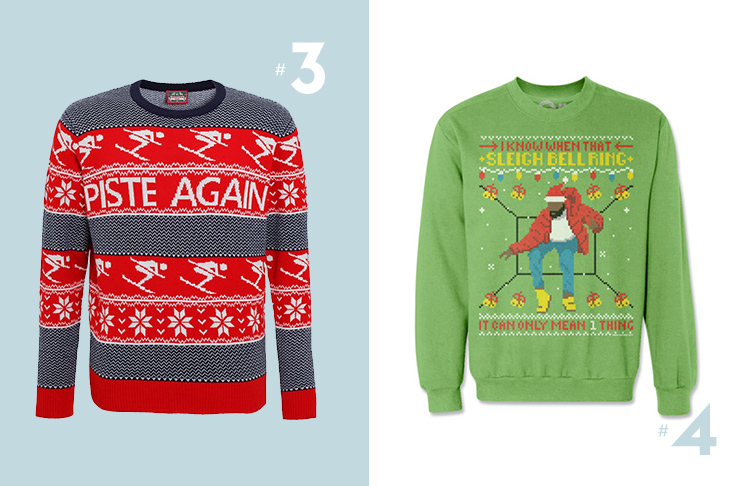 #3 Get Piste
A must-have in any aspiring Christmas wardrobe, if you prefer your festive attire 'authentic' with just a hint of whimsy, throw on this Fair Isle-style knit and get shit-faced. It would be rude not to...
#4 Sleigh Bells Ring
Combining possibly the most-annoying-yet-catchy-AF song of 2016, leave it to Drake to answer all of our Christmas knit prayers. In such a festive colour, how could one resist?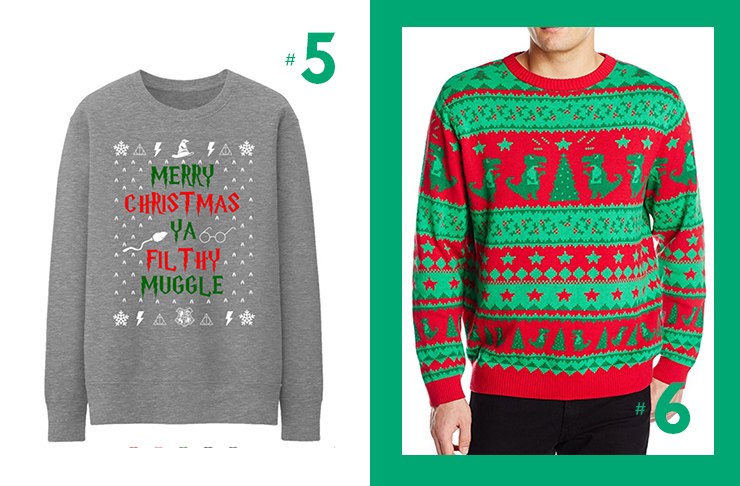 #5 You're A Wizard, Harry
Muggles, assemble! Hogwarts has nothing on this magical pullover. Pair it with your Hogwarts wand you saved all the coupons from the paper for, and make everyone call you Hazza. You're so cool...
#6 Traditionalist
What better way to show your overwhelming support for the festive period than with a natty (and totally relevant) T Rex-patterned Fair Isle sweater. At least if you spill some gravy down your front no one will notice…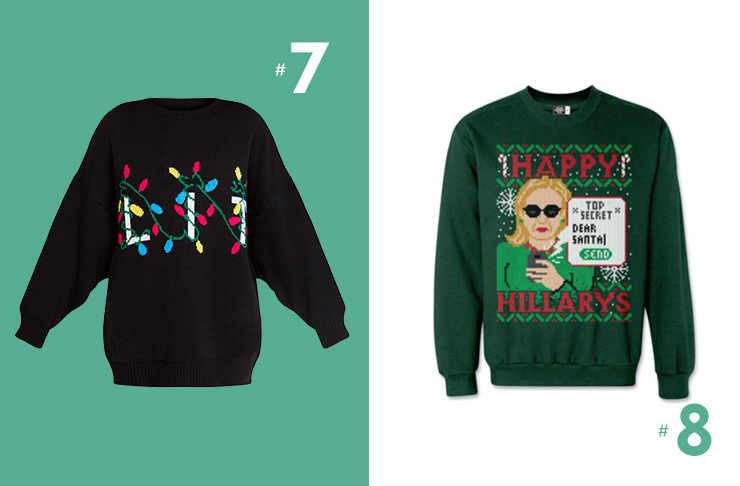 #7 Get Lit Up
Maybe a little too 'classy' for this list, this totally 'lit' jumper is the ideal yuletide yarn for grumpy folk who takes themselves far too seriously. Ugly Christmas jumpers aren't a fashion show, folks!
#8 Political Statement
She was beaten to the top spot by a toupé-wearing oompa loompa, but we gotta say, Hillary's got our vote this Christmas! Wear this poiltically charged sweater to Christmas day lunch paried with your 'Michelle Obama 2020' picket. Christmas Day is always the best time for heated potitical discussions between yourself and your sherry-soaked grandparents.
Image credit: Insider