French toast has come a long way from stale bread dipped in egg. Made with fancy-schmancy brioche, loaded with berries and doused in maple, Auckland's best cafes have well and truly mastered the art of breakfast. Sugar friends, sink your sweet teeth into this list of the best French toast in Auckland.
Rosebank Coffee & Kitchen
Avondale
Rosebank Coffee & Kitchen's French toast isn't just a meal, it's a piece of art. You'll be served three chunky slabs of toast that's delightfully crunchy on the outside, yet soft and fluffy on the inside. It's paired with dollops of banana toffee, Grand Marnier-infused mandarin and salted cocoa crumble. The dish is then lovingly adorned with edible flowers.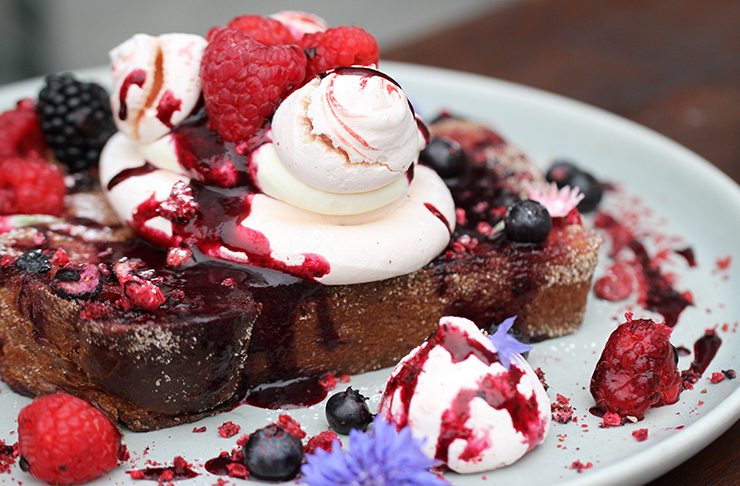 Winona Forever
Parnell
After making waves in Auckland with their epic Eton Rifle—a thick piece of cinnamon brioche French toast topped with meringue and all other sorts of yumminess, Winona Forever have come out with their third edition of the dish and it's better than ever. This time, they've gone down the sophisticated route of adding a smooth gin and blackberry pannacotta, turmeric and cardamom spiced pear, blackberry compote and organic maple!
Crave
Morningside
The buttermilk French toast at Crave is seriously like no other. We thought buttermilk was impressive enough but Crave have really outdone themselves by adding pistachio crumble sherbet, raspberry and pear marmalade, Italian meringue, maple syrup and lemon curd. Yes, you also get the option to add free-range bacon if that wasn't enough for you!
Misters
Auckland City
We can confirm, the two brioche French toast offerings from Misters are both equally divine! Those with a sweet tooth won't be able to resist their hazelnut number with rich hazelnut cream, organic berry compote, granola clusters for that extra crunch and freeze-dried blum. Alternatively, there's a banana and maple option with caramelised banana, coconut yoghurt, pure maple syrup and almond banana chip crumble.
Honey Café
Takapuna
Honey Café's brioche French toast is creating a buzz in Takapuna (sorry, we couldn't help ourselves). It's spiced with cinnamon and topped with caramelised banana, honey mascarpone and vanilla maple syrup. Pro tip: opt to add free-range bacon because that sweet and salty combination is like no other, thank us later.
Hello Friends + Allies
Epsom
We all have those days when we just can't decide between the waffles or the French toast. Hello Friends + Allies have catered towards our needs and have provided us with a beautiful creation, the French toast and waffle combo! You get one slice of thick brioche, moist French toast and a crispy waffle on top. To accompany this beast, they've also added shards of sweet meringue, freeze-dried raspberries, mascarpone, bacon and caramel popcorn.
Cali All Day Eatery
Newmarket
The French toast from Cali All Day Eatery is—quite simply—rather insane. You'll be served a mighty brioche bun that is fried to perfection. The bun is then dusted with icing sugar and paired with summer berries, mascarpone, fresh slices of plum and lashings of the all-important maple syrup.
Bambina
Newmarket
The banoffee brioche French toast from Bambina is certainly better than your average—in fact, it's amazing. The two huge slices of toast are stacked with 'nanas and served with fresh strawberries and oranges. The best part? It also features a sweet dulce de leche. We can also vouch for their oh-so Instagramable—not to mention delicious—hot cake.
Major Tom
Albany
When we heard that the owners of Winona Forever were opening up a sister café on the North Shore called Major Tom, of course, we expected another bomb French toast creation and boy, did they deliver! They serve up a dulce de leche French toast with a poached pear that has been infused in vanilla bean and beetroot and they would never skip out on the pannacotta, fresh fruit and meringue toppings.
L'Assiette
Britomart
You can trust a French café to serve up some of Auckland's best French toast. L'Assiette's pain perdu (translation: French toast) served with fresh summer fruits and berry compote will make you one happy camper. Their French crêpes and pastries (particularly their almond croissant) are also some of the best in town.
The Shelf
Auckland City
If you claim to be a major sweet tooth, test out The Shelf's infamous French toast which isn't just pretty, it's damn tasty. The thick slabs of brioche buns have been baked to perfection and drenched in maple syrup and berry compote. To make it even sweeter, they add a caramelised banana, more sweet fresh fruits and Persian candy floss which also makes it Instagram friendly!
Image Credit: Jaiden Bhaga, Kellie Blizzard, Lauren Matilda Matthews
Want more?