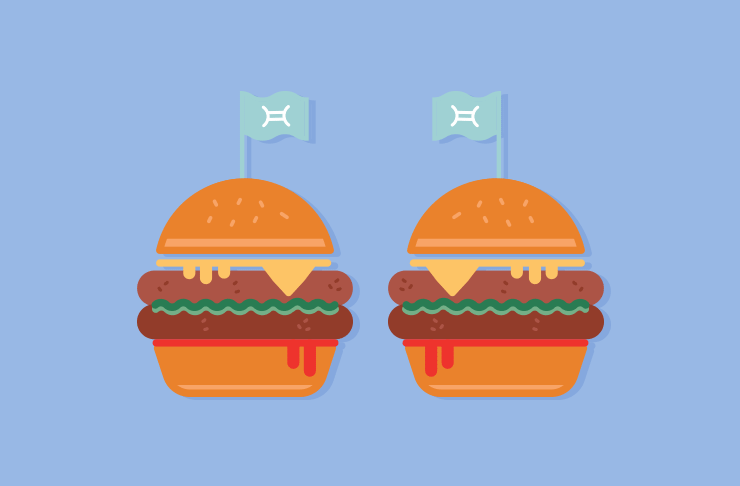 Our predictions are pretty spot-on, and we genuinely hope you've had some awesome nights out or incredibly good feeds based on our recommendations but we have a confession. Contrary to popular belief we don't actually have a doctorate in astrology (sad face). But, if Trump becoming president has taught us one thing—anyone can pretty much do anything! So, on that note here is your weekly forecast.
Pisces
Mars is getting a bit flirty with your solar eleventh house today, which is awesome news for you! While you have this new-found energy boost why not try something new or pursue your desires. And if that doesn't work, grab a friend and go for a drink.
Where you need to go this weekend: Settle in for the long-run here.
Aries
Opportunities arise this week and it's no surprise why. Mars is giving you so much energy you just can't sit still. Why not try something super ori-GIN-al, incredibly awesome that will match your tonic levels. If that wasn't clear enough, you are in definite need of this place.
Where you need to go this weekend: The Gin Room. Say no more.
Taurus
This week might have you a bit down with the election results, and the guy who used a drone to pick up a Bunnings sausage now faces a hefty fine—it's been challenging. Let's just push away the trouble of yesterday and think about tomorrow, or even better the weekend.
Where you need to go this weekend: Rich Heart will put everything into perspective.
Gemini
This weekend is not like the other ones. We don't know why, but Saturn is definitely pulling on your strings like a puppet. Embrace the strange and change of this week and be a fuller person because of it.
Where you need to go this weekend: Not your typical place for wine…
Cancer
We've been lenient on you little crabs for quite some time now, but your time has come. The moon is not putting on weight as such but isn't in the same shape it used to be* (*not at all scientifically accurate), if this reminds you of someone… Maybe a friend or twin who shares your birthday maybe this place is worth looking into.
Where you need to go this weekend: Just kidding. You are fab. But so is Yoga, so, go figure.
Leo
This week shows promising signs of feistiness. And you little Leo are not afraid to try something unexpected. Buy vintage records and get a tattoo. Go hardcore, we dare you.
Where you need to go this weekend: What are you waiting for? Get some fresh ink.
Virgo
Social life, what social life? Sweet Virgo, you work so hard you deserve to do something for yourself. Doesn't matter what you wear, who you're with or even what you eat. We assure you; it will be okay. More than okay, we swear on Neptune that you will have an amazeballs night out.
Where you need to go this weekend: Lowkey CBD favourite right here.
Libra
This week is chock-a-block full of sun, hopefully it can spare a little for the CBD. You're in need of something you've never even heard of and owe yourself a remarkable little treat.
Where you need to go this weekend: This new pop-up is the place to be.
Scorpio
If it's your birthday this week we wish all the Belles and Beaus the happiest of days. And if it's not your birthday, what the heck go celebrate anyway! But only if you celebrate in style because we have a very judgy Mercury watching over us like an uninvited chaperone.
Where you need to go this weekend: Get your birthday cake here.
Sagittarius
This week you might feel compelled to run out in the rain and have a super-dramatic, "stop the madness" moment. But like, probs don't. everything may ffeel a touch loosey-goosey but all you really need is something stable and reliable...
Where you need to go this weekend: Breakfast and lunch are sorted here.
Capricorn
You see everyone wearing activewear, you drive past the early-morning joggers and you think to yourself 'why can't I be like that?' Well Capricorns, a healthy outside starts with a healthy inside. Use your connection with Jupiter this week to push some non-strenuous boundaries and get to healthy!
Where you need to go this weekend: Health and healing is done for you here.
Aquarius
Woah Aquarius! You are supposed to be a water sign but you are definitely boiling up. You need a place to unwind. No, you need a place to release this tension. And we know how.
Where you need to go this weekend: Tension be gone with this workout.