It's not very often you stumble upon a restaurant that literally ticks ALL the boxes. We're talking a one-stop restaurant that's perfect for any occasion. Be it brunch with the gals, beersies with the lads, a romantic date for two or coffee with Grandma, it takes a special kind of restaurant to cater to everything and erry'one!
Located in the heart of Mt Eden Village, The Garden Shed does exactly that. The food and drink? Exceptional. The atmosphere? Exceptional. The service? Yip—you guessed it—also exceptional.
So, what makes The Garden Shed so amazing? Allow us to explain...
#1 It's The Most Charming Restaurant. Ever.
Believe us when we say this suburban garden sanctuary is—hands down—the most charming restaurant in Auckland. Covered in sprawling ivy and adorned with overflowing flower baskets, this restaurant could be mistaken as an actual garden shed…but it's certainly better than your average! Garden tools hang from walls, utensils are presented in terracotta pots and there are plants in every direction—swoon! It will charm the socks right off ya.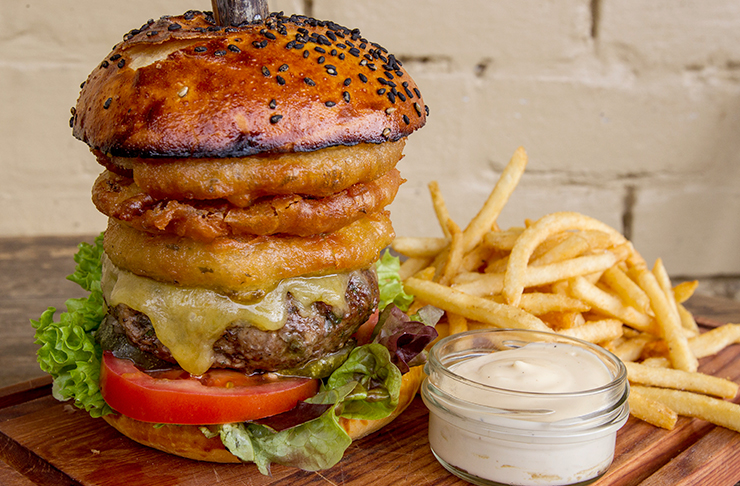 #2 They Do An INSANE Burger
There are no half-ass burgers at The Garden Shed. The 'shed burger' is stacked high with a hearty beef patty, cheddar cheese, battered onion rings, salad and Bloody Mary ketchup. It's so mighty, you won't know where to start (tbh we haven't figured this out either). It's pinned to a wooden board with a knife stabbed through it (bad ass) and comes with the all-important side of fries. If meat's not your thing, they have a vegetarian-friendly alternative with halloumi and avocado.
#3 ... And The Rest Of The Food Is Equally Amazing!
Burger aside, the rest of The Garden Shed's menu is top notch. They focus on simple, honest food made with seasonal ingredients sourced locally. Their breads and pastas are handmade with love—we're particularly fond of the warm house bread served in a terracotta pot! Lunch is all about pulled pork sammies, potato fish cakes and prawn risotto, while dinner features pan-fried kingfish (an Urban List fave), roasted chicken breast and handmade pappardelle. Their weekend brunch menu features eggs bene, quinoa cakes and a coconut bowl topped with fresh fruit and toasted granola. Is that your tummy we hear rumbling?
#4 It's A Craft Beer Paradise
The Garden Shed has a hella strong craft beer game with more than 30 ever-changing brews available. The restaurant is a free house, meaning they can serve beer from all over the city and beyond (think Hallertau, Yestie Boys, ParrotDog and Brothers Beer). They're poured fresh at the bar with garden trowels serving as beer taps. Can't decide between an IPA or pilsner? Opt for one of their beer tasting trays with five tap brews and sip until you find your fave.
#5 Ice Block Cocktails... Need We Say More?
Also on their drink menu you'll find... wait for it... ice block cocktails! There are two adults-only creations available: strawberry mojito or dark and stormy. The later is made with Stolen dark rum, lime and ginger beer (our fave), while the former stars Stolen silver rum, strawberries, lime and mint. We have a sneaky suspicion you'll be sucking on these refreshing, fruity pops all summer long (and so will we!).
#6 Erry'One Is Catered For
Whether you're vegetarian, vegan, gluten free, dairy free or a combination of the above, The Garden Shed caters to you. Say "yes please" to gluten-free buckwheat pancakes topped with whipped coconut yoghurt (yum!), vegan mushroom tortellini with saffron gnocchi dough and vegetarian spicy Mexican eggs served with gluten-free corn tortillas.
#7 They Have Your Next Event Totally Sorted
Got a reason to celebrate? Let The Garden Shed take care of things! Engagement party, birthday shindig or Christmas do... there's no event too big or small. The courtyard and restaurant can be booked for groups for casual events and dinner events alike. The friendly folk are only too happy to accommodate special requests. On ya, Garden Shed!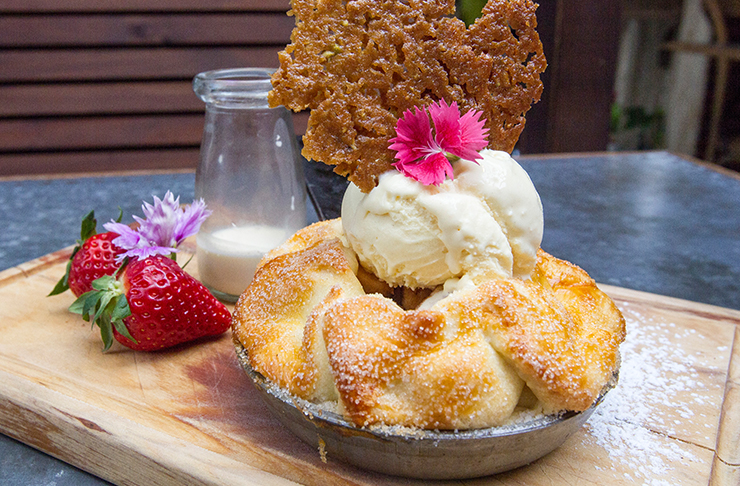 #8 There's Always Room For Dessert (Trust Us)
No visit to The Garden Shed is complete without dessert (it's an unwritten rule). Choose between coconut panna cotta, a vegan-friendly blueberry cheesecake or a chocolate and hazelnut torte served with strawberries and mascarpone. Personally, we can't go past their cinnamon-spiced apple pie that's baked to order before being topped with a generous dollop of ice cream—it's heaven in a dessert!
Editor's note: This article is proudly sponsored by The Garden Shed and endorsed by The Urban List. Thank you for supporting the sponsors who make The Urban List possible. Click here for more information on our editorial policy.
Image credit: Kellie Blizard