Ah, Christmas. It's the most wonderful time of the year. For one glorious day, we get to drink all the bubbly, eat all the food and create precious memories with our nearest and dearest. Yep, it's actually the best.
But then comes the tricky part—buying gifts for said nearest and dearest. You know who we're talking about. Those people in your life who annoyingly don't fit into typical gifting moulds. Like your fussy mother-in-law. Or the token Grinch (we all know one).
To help you tackle your Christmas shopping like a seasoned pro, we've teamed up with Samsung and narrowed down the eight hardest people to buy for—and what to get them. Crank those carols and get shopping!
#1 The Co-Worker You Got As Secret Santa
You and Susan might not be besties but that doesn't mean she deserves a shitty Secret Santa gift. Jazz up her desk with a stylish planter and a cacti or succulent. They're the perfect indoor plants and will put all the other Secret Santa gifts to shame, guaranteed. It's also a great choice for that fussy mother-in-law of yours.
#2 The Busiest Of Busy Bodies
This lovely person is always out and about, catching up with friends, running errands and being an all-round busy body. When it comes to being active, they like to keep track of their workout. This is where the Samsung Gear Fit 2 comes in—a stylish fitness band with a built-in GPS, heart rate monitor and real-time route, distance and speed tracker! Trust us on this one, they'll be giving you a hi-5 as soon as they open it.
#3 The Person Who Already Has It All
We all know a lucky individual who has absolutely everything they need. Drink coasters? Check. Fancy cushion covers? Check. Portable speakers? Check. Instead of gifting something they'll either re-gift or stash in the hall cupboard, treat them to a dinner at a new restaurant. After all, who doesn't love wining and dining for free?!
#4 The Bear Grylls Impersonator
Fact: we live in one of the most stunning countries on Earth, and there are some people who appreciate it more than the rest of us. We're talking about that person who's always rushing off into the wild, climbing a mountain or discovering a secret beach. To help this adventurer capture their expeditions and share them with us mere mortals, they probably (definitely) need a Samsung Gear 360. This nifty 360-degree camera is dust and splash resistant, and small enough to slip into a backpack.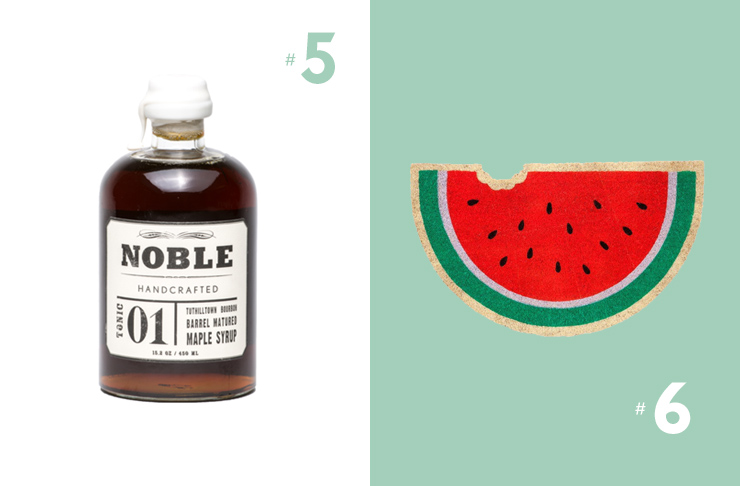 #5 The 'I Don't Want Anything' Dad
Dads—aren't they the best? They always seem genuinely stoked to receive polka dot socks and barbecue cookbooks year after year after year. This Christmas, mix it up and give your papa something awesome. Hailing from Quebec (Canada, eh?), Noble Tonic 01 create a maple syrup aged in charred Bourbon barrels. The bottles are super cool and we're sure your dad will love them. Better yet? Make the old man pancakes and you'll be forgiven for all the dud prezzies of Christmases past.
#6 The Self-Proclaimed Foodie
Foodies can be one of the trickiest peeps to buy for. They're aaalll across the best food products, so don't even think about gifting a box of supermarket choccies. Instead, get them—wait for it—a watermelon doormat! Yes, this might not be edible, but it will bring a smile to their foodie dial as soon as they step out of the door.
#7 The Token Christmas Grinch
First up, sorry to hear that you know one of these guys. Christmas might not be their cup of tea, but we think you could change their mind with an epic gift! Book in a relaxing massage (who doesn't love a massage?!) or do the complete opposite and give them an adrenaline rush. A jump off the Sky Tower should do the trick!
#8 The Tech-Savvy Human In Your Life
Every family has a clever cookie who's called upon when Mum has a new phone and no idea how to use it, or when the telly remote decides to play up. The Samsung Gear VR is the ultimate way to say thanks for all the years of technological assistance. They can pop their Galaxy smartphone into the wireless headset and be instantly catapulted into incredible 360-degree virtual worlds with games, movies and shows for them to enjoy. One things for sure—it will Blow. Their. Mind.
Editor's note: This article is proudly sponsored by Samsung NZ and endorsed by The Urban List. Thank you for supporting the sponsors who make The Urban List possible. Click here for more information on our editorial policy.
Image credit: Elf