No doubt you've lusted over Unbirthday Bakery's colourful and creative cakes on Instagram. Nikki Lee, the brains (and beauty) behind the business, is everything you'd want her to be: warm, sharp, with just the right amount of quirk.
Stepping into her home bakery, a lively Pixar playlist is the perfectly-matched soundtrack to Nikki's vibrant cakes. It's just her and two incredibly talented baking assistants that make these so-amazing-you-don't-know-if-you-should-eat-them cakes. But we do, and they are just as awesome as they look.
We chatted to Nikki about all things baking; making dreams a reality, and her favourite spots to eat in Sydney.
TUL: How did you get into baking?
I always wanted to bake, even when I was a kid. If you met me as a kid, I would have said I wanted to bake. If you met me as a teenager, I would have said the same thing.
When I was in my 20s, I was a graphic designer, and then I did corporate full time, but I was always baking on the weekend. I had also been teaching singing and I still do, it's always something I've been passionate about. So I had enough students to have a part time income and save enough money to know if everything failed I would be fine financially, and then if it really did fail I would just go back to work.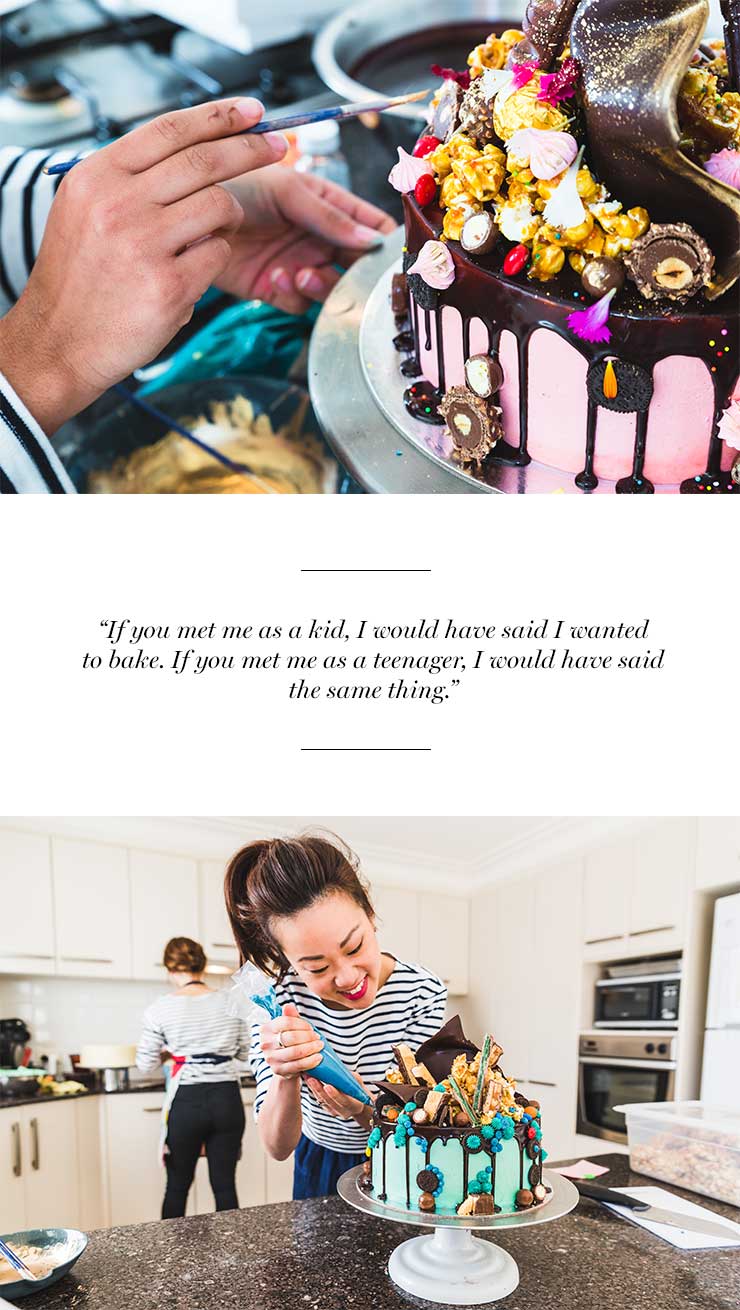 TUL: Were people surprised or were they just waiting for you to do it?
No, people weren't surprised. People were like, 'well just do it, come on!' My sister, who is my creative buddy, every time we would go travelling, I would seek out the closest cake shop, bakery, or dessert place and say 'oh wouldn't it be cool to have a bakery or a little cake shop?' and my sister would say 'are you going to do it already?! Hurry up and just do it!' And so I decided to stop talking about it and do it, and when you do start doing it you stop talking about it because it's not some dream that you're trying to chase; it's something that you're doing day to day with your hands, with you body, your energy and your time so your relationship to that thing changes as well.
TUL: What's your advice to those thinking about pursuing their dream?
Just be very open to what you're going to learn, and even if you make all those decisions and set it up, when you go to step into it, it never looks exactly the way you think it's going to look.
TUL: So where does it even come from? How do you go 'okay I want to put a cake wrapper on there or a chocolate wrapper or a Curly Wurly'?
Okay, Montréal four years ago. Seeking out this bakery walking distance from the apartment we were staying called Cocoa Locale. It's a one-woman show, which took an old alterations shop and transformed it into a little cake shop, very vintage and very girly inspired. She had all of these cakes in her display window with different colours and a sprinkling of petals on them and I said, 'can you eat those?' And she said 'yep, they're edible'. And it blew my mind because I'd never seen anything like that in Australia. I bought a cake and I remember just sitting down with my sister eating that cake and thinking, this is really beautiful and just awesome.
So back in Sydney I started sprinkling edible flowers on cakes. Then I came up with the pavlova; then the flourish cake; then I started with the drips and the meringue shards; and then chocolate bars. And it's really cool because it strikes this sentimental cord and they're connected to it, probably from their childhood.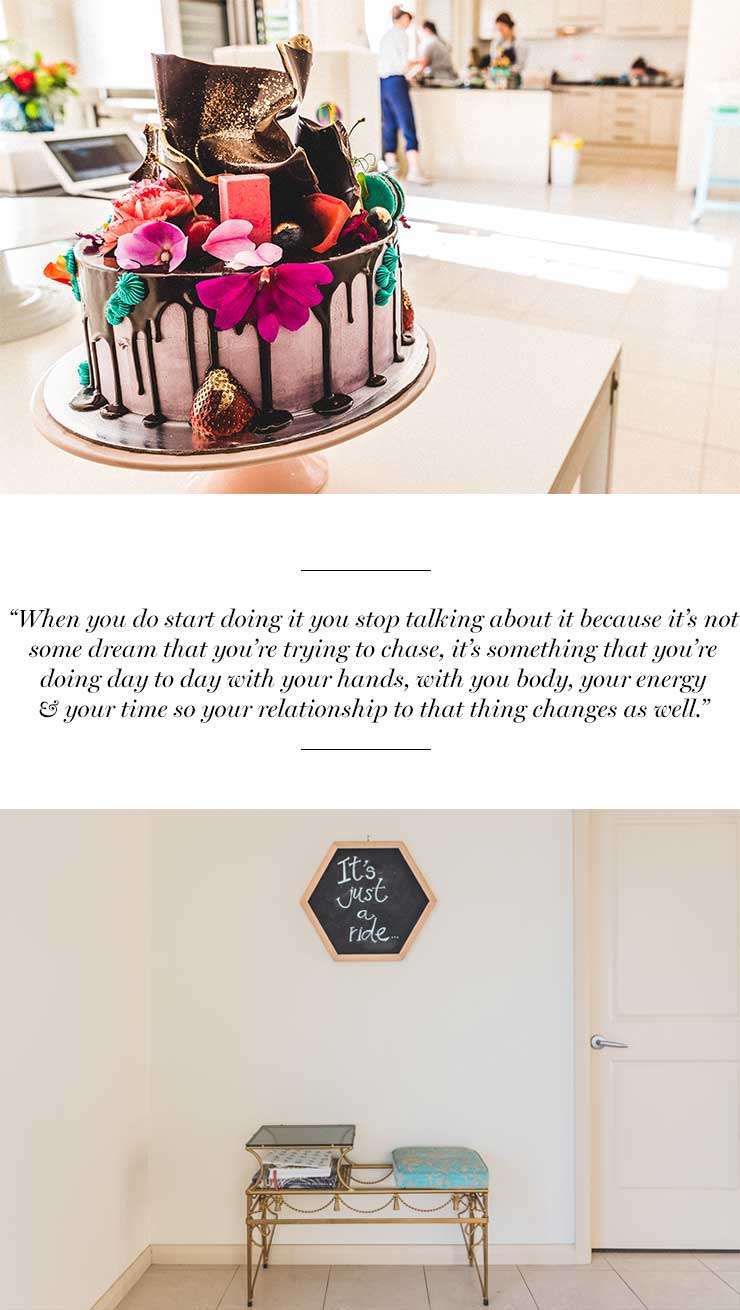 TUL: What is your memory of cakes growing up?
I was definitely a Woman's Weekly cake book kid! I think my first one was the koala cake, and then the typewriter cake.
TUL: But you have the different flavours: the Jaffa cake, the carrot cake, the mocha and things like that, how often do they get made?
They're mainly for wedding cakes. But for birthday cakes it's mainly just the old school vanilla buttercake or chocolate fudge. We do it that way deliberately because I want to keep it simple and tap into that old school feeling of 'hey, mum used to make this for my birthday. Also if you have an elaborate top and elaborate inside, everything is just a bit overwhelming.
TUL: What do you cook for yourself?
My husband does that. By the time the day's over, I don't want to be in the kitchen!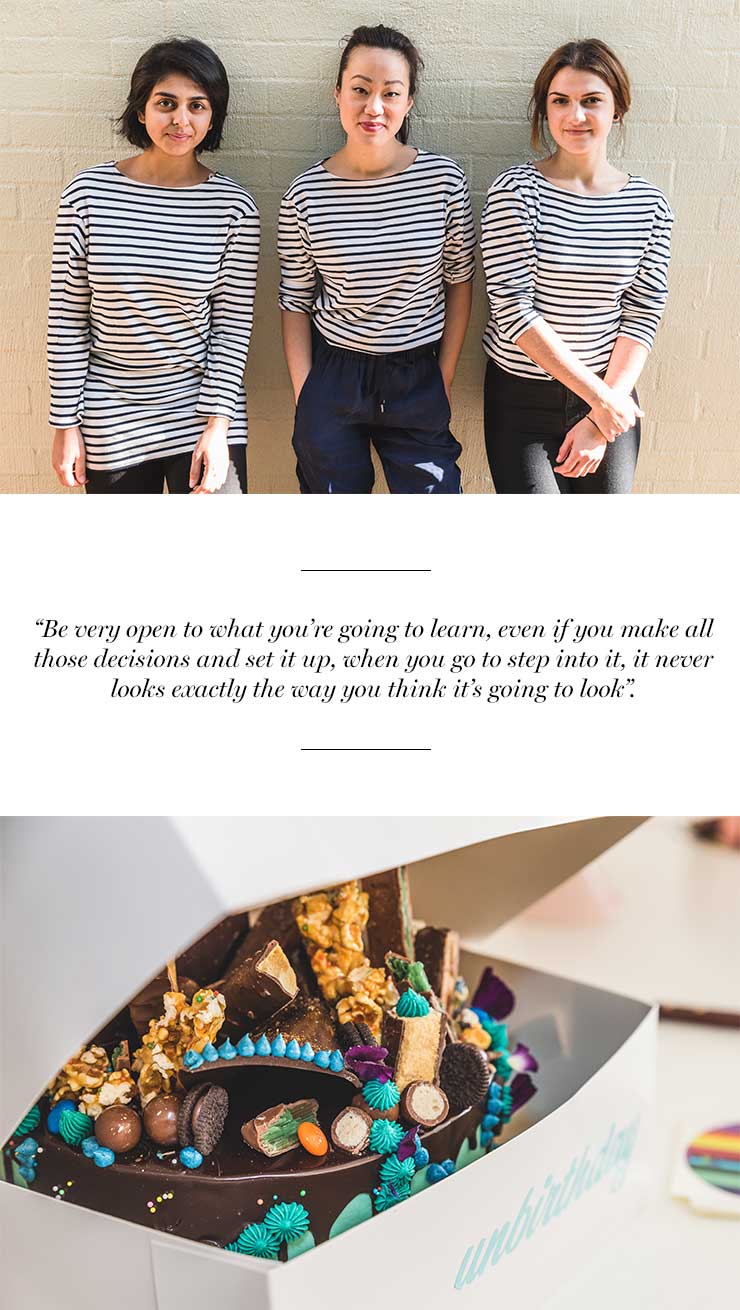 TUL: Would you consider yourself more of a sweet or savoury person?
Sweet, but I can also do savoury; it's not like I would struggle, it's just all of my time is with the sweet side.
TUL: How do you cope with demand? Do you have to say no sometimes, is there a cut- off?
I know that around 37-42 orders is capacity, depending on what those orders are. And then when you order online, there will be green days for ordering or red days when we're booked out, so it's pretty simple.
TUL: Do you ever get sick of it? The smells or the stickiness?
If I was doing all of it by myself, I would go insane. But because there are three of us and we can divide the workload, and [the girls] are very good at what they do, I can just kind of let it happen.
TUL: When you're not making your own sweets, where do you like to get your cake? What's your sweet tooth treat?
I like the fine dining sort of stuff, so whenever there is a restaurant opportunity in a fine dining place I like to try how they do their mousse and the different combinations and how they put things together. In terms of the baked sweet stuff, I used to go to Lorraine's Patisserie quite a bit.
TUL: And get the date tart?
Yeah and the rhubarb tart, and the cookie with all the big chunks in it. I love her shop too, I love that you can walk in and see how they're working and it's really lovely. It connects people, it's not just a shopfront with stuff in the window. She has this real homely touch to what she does.
TUL: What about somewhere savoury?
Definitely New Shanghai in Chatswood Chase. It is my comfort place! It earns the right to be booked and busy and have people waiting outside because it's smart, it's affordable, and it's authentic. I also love China Diner in Bondi, and I was really impressed with Hartsyard: clever plating, clever dishes, and everything looks amazing.
TUL: Fantasy cake, no limits on anything…
Honestly, it's all the stuff going on in there. It's not like it's somewhere out there and I've been fantasising about it because I haven't done it yet; we do it every day.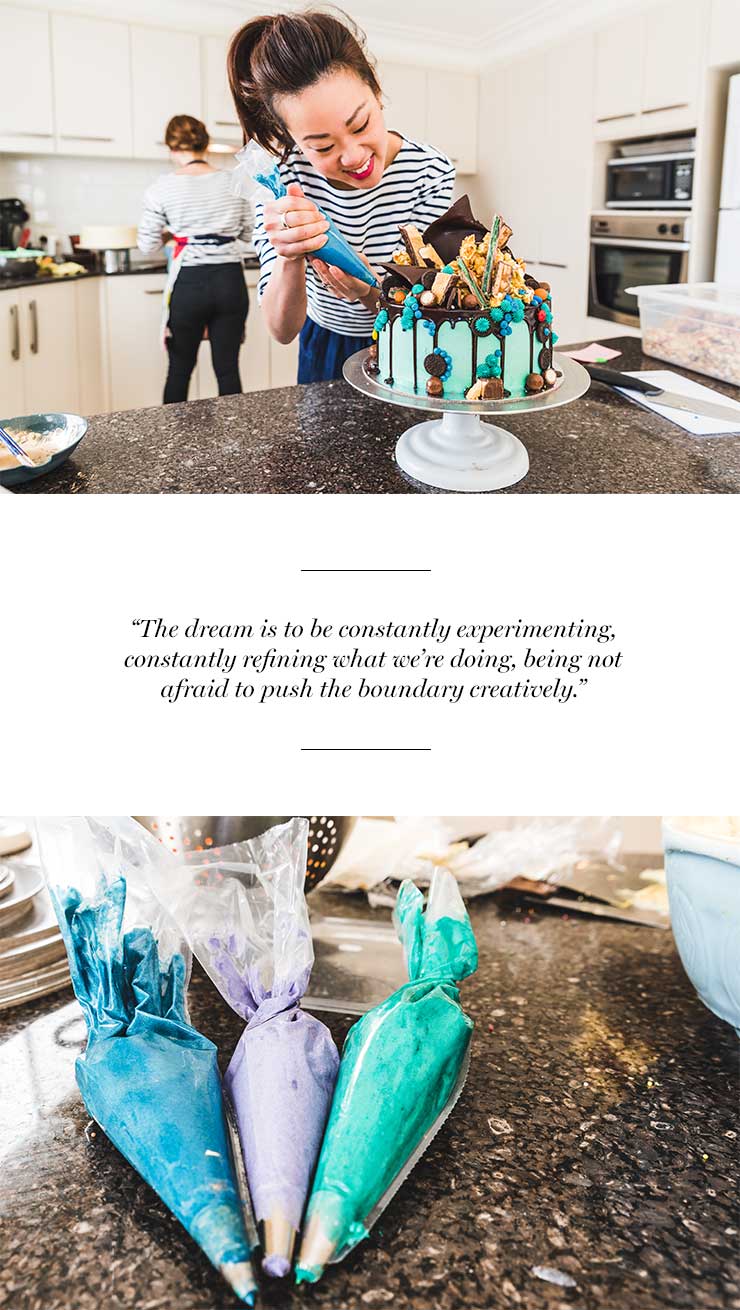 TUL: So that is the dream, you're living the dream?
The dream is the work, it's not some hallmark looking thing, where you get accolades and applause and conditioned to become popular, that stuff is whatever. It's the day-by-day showing up, working with those girls knowing that it came from nothing and it's become something and it will continue to grow. It is constantly experimenting, constantly refining what we're doing, being not afraid to push the boundary creatively, it's hearing the reaction from customers; you can't beat that.
TUL: Do you have any rituals in the kitchen?
We always listen to Pixar music, at least once a day. And we have a briefing in the morning to keep our energy levels in check.
TUL: If you could make a cake for anyone in the world who would it be?
Anyone from the Pixar team!
TUL: What's the most out of the box thing someone has asked for?
One guy said to me 'can you make a cake that looks like a supplement container of protein, I work at the gym,' and I was like no, we don't make cakes that look like things.
Image credit: Matt Horspool