In an unassuming pocket of Surry Hills, tucked away from the hustle and bustle, sits Devon Café—the new kid on the block that's got serious street appeal. The food is adventurous, the décor simple, and the coffee, silky smooth.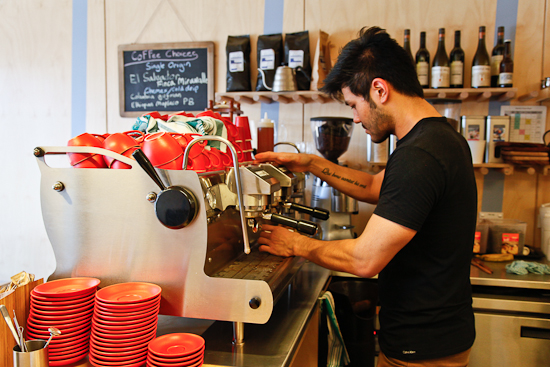 Former Bistro Guillaume sous chef Zacharay Tan, and Guillaume at Bennelong graduate Jacqui Ektoros, have combined a quirky café vibe with top-notch dining, all inspired by Australia's multi-cultural cuisines.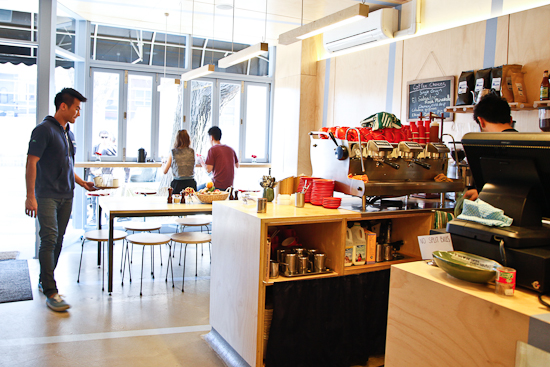 Decked out in soft beachwood and sky blue tones, Devon Café exudes an airy, warm ambience. The café's small front room disappears into a hallway, exposing the open kitchen, and leading out into a sun-lit courtyard. Here you'll find graffiti fixtures and a homegrown veggie patch.
Walking into the café, your eyes instantly dart to a display of house-made baked goods; with croissants, macarons and muffins that ooze liquid chocolate, the choice is simply too difficult to make. Behind this luscious display hangs a blackboard scribbled with the day's specials—a healthier assortment of salads and sandwiches.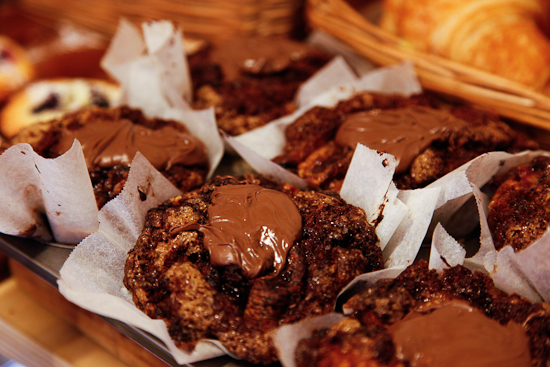 On this particular Spring Saturday, we begin with the ultimate toastie special; sourdough grilled with mushrooms and Fontina cheese, topped with soft-fried egg and shaved truffles. Next, arrives the Japanese-inspired dish of the day, featuring salmon with smoked eel croquette, a 63-degree egg and a splash of Kewpie mayonnaise. Every dish is styled with finesse, a throwback to the boys' fine-dining days.
Black rice pudding is served with sliced banana and a dollop of coconut cream, while The Little Lost Bread will satisfy any sweet tooth— think peanut butter and jelly brioche topped with caramelised banana, a scoop of homemade peanut butter ice cream and a dash of rhubarb jam.
Alchemy and Five Senses single-origin coffee is guaranteed to knock your socks off, while the drinks list also spans detox juices (for those on a health kick) and a short list of harder drinks, including organic beer, cider and organic red and white.
Devon is a brunch destination with the most and a distinctive twist.
Address: 76 Devonshire Street, Surry Hills NSW 2000
Phone: 02 9211 1877
Open Monday-Friday 6:30am-4:30pm; Saturday-Sunday 8:00am-4:30pm
Image credit: Anastasia Nielsen