The Diary of an Uber Driver blog may be a few weeks old, but it has already garnered massive attention around the world. Most of us have caught an Uber, which is probably why we're kind of obsessed with these stories. I mean, have you ever sat yourself down in an Uber and asked the driver to share some of their crazy stories? I know I have. Have I, at one time, been a nutcase passenger that Uber drivers would write about? I hope not, but possibly.
We chat to the mysterious man behind Diary of an Uber Driver to find out how it all started, whether or not he prefers to engage in chit-chat with his passengers, and what his star rating actually is. We also get a sneak preview post of a story that hasn't yet been published. Win!
If this blog was an Uber driver, we would give it five stars.
How did you become an Uber driver?
I was a business owner with a full-time job. I was working 70-hour weeks for a long time and essentially burnt out. I wanted a job with minimal stress, so I started driving for Uber. I didn't know I would love the job so much. I meet so many amazing characters every day and take home so many great stories.
How long have you been an Uber driver for?
I have been driving for Uber for four months. To celebrate my four-month anniversary, I filled up my car with PREMIUM unleaded.
What gave you the idea of starting Diary of an Uber Driver?
I have always loved telling stories. Among my friends, your worth in the group is determined by how well you can spin a yarn. My friends enjoyed hearing about the colourful characters I encountered on a daily basis. I thought other people might enjoy them as much, so I started writing them down.
What's your star rating on Uber?
4.94—I didn't offer one passenger water or chewing gum (because I ran out) so they told me they were giving me a three. Pre-emptively, I gave them a two.
Do you prefer it if people talk to you or don't talk to you?
I much prefer when people talk to me, although don't begrudge those who remain silent. My day goes so much faster when I am deep in exciting conversations with passengers.
Have you had any complaints from passengers? Any really ridiculous ones?
I once had a woman tell me to take South Dowling Street on a Saturday afternoon. I told her about the terrible traffic if we take that route but she disagreed with me. After sitting in bumper-to-bumper traffic on South Dowling Street for half an hour, she turned to me and said: "Why the hell did you go this way when you knew there was traffic?"
What's next for the man behind the Diary of an Uber Driver?
All of my stories so far have been about crazy characters. I meet doctors, cancer researchers, musicians and actors on a daily basis. In the near future, I am going to start sharing these inspirational stories.
Check out Diary of an Uber Driver's yet-to-be-published entry below…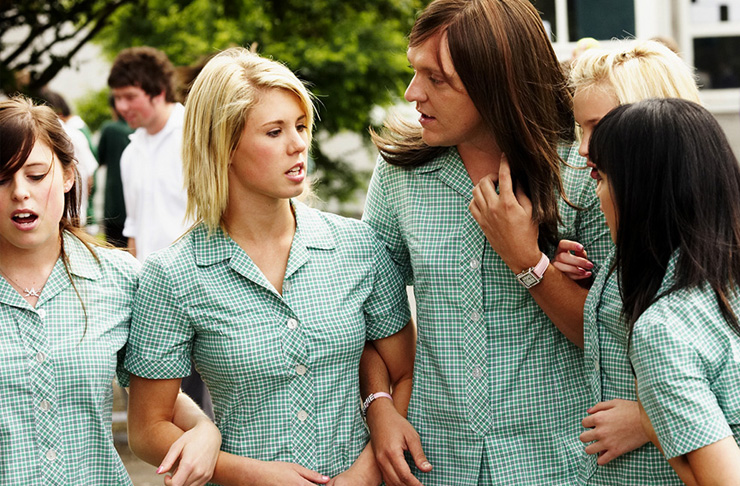 I'm a Private School Girl!
"Yeah my day was pretty chill. I surfed, I skated, surfed again. It was chill. Tomorrow should be pretty chill. How was your day? Was it chill?"
I couldn't help but wince at the Matthew McConaughey lookalike's overuse of the word "chill", as he fumbled his way through the first ten minutes of his date in the back of my car. He was such a nice guy and I hope he manages to pull it together. I dropped the awkward duo at the Coogee Pavilion and headed south.
Beep. Beep. Beep. Vicky - 6 minutes – Maroubra.
I was cranking a song by Australian artist Allday called "Give It To Me Right Now" as I cruised down Arden Street. Who knew the lyrics in the song which read: "Six girls in a four-door riding round town yelling obscenities, crazy ass bit#!es," would be an omen for things to come.
I pulled into the street Vicky had entered into the app. All hell was breaking loose. Close to two hundred people were piling out of a house party which had just been shut down by the police. I used to love house parties like this when I was a bit younger, but I also instinctively knew that two hundred boozed up teenagers forced out onto the street is a recipe for disaster. SMASH! There goes the first bottle crashing into the bitumen, causing me to jump. I reached forward to my phone to cancel the job, do a U-Turn and get the hell out of there, when a girl walking by suddenly hurled herself onto the bonnet of my car.
"STOPPPPPPPPP!" she screamed as she pointed her finger at me. "Felicity, Lauren, Pandora! Our Uber is here!" She bellowed into the crowd of people cascading down the driveway like a swarm of drunken bees.
Three heavily intoxicated girls, holding their high heels in their hands above their heads, emerged from the raucous crowd and began stumbling and swaying toward my car on their tip-toes. "Tonight is the night I get spewed on," I thought to myself as I breathed a deep sigh and hesitantly unlocked my doors.
All four tumbled into my car. For the next two punishing minutes my ears were peppered with a cacophony of high pitched whistling, woo-hoos and OMGs, as I attempted to navigate my way through the lawless streets of Maroubra. The horde of cackling hyenas continued to talk in gibberish to one another about the party. I could make out a sentence here and there: "OMG Did you see Damo hook up with Cara. Vanessa is going to go effing batshit!" said Vicky from the front seat in what sounded like a forced American accent.
I was taking the girls to Home Nightclub in Darling Harbour to meet up with their boyfriends. The next twenty minutes in the car with them were intense. For the first five minutes of our trip I was completely invisible until Vicky turned to me suddenly and yelled: "OMG, WHAT SCHOOL DID YOU GO TO?!" I found this such a bizarre question to randomly ask. It turns out all four girls are in year twelve at one of Sydney's most prestigious all girls schools. Vicky was keen to see if I was cut from the same cloth. "KINGS, SCOTS, KNOX, RIVERVIEW?!" She fired at me aggressively. When I told her the name of the very ordinary high school I attended in Southern Sydney she turned away and flatly said: "Never heard of it."
One of the girls from the backseat suddenly piped up: "OMG I know people from that area." The next five minutes involved all four girls yelling out the names of random people, none of which I knew. This game ended abruptly when the girl sitting directly behind me said: "OMG, he doesn't know anyone." Everyone laughed. Everyone except me.
I decided to stir the girls up a little bit. "How are you going to get into Home Nightclub when you're not 18?" I asked incredulously.
"Ummmmm excuse me! We are actually all 18," said Vicky in an annoyed tone.
"Hahaha Shut the f#!k up Vicky! You're 19, you repeated third grade you retard!" said the girl sitting in the middle backseat. Everyone laughed again, me included this time.
"Why the f#!k do you bring that up all the time Pandora? You're a bit#h!"
The car again erupted into high pitched laughter as the girls in the backseat pointed at Vicky who was now shaking her head furiously. Their laughing fit was cut short as a four-wheeled drive with green P plates pulled alongside us at a set of lights.
"OMFG is that Bryson next to us?" said Pandora as she reached across from the middle seat and lowered the back window.
"BRYSON! BRYSON!!!!!!" yelled Pandora to the carload of boys. The boys turned their heads to face us before Pandora screamed: "Bryson!!! Show us ya di#k!!!!" I looked around the car in absolute disbelief. Did she really just yell that out?
"OMG Pandora! His girlfriend will bash you!" screeched Vicky. "Quick! Uber man drive!" Fortunately the boys turned down a different street and we continued along Anzac Parade.
The girls weren't done with shocking me yet. They asked their next question through a bizarre Chinese whispers, minus the whispering:
Back driver's seat: OMG can he get us pills?
Pandora: Do you reckon he can get us pills?
Rear driver's seat: Vicky can he get us pills?
Vicky: Do you think you could get us pills?
I didn't even have a chance to answer before they were at it again, this time delivering a statement:
Back driver's seat: All good the boys got us pills!
Pandora: Cancel that, the boys got them.
Rear driver's seat: Vicky, we got them.
Vicky: Yeah don't worry about it hey! We're all sorted now
I was surrounded by four Ja'mies from Summer Heights High. They were more badly behaved than Phillippe, the car seat kicking popcorn eating man child, from a few stories back. The girls had more in store for me. It turns out the boyfriends they were going to meet at the club don't actually acknowledge the girls as their girlfriends in public.
"Brandon better not hook up with anyone in front of me again," said Pandora as she applied a bright red lipstick.
"Sorry, aren't these guys your boyfriends?" I asked, genuinely confused.
"Yeahhh… but they kind of don't really speak to us much when we are out," replied Vicky with a touch of sadness as she lowered her head.
I almost started to feel empathetic toward the group when Pandora revealed: "We're all dumping them when we go to Europe after exams anyway so whatevs hey!"
With those final words, the girls piled out of my car and off into the night, leaving behind their empty bottles of Sky Blue Vodkas as a souvenir.
Read more of Diary of an Uber Driver here.
Image credit: Sophia Fukunishi of Diary of an Uber Driver, Summer Heights High