Image credit: Vanity Fair
Because, you know, it hasn't been frantically talked about by everyone on the face of the Internet already. Inspired by how China has fuelled the fashionable imagination for centuries, and thus inspiring a permutation of this idea via models, celebrities and designers (not all of whom took the theme to heart), the 2015 Gala went by as fast as it came, and by Monday night it was already a wrap as far as social media was concerned.
Taking the time to properly scroll, dissect and digest, here's a few things we took from the 69th Edition of the Met Ball:
1. It's Ok To Wear Pyjamas In Public
Vogue.com staged a Pre-Met Gala Kickoff Pyjama Party in Chinatown, and the whole thing was good enough to entice a great deal of #FOMO amongst the best of us, especially if one was following the night closely on Instagram whilst potato-ing on the couch, wearing actual pyjamas and clutching a bottle of wine—you know, if the party doesn't come to you, you must join it in spirit, and all that.
Amongst other things Hailey Baldwin, Emily Ratajkowski and Bella Hadid spent most of the night teaching us we've been doing our #selfies wrong all along (insert another bottle of wine here), André Leon Talley, Olivia Palermo, Jamie Bochert, Ju Xiaowen and Chloë Sevigny were there looking fabulous, and Vogue's Hamish Bowles and will-i-am ended the night in full blown dragon costume.
Kudos to Grace Coddignton for continuing on theme and donning pyjamas on the red carpet in the actual gala. True, hers were Michael Kors and blue silk, fancy and embroidered—not the kind with pink fluffy bears you usually buy at Target when no one is looking, but you know, tomato, tomato.
Lesson to take from this? It's ok to underdress, haters gonna hate, deal with it. Hey, at least you won't have any trouble say, going to the toilet (#ballgownproblems), or falling flat on your face as soon as post-party drinks-meet-heels-meet-train scenario eventually hits the fan.
2. Star Wars Is A Valid Source Of Style Inspiration
Cue Anne Hathaway's liquid gold hooded Ralph Lauren dress complete with galactic Repossi ear cuff, Carey Mulligan's Sith-worthy Balenciaga or Solange Knowles' circular, holographic and pleated Giles Deacon number, which could either be mistaken for a bird in paradise during mating season (Goggle that and watch the video, that bird's got the moves), or for a very convincing Death Star. I'll go with Death Star. Which means that when the new Episode VII: The Force Awakens movie comes out later this year and your best friend/boyfriend/dad/family member tries to drag you along to watch it, you should definitely go, if not only because of the sartorial possibilities, but also because you made them sit through 50 Shades of Grey, or the latest documentary on Raf Simons at Dior.
Plus, Adam Driver is in it. May the Force be with you.
3. It Is Ok To Match Your Dress To Your Hair
As evidenced by Kristen Wiig in her Prabal Gurung fluffy yellow soufflé of a dress. Problematic for brunettes. 'Nough said.
4. Kendall Jenner's Calvin Klein Dress Killed It
So please feel free to copy that shit in every formal event ever ad infinitum because man, that dress was hot.
And while we're at it, so was Jessica Chastain's equally chain mail-looking Givenchy. Bonus points if you have Kendall Jenner's body to match (or Jessica Chastain's, we're not picky), so go ahead and book that extra reformer Pilates session. If you're really committing, go to CrossFit and get yourself yelled at for a good half an hour (or however long these things are meant to last for). Or, you know, don't—just pass the lasagna, that bottle of wine, and cry a little.
5. Until Rihanna Slayed It
Not only with THE Guo Pei dress/cape/thing that inspired a thousand memes (is it a pizza, is it a pancake, is it an omelette?) and has reportedly taken over two years to make (which wouldn't really be a surprise if it did, since the thing was indeed the size of a sizeable loft), but also with her gala performance outfit consisting of a red embroidered corset and pleated silk pants, red latex gloves and powder blue floral headpiece. This is fashion with a capital F, fun and yes, why not, fabulous—just for the sake of it. Sweetheart necklaces, draped and pleated chiffons, strapless column numbers, A-line bodices, blush pink: sure, they're all very nice and pretty, but also very boring. RiRi's outrageous, top-me-if-you-can omelette, now that's the stuff—even though I can't help but wonder what would be the appropriate procedure if she indeed did want to go and pee (again, #ballgownproblems, but is it only me to have this serious preoccupation when faced with sartorial impracticalities?) Which brings me to the point below.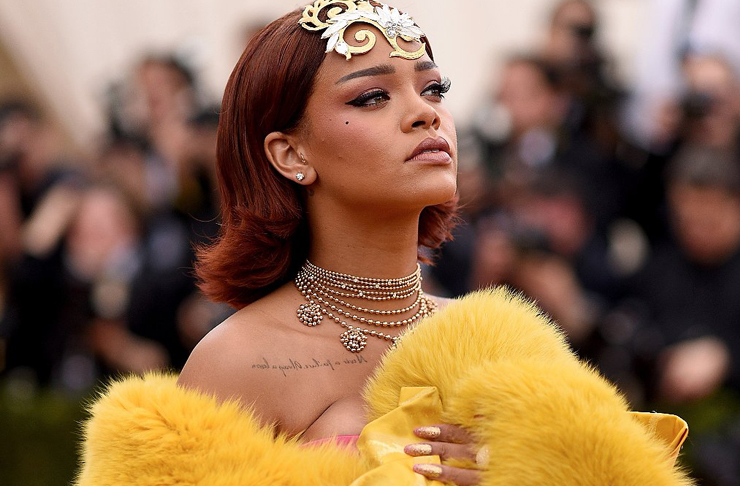 Image credit: Conversations About Her
6. More Is More
When an event is this big in the fashion agenda, all the minimalism, simplicity, and considered approaches to dressing seem to just go out the window. Good. It's fun to see people taking chances—Annabelle Wallis, Tabitha Simmons and Karen Elson take the quite literal, Dolce & Gabbana-encrusted crowns on this one, with fable-like gowns to match. Good for playing hide-and-seek during the after party, or for harbouring fellow drunk patrons wanting a bit of privacy—you know, those dresses being the size of a small house and all. Naomi Campbell also takes the cake with her
Burberry-meets-swamp-monster concoction—a thing complete with so much plunging neckline, sheer inserts, murky green sequins and ostrich-feathered tail that it shouldn't work, but in a good-mermaid-gone-bad kind of vibe and on Naomi, it just kind of does.
7. The Night's Watch Strikes Back
Yes, I will continue to beat the proverbial, dead Game of Thrones horse ad nauseam until the joke's so old I'm able to employ it ironically. Cara Delevingne, Dree Hemingway, Edie Campbell, Jamie Bochert and Mary Kate & Ashley have all chosen to take the black, each and every one embodying the cooler-than-thou goth older sister we all wish to have had at some point in our lives.
8. Red Is In
On a more colourful note, a round of applause to Poppy Delevingne (in Marchesa), Rose Byrne (Calvin Klein), Jessica Hart (Valentino) and Sienna Miller (on a Matador-looking getup by the way of a tasseled, boob-imposing and #freethenipple-inducing tuxedo by Thakoon). Kudos also to Amal Clooney. Sure, she did steal George (you've got Fassbender and Gosling to worry about now, don't be greedy) but she did look good, and pulling off a layer cake like that anywhere else but inside of your stomach, I'm telling you, is not easy.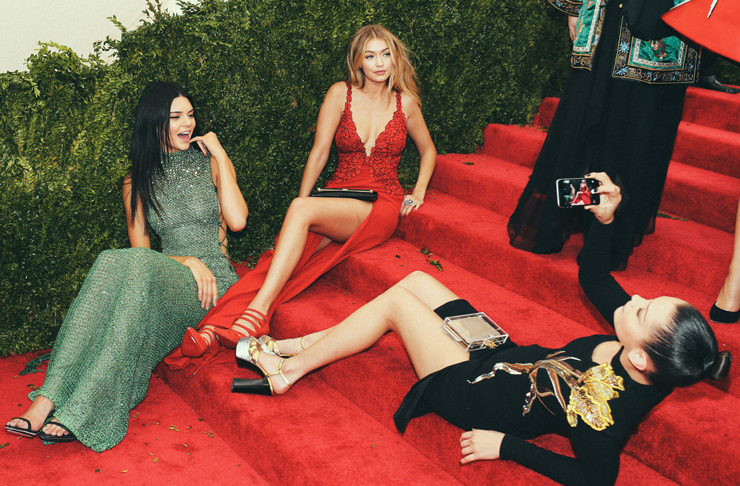 Image credit: Vogue.com
9. Cheap Is Cheerful
It's not the first time for the high street to be represented on the Met red carpet, but it was surely refreshing to note that some of the most talked-about dresses in this season's gala bore the H&M stamp (Janelle Monaé's black and white pencil skirt and crop top duo with matching cape and the Sarah Jessica Parker's whole shebang). Some of the most underrated—yet surely on point—outfits belonged to Emily Ratajkowski and Bella Hadid, both in Topshop, no less.
Even if said bespoke pieces probably didn't come exactly cheap (the retail giant did release reproductions of the aforementioned styles for sale the following day), it is only proof that one does not necessarily need to break the bank when dressing for evening events. Of course though, it also does not mean that one wouldn't see the affordability of the dress as an excuse to go apeshit on the ridiculously expensive shoe and bag to go with it but, you know, we're all addicts here. Baby steps.
10. Royalty Wears No Clothes: The #Belfie Theory
It all started when Kim K grabbed Beyoncé's 2012 sheer, feathered black-and-purple Givenchy number, removed the inner body previously placed there for modesty's sake, dyed it white and called it Cavalli. She was, in fact, practically naked, thus stealing most of the attention from her hubby. He may have liked the dress from the back (there is strong photo evidence of the hypnotic effect of Kim K's behind that night) but most of the the time Kanye remained thoroughly unimpressed. No one steals attention from Kanye. Noteworthy is also the fact that said dress started producing stray feathers during the night, as immortalised by Kim herself in Snapchat #partyfavours. Then came J-Lo fully dressed in Versace, except for a strategically placed slash on her most famous ass-et. See what I did there? Right.
Back to the butt window in question (and let's call it butt window from now on, because I'm loving the butt window): one should not, ever, and under any circumstances sport a butt window. I mean, this is the glamorous equivalent of your ripped Yoga pants, which you would immediately replace and never wear in the light of day, right? But then again, it is very commendable that J-Lo's butt, now at age 45, has not indeed descended or transformed itself into jello. Also, she does not have even an ounce of cellulite (trust me, I looked—insert reading glasses and another bottle of wine).
Does that mean she holds the rights to literally shove said butt, via window, in everyone's face? I'm actually torn on this one. I mean, maybe the side butt is the new side boob. It could only be a natural evolution, or at least progression, from all those cheek-bearing, high-waisted and too-short denim shorts. One is also reminded of all of those pictures of strategically slashed Levi's jeans cropping up on Instagram of late. #Belfie. As in Bum Selfie. Don't tell me you haven't seen those.
And then came Beyoncé, equally naked (I Woke Up Like This) in Givenchy (flawless), and she brought the house down, breaking the Internet once again as she went because clearly, the empress needs not wear clothes. Ok ok, Queen B can do no wrong, but now the real important question I must pose is: where are these ladies' grandmothers, and aren't they worried their granddaughters are catching wind? Whatever the answer is ladies, please don't try this one at home.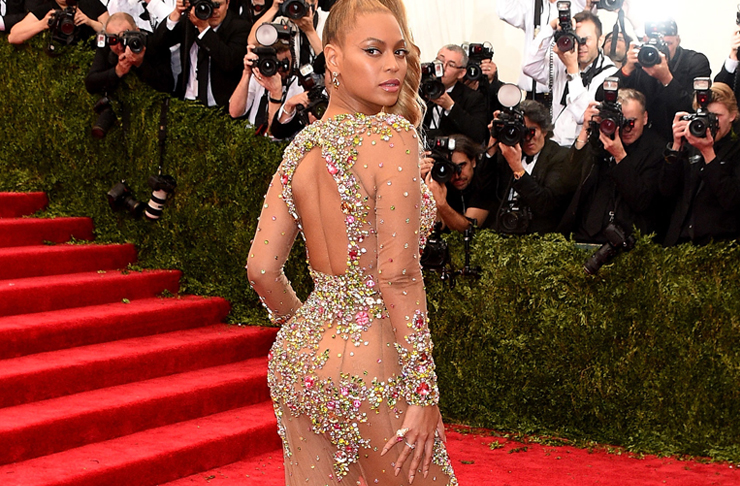 Image credit: Vogue.com
11. It's All About The Jacket
Some attention must be paid to the boys though. Because, in two words, Adrien Brody. Who is surely the sexiest man alive (ok, maybe second only to Michael Fassbender), and who stole the f*cking show in that glorious tapestry of a Dolce & Gabbana jacket. Major, major sartorial excitement right there. Second place goes to Hamish Bowles in an embroidered and quilted Chanel robe that wouldn't have looked out of place in Hugh Hefner's closet, and to Kanye West's Cavalli tasseled shawl-collared suit jacket which you probably, and unfortunately didn't notice due to the gravitational pull of Kim K's glowing ample bosom. A good lesson to take from here, and to transport to our own wardrobes, is that sometimes it's just good to slip on some pants, a shirt, and let the jacket do all the talking.
12. Sjp's Headpiece
Sure, were this a red carpet of any other kind, she could have well ended up in the worst dressed list (and she probably will, regardless) but because the Met Gala meant to be a celebration of true fashion in its freer form, let's just give this one a standing ovation because, you know, that thing was on fire. And if one must require balls to experiment with sartorial creativity, let's just say I'll always roll with it.