When Wilston café Freja's announced it would be closing its doors, there was a collective gasp of shock from all the brunch lovers of Brisbane. With lines around the block every weekend, the popular breakfast spot (and their epic loaded croissants) seemed sure to be a permanent north side fixture, but news dropped just before Christmas that the café was about to be no more—and it was time for a last serve of those incredible hotcakes.
Thankfully, it was a case of one door closing and another one opening, with owners Nathan Dunnell and Freja Rasmussen starting a new chapter and transforming the space into Elska. This casual 12-seater fine dining spot is the place to feast on lengthy degustations heroing local produce in deliciously creative ways.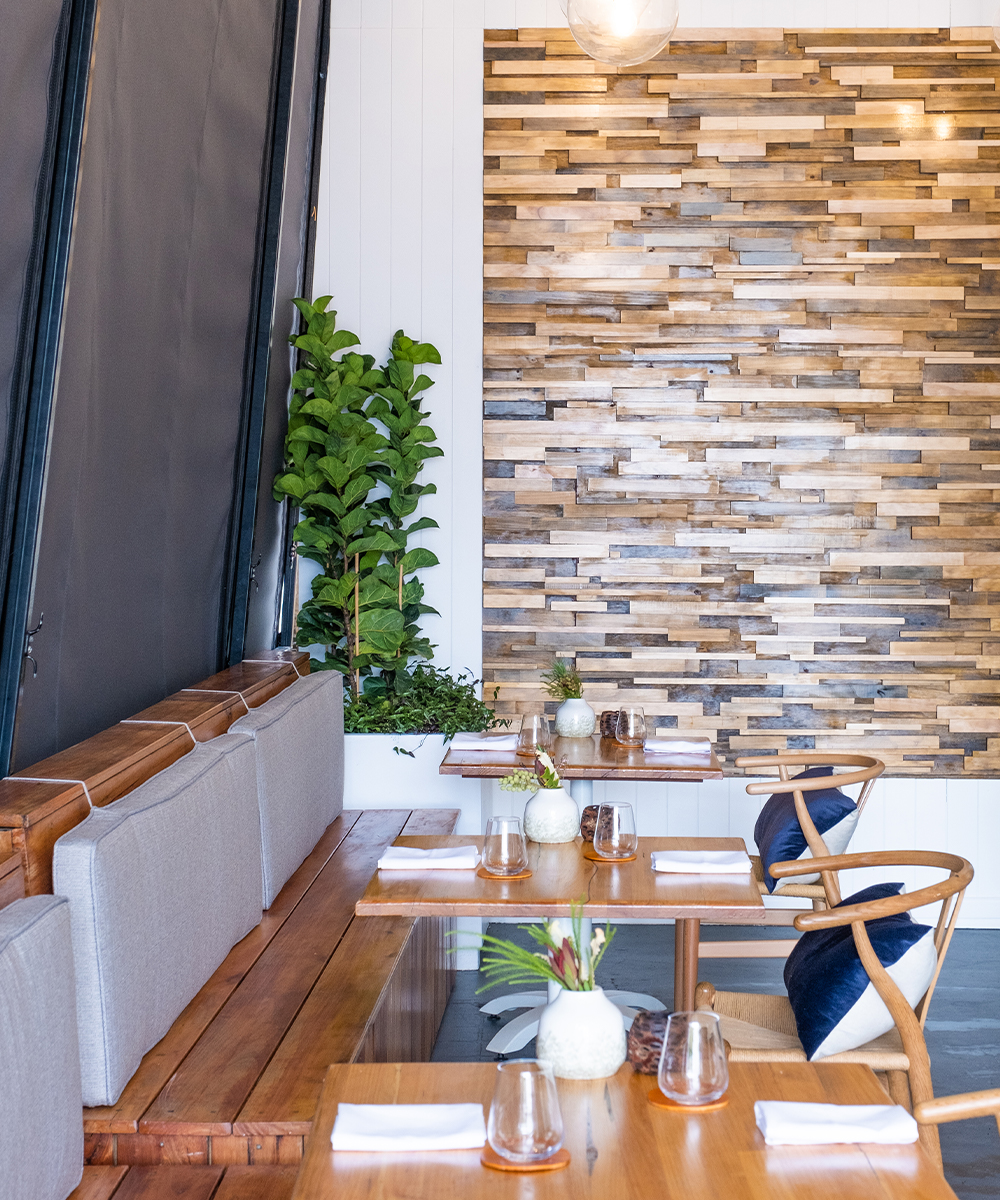 While the venue has kept its bright and airy feel, the rustic café tables out on the patio have been swapped out for just six tables, with the dining space enclosed by curtains to provide a more intimate feel. Plenty of natural wood finishes, Scandi furnishings and greenery complete the cosy Nordic cottage vibes, with the intention of making diners feel like they're just over for a family dinner—which is just how Nathan and Freja want you to feel.
This sense of family was one of several reasons Nathan and Freja decided to make the venue change—having only 12 seats means the experience can be kept personal and intimate, taking you on a journey from start to finish. Elska is the Nordic word for love, which has been infused into every aspect of the new venue, from the cosy, down-to-earth setting and one-on-one service (you'll find Freja front of house) to the hyper local produce and homely cooking techniques used in the menu. With a background in fine dining, chef Nathan was keen to get back to his roots while also unleashing his creative side, and Elska provided the perfect opportunity to do so.
Featuring around seven to nine courses and set to change regularly depending on seasonal availability and how creative Nathan is feeling in the kitchen, the degustation menu is all about Australian produce prepped using Nordic cooking techniques—think pickled, salted, dried and smoked. Right now, you'll find the likes of emu, wallaby and urchin on the summer menu, along with foraged native ingredients like desert lime, sea herbs and paperbark.
So how does all that look on the plate? Don't be scared off by the unfamiliar ingredients, just take an open mind and prepare to be wowed by dishes like wallaby 'snags' with Kakadu plum ketchup and urchin custard with salted white chocolate and young fennel. And if you're not ready for the experience to be over after the food is, a small bar area out the front means you can stay and sip on while you try and decide on the favourite dish.
The degustation will set you back around $110 per person, with matched wines for $60. There's two sittings a night from Thursday to Sunday but you'll want to book in quick—over 400 hungry regulars have already snapped up February's seats.
For those still lamenting the loss of their favourite Sunday breakfast spot, despair no more—Elska will be open on weekends for brunch. A short list of five to six dishes making use of the same hyper seasonal produce will be dished up each Saturday and Sunday, though you'll still be able to get your bacon and eggs if needing an explanation of your breakfast dish isn't quite your vibe. Word of warning though, for now the 25 morning seats will be walk-in only, so you'll want to get in nice an early.
In the meantime, book that dinner table for two in a hurry and take a squiz at the sample menu here.
Love a good degustation? Find Brisbane's best here.
Image credit: Sophie Spencer