If you haven't heard of Brisbane-based rapper Jesswar, you will soon. Talent like this has a way of getting noticed. Exhibit A:
The Fiji-born artist recently teamed up with Red Bull for their This Is Home series—an up-close look at the meaning of home for Australian artists.
We wanted to sit down with Jesswar and get her talking about Brissie. What's it like to make music here? How did she go from bedroom recordings to playing at Splendour? And where does she go for a truly banging breakfast burger? All the big questions.
So how did the whole Red Bull thing come about?
I first collab'd with Red Bull a while ago at Laneway Festival. They got me to play on the Red Bull stage, and we played a few other events in Sydney. Then we did the Splendour Stage together. I grew up going to Splendour, so playing it was amazing.
Were you nervous?
Extremely nervous. It was a huge crowd. I just really wanted to do well. I had all my mates there, brought some other Brisbane MCs out, and we had the whole crew there, so I just really wanted to do well for us.
We were the first act on. I was like, f*ck there's gonna be no one there. I didn't want to look at the stage beforehand—I just thought, go out there and screw it. But then I peeked behind the curtain and saw like 5000 people in the crowd, and I thought, shit it's really happening.
And you got to meet FlexMami?
She's amazing, man. I met her like three years ago at Secret Garden. We were playing on the same stage. She reminds me of this beautiful young aunty. Whenever I see her she gives me such warm hugs. She's really supportive. It's nice.
What's the Brisbane hip hop scene like?
It's interesting. Because Brisbane is so small, everyone knows each other, and we're all going to each other's gigs and showing support. It's a big community up here, really good vibes. I've got a mate who runs an improve jam night where you can go up and do a cypher, and there's heaps of gigs to play. I've made lifelong friends from people I've met at gigs in Brisbane.
Are the Queensland crowds different?
I think so, yeah. It's very open up here. They're really receptive. Everyone wants to have a good time and a good night, and if you can command that, they'll just love you and support you and come through. They'll come to the next gig, you know, buy your merch. It's really nice. You'll see people from like three weekends ago, and they'll come back with a whole crew.
How did you get into hip hop?
I can still remember, I was very young, like six or seven, and my step brother was living with me from New Zealand. My brothers are like five years older than me. They introduced me to hip hop. I'd go into their rooms and listen to Cyprus Hill on the CD player. I was very young so I didn't understand all the lyrics, but I just loved it. I felt connected to this genre, and represented in ways I wouldn't usually be, especially with artists like Lauryn Hill and Missy Elliott. It helped me get through life, that genre.
Did you model your flow on anyone?
That whole era of Missy Elliott, she was just reigning on the scene. Every song was a banger. Her video clips too—she had this vision. I was in awe of her when I was younger.
It reminds me of growing up with my cousins and family BBQs, and switching iPod Shuffles, downloading albums on Limewire. I mean, looking back, that was so bad for the music industry, but we suddenly had access to songs all around the world. You couldn't even buy that music here, you had to hunt for it. So we got all Biggie's stuff, all Missy's stuff.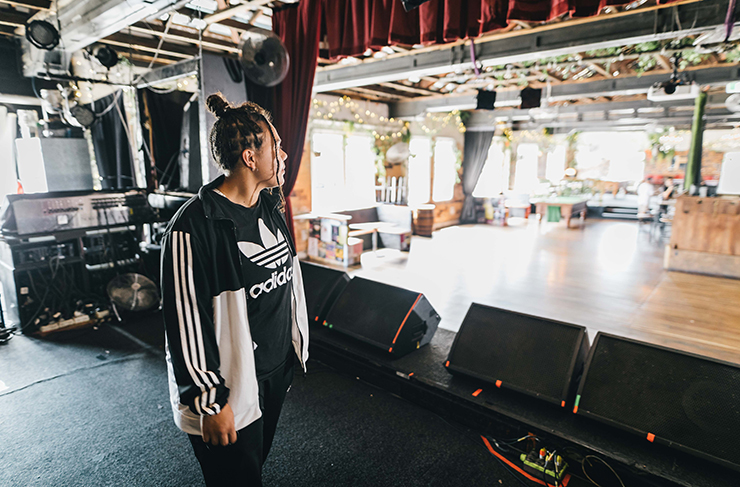 Do you think the industry does enough to support artists?
I dunno, putting your music out there, having the streams, you don't need a huge label anymore. You just need great music. Music that people can see themselves in, that they love. It's a good balance, but it's always changing, always seeing if the industry can stay on top of it. For artists, I mean, I'm loving getting my royalty cheque at the moment. A few years ago I wouldn't have got much, if anything. Getting CDs printed used to be so expensive.
Do you still pinch yourself?
I do it every day. I just feel so f*cking lucky. From when I was young, it just seemed so far away, like winning the lottery. So I just feel so grateful now. I want to bring the artists I love with me whenever I can, I'm excited to take the next steps and go further. I'm excited where I'm gonna be in five years.
I'd like to have bought a house, somewhere by the ocean. A wholesome nice life, and just keep doing music and touring. I want to do this for 25 years.
Jesswar's Brisbane Tips
Best brunch? "Paw Paw Café in east Brisbane. It's just the corner from our house."
Best bar? "Ooh, definitely the Rumpus Room."
Best gig venue? "Oof, that's really hard. The Foundry is also an awesome gig venue, but Tivoli and Triffid are really nice sound wise. I'd probably say The Foundry."
Best burger? "Ben's Burgers. You should get the breakfast burger too. It's got this delicious sauce, especially if you're hungover. Get a coffee and burger and sit in Winn St, it's great."
Want more? Check out Jesswar's new track 64 Bars. You can catch her Red Bull This Is Home interview here.
Image credit: Red Bull