Brenda Fawdon, the passionate organic chef and restaurateur behind Brisbane institution Mondo Organics, is not one for holding back. As soon as she could stand, she was cooking, under the watchful and expert eyes of her mum and grandmother. Then, at age 17, armed with only an aqua blue VW Beetle, her wits, the brazen courage of youth, and a passion for real food she set off to explore this great brown land.
After learning first hand about food production and good, honest cooking, Brenda made the ambitious jump in to restaurant ownership at just 21 with her first venture Primavera. Eleven successful years later, and following a move to West End, second venture The Soup Kitchen Café was born, where Mondo sits today.
With a complete love and dedication to real food, Brenda—and her equally devoted team—has amassed a serious following amongst Brisbane food-lovers.
Mondo Organics on Hardgrave Rd in West End has been serving up amazing produce, cooked to perfection for close to 14 years and shows no sign of slowing.
We took two minutes with Brenda to chat about her motivations and inspirations, her Tamborine Mountain sanctuary, her new cookbook, the Mondo cooking school, the new relaxed face of the restaurant, and how to get the most out of your organic produce.
Plus, she shares an exclusive sneak peek of one of her favourite recipes from her new cookbook, Wholehearted Food, which one lucky Urban Lister will be winning!
To win a copy of Brenda's new book, check out Mondo's new autumn menu, and then tell us in the comments below, what is the dish you would most like to try? We will choose the lucky winner!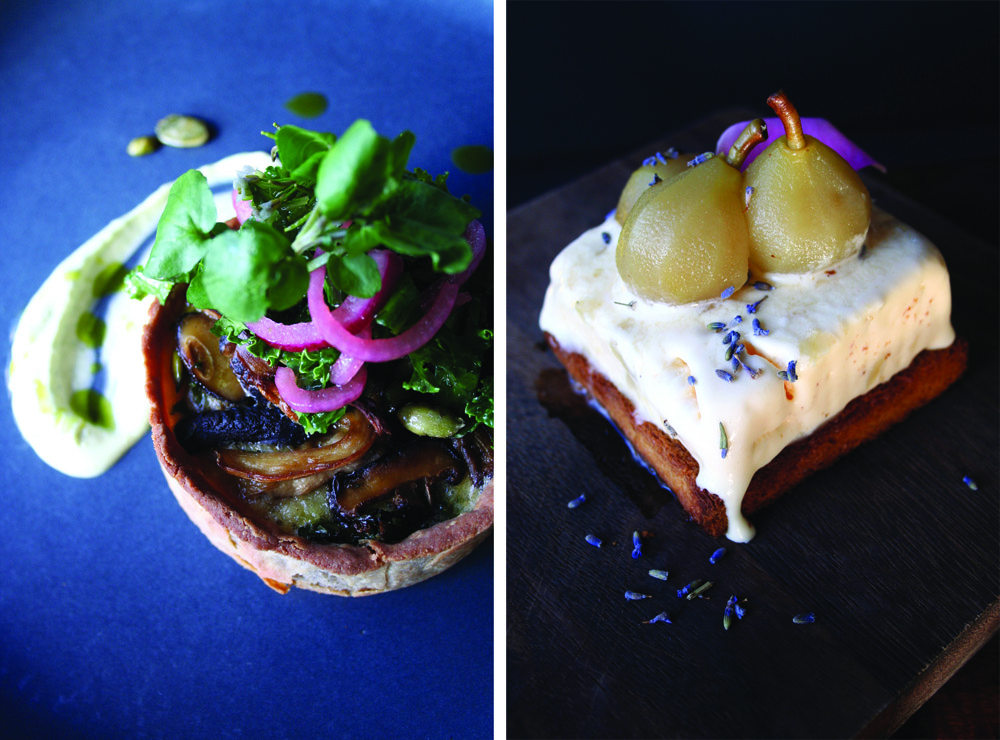 TUL: Mondo Organics was the first licensed organic restaurant in Australia, opening in 2001. How did Mondo come about?
BF: In 1999, I was inspired to research genetically modified crops after watching Jennifer Byrne reporting on Foreign Correspondent. Concerned by what I discovered, I decided to develop the Mondo Organics concept, which included a restaurant, cooking school and catering business.
TUL: What is it that makes Mondo unique? What is the ethos behind what you do?
BF: Energy, care, love of real food, value-aligned staff, optimism, determination, education and buckets of hard work. We like to use seasonal, fresh, organic produce and whole ingredients, and we want to present our food in a modern and stylish way without too much fuss. We respect the ingredients—we like to let the produce shine. Sustainable seafood and ethically raised meats are important to us.
TUL: Is this why people keep coming back?
BF: People return mostly because the food tastes good—it has to be delicious FIRST! Our menu is excellent value: top-quality produce prepared by a highly skilled kitchen team that genuinely cares. We also have a loyal Mondo tribe who love organic food and keep coming back.
TUL: What is your background? How did all of this lead to where you are today?
BF: I started cooking as soon as I could reach a stove, inspired by my grandmother and mother who were both great cooks. As an adventurous and spirited seventeen-year-old, I travelled around Australia in a 1969 aqua blue VW Beetle for three years, learning about produce, cooking, fishing and living off the land as I went. I purchased my first restaurant, Primavera, in 1981. I was 21 years old; I had no fear. I started with $67.50 in the till. I ran Primavera successfully for 11 years and then I moved to West End in 1992 and opened The Soup Kitchen Café (The Soupie) where Mondo is today. Four years ago, I made a philosophical move and bought a home at Tamborine Mountain where I've created an organic kitchen garden and mini orchard, and where we live as sustainably as we can. We have tanks full of rainwater, solar panels on the roof and we delight in the clean mountain air. Up here, I've befriended many of the local organic growers and we are now fortunate to use their premium produce at Mondo.
TUL: You have attracted a team of great staff over the years, all with some serious cred' to their names. What are your team's passions and how does this translate in to the restaurant?
BF: Mondo attracts staff who are interested in health and would like to learn more about healing foods and foods that nourish—real food. They have a genuine passion for organic produce. Currently, we have one of the best teams we have ever had at Mondo. Our head chef Paul Horne trained with Raymond Blanc in the UK and he has been my right-hand-man in cooking school for six years. Rose Newberry did her apprenticeship with us ten years ago and has returned as our sous chef. Aaron Zablocki was our 2IC two years ago, travelled the world and has returned to manage the restaurant with a sommelier qualification from London.
TUL: Local, seasonal and organic are obviously mainstay themes of your menus but are there other inspirations? Where do you get your ideas?
BF: I have a library of hundreds of cookbooks, as well as books about organic gardening. I also travel locally and internationally where I constantly find inspiration.
TUL:What are your tips for selecting and cooking with organic produce?
BF: Go to your local organic market or organise a box drop off if you're too busy. Don't make it too complicated—let the produce shine. We are all time poor these days so quick and easy techniques, and using the freshest organic produce will always win hearts.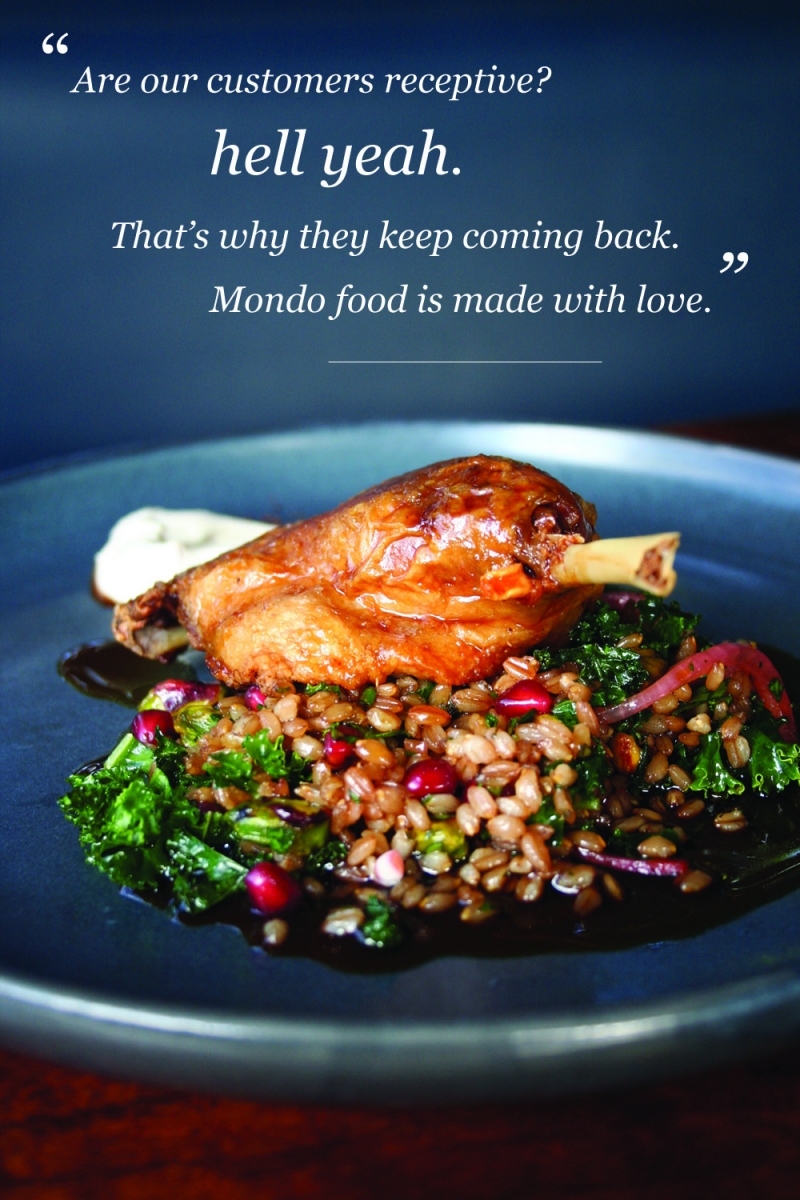 TUL: Who are your favourite producers?
BF: We love Allison and Stuart from My Berries; their raspberries are divine. We are also using spectacular leaves from Adam and Mayjune Willson at Mt Tamborine Organic Garden. We love using unusual produce, like sprouted purple broccoli, white corn and black radish from my neighbours at Tamborine Mountain, Di and Burkhard Brauer. We also use Cape Grim beef from Tassie and pork from Gooralie Farm.
TUL: You've specialised in vegan and vegetarian (as well as your great carnivorous offering) for quite some time. Do you find customers are receptive to your 'alternative' offering?
BF: I don't think the food at Mondo is 'alternative'. I see it as real food, whole food, the food we know is good for us. We attract a broad range of customers with many different dietary requirements. I guess what we do do differently at Mondo is enjoy the challenge of creating delicious vegan, vegetarian, gluten-free and dairy-free options. It is a given we choose to use seasonal, quality, whole and real ingredients. Are our customers receptive? Hell, yeah. That's why they keep coming back. Mondo food is made with love.
TUL: When did the cooking school take off? What can people expect from a class?
BF: Cooking school was popular from the moment it started in 2003. My classes are full every week. We've attracted a large loyal tribe of Mondo cooking school fans over the years who keep coming back and bringing their friends and families. Loads of people purchase cooking school gift vouchers, too.
We provide a hands-on experience in an intimate commercial kitchen space. We offer health-focussed classes, as well as Mediterranean and European themed classes. Also we occasionally hold two-day workshops with "the best of best" from around the country. Recently, Holly Davis, ex-Iku Foods in Sydney, presented a lacto-fermentation and sourdough weekend. Workshops also book out fast as they are extremely popular.
TUL: In the early days, Mondo Organics built quite a reputation as a fine dining restaurant. Is that still the direction for the Mondo experience?
BF: We are more relaxed these days. We are finding the market has changed and we have changed to meet it. We now offer a bistro-style menu. Our produce is always the focus. The food is simpler on the plate and diners are responding well. We've recently started offering a shared long plate menu, which is awesome value. We strive to offer the best value we can to suit a broad range of budgets. On the weekends, our breakfasts [Editor's Tip: Try Mondo's new autumn brekkie menu now!] are extremely popular as we offer a mouthwatering wholefood menu, which caters for vegetarians and vegans, and people with food intolerances—as well as omnivores, of course.
TUL: What are your plans for the future? Any exciting projects in the works?
BF: I'd love to write another book—not yet!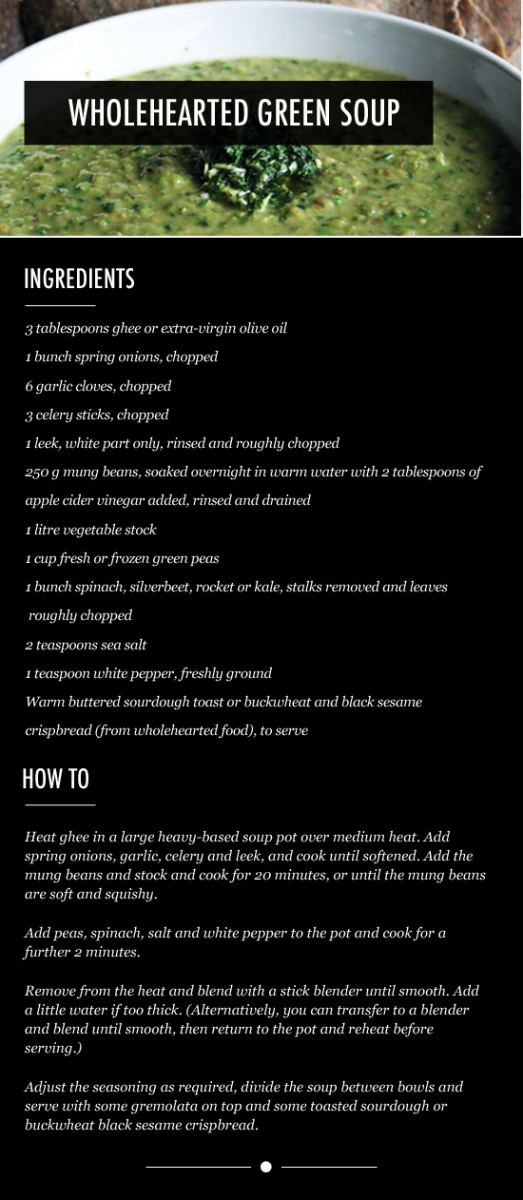 Don't forget to follow Mondo Organics on Facebook and Instagram (@mondoorganics) for more news, tips and hints, giveaways, and drool-worthy pics!
Image Credit: Christine Sharp at The Skeleton Agency
TUL Note: Today's List Love post is proudly sponsored by Mondo Organics and endorsed by The Urban List. Our sponsored posts will never be a secret — the List Love seal will be stamped on any sponsored material you see on the site. Thank you for supporting the sponsors who make The Urban List possible.