Sometimes you don't want to go all fancy-shmancy, prim and proper. There are nights out when all you want to do is cut loose, go a bit crazy and hit a down and dirty dive bar. We got our edgy pants on and sought out the coolest spots in town so you can go nuts. Here's our pick of Melbourne best dive bars. Dive in.
SWEETWATER INN | SOUTH YARRA
The southside might not be renowned for its dive bars, but there is a handful and this newish joint, Sweetwater Inn, tucked behind the Jam Factory, feels a million miles away from the glitzy ritz more usually associated with this end of Chapel Street. Essentially a corrugated tin, outback-style shed, there's no fancy door list policy and plenty of wild shots encouraged for an edgier crowd that makes the most of the chip butties to soak up the boozing. Hot tip: down a Ladyboy cocktail and a lamb damper roll.
YELLOW BIRD CAFE | WINDSOR
As the Windsor end of Chapel continues it's chi chi march towards gentrification, Yellow Bird's down and dirty rock 'n' roll bar is keeping it real in the dive bar stakes. Expect plenty of leather-clad hotties and loud rock hits blaring late into the night, with cheap jugs of sangria and Melbourne Bitter long necks. They open early for the recovery Death Benedict, too – a hangover-defeating combo of hash browns, bacon, poached eggs and hollandaise.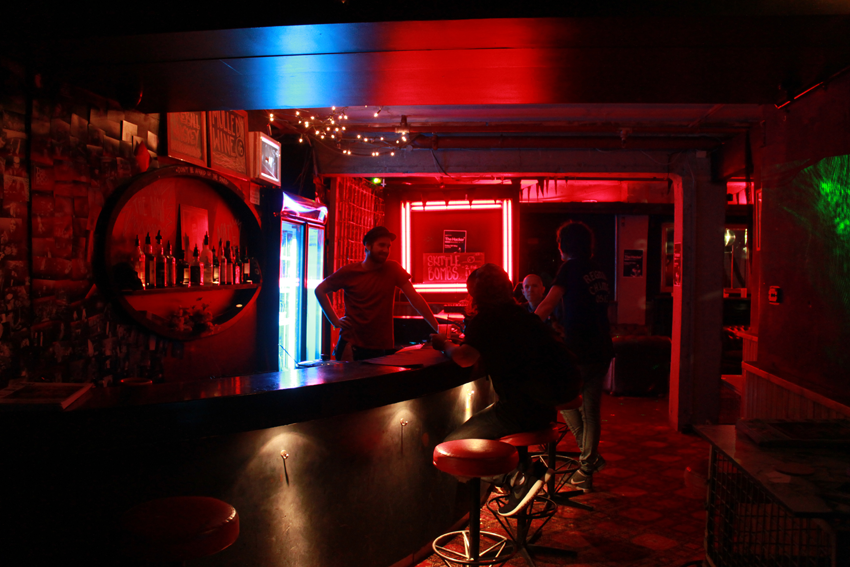 Image credit: The Liberty Social Facebook.
THE LIBERTY SOCIAL | MELBOURNE CBD
Shift into the city and delve deep into the basement space that is The Liberty Social on Flinders Lane, a stalwart on the dive bar scene, with their modus operandi to the point: "It's just a space where parties are thrown." There's nothing fancy pants about this joint, just a dedicated focus on having a real good time. RSVP before rocking up on Thursday nights for Utopia Dive bar and you can claim free vodka, and make sure you make the most of $5 shots too. There's live music on Wednesdays to blast the pain of hump day away.
BONEY | MELBOURNE CBD
Pony is dead, long live Boney. Many a shot glass was raised in mourning at the passing of the city's infamous dive bar HQ, the down and dirtiest place to shake some post-midnight, preferably while dancing on the bar. Thankfully Boney rose from the ashes pretty soon afterwards, with only a cursory sprucing that hasn't dimmed the fantastically feral behaviour of all who sail in her. Downstairs is daubed in red neon light, and you can grab a beer-soaking bite, with a band space rocking out upstairs until after dawn.
DING DONG LOUNGE | MELBOURNE CBD
Born in a margarita haze at CBGB's, Cosmic Psycho's drummer Billy Walsh opened Market Lane's Ding Dong Lounge back in 1998. One of Melbourne's best dive bars, it's a melting pot of hot DJs and cool bands that's drawn many a celebrity to slum it in the big booths beneath trippy lights, with the bandroom working a Studio 54 groove, with everyone form Radiohead's Thom Yorke to the White Stripes singing its praises.
CHERRY BAR | CBD
No list of dive bars in Melbourne worth its tequila and salt would be complete without a might big plug for Cherry Bar. But you'd better get in quick before evil developers push the city's iconic home of rock out of the laneway named so perfectly for it, AC/DC Lane. A legendary dive bar that puts live music first and foremost, they once knocked back a post-stadium gig from Lady Gaga because they already had a local band locked in, which gives them major kudos in our book. They subsequently let her strut her stuff this time round, dancing on the bar, no less. Fittingly, her first request of DJ Mermaid was AC/DC's Squealer. Global megastars aside, leave your pretension at the door and bang your head with a sexy back in black crowd.
Image credit: Revolver Upstairs Facebook.
REVOLVER UPSTAIRS | PRAHRAN
All trashy nights out on the south lead to Revolver's den of outrageous iniquity at some stage or other, with this raucous club kicking well into the wee hours with a revolving DJ line-up and a big dive bar next door packed full of crumpled sofas for the worse for wear to rest their weary feet. The band room is a mainstay of live music this side of the Yarra. Just watch yourself on the epic stairs on the way out.
YAH YAHS | FITZROY
A change of ownership sometimes signals a death of the original spirit, but not so when the guys behind Cherry Bar took over Smith Street's classic dive bar, Yah Yah's, this year. If anything, they've upped the rock 'n' roll live music content and encouraged even more party kids to lose their weekends in a blur of bad behaviour, apparently saving the joint from becoming another restaurant near the Gertrude Street corner that's beginning to get a wee bit too posh for our divey tastes.
KENT STREET | FITZROY
Another protector of the boho boozing cause on Smith Street is legendary Melbourne dive bar, Kent Street. Replete with creaky wooden staircase and squishy old armchairs, it's a great spot to sit back and soak up DJs and live bands, with a strict 'no jerks,' policy in play. Kent Street serve up mighty fine coffee if you find yourself stumbling by the scene of the crime the next morning, and we love their to-the-point motto too, "F*&k this, I'm going to Kent Street."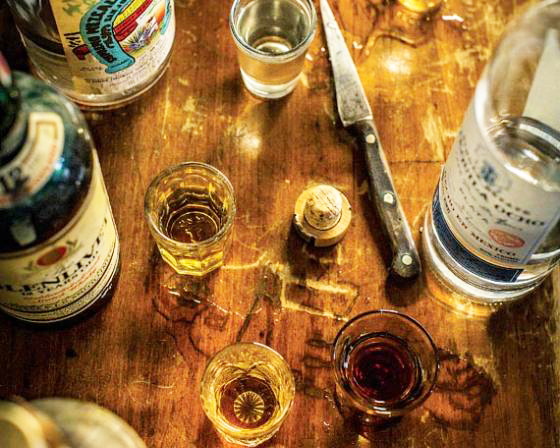 Image credit: Eric Wolfinger on 7x7.
THE BEAUFORT | CARLTON
What says 'dive bar,' better than a neon anchor and a 'no spitting,' sign outside the front door? There's a thoroughly nautical feel to the dimly lit dive that is Rathdowne Street's The Beaufort, backed up by the vaguely tropical feel of cocktails doled out in wackily tacky tiki mugs. Sink a few Sailor Jerry's and follow through with ribs and burgers from the adjoining Ike's Rack Shack. A great place to get a schooner or two 'in ya guts,' as they say.
BAR OPEN | FITZROY
Okay, okay. So we said ten, but how could we talk Melbourne dive bars and not squeeze in Brunswick Street's Bar Open as a bonus round? Rough as guts, in the good way, the clutter of bar Open's cosy interior and it's rollie-handy, dinky courtyard outback makes for a perfectly divey Friday night session that kicks on past the witching hour, with plenty of live bands to see you through.
Check out more of Melbourne's best bars and pubs.
Main image credit: Amuseless.