Instagramming is practically a sport in Melbourne, with food-lovers patiently lining up plates, cutlery and impeccably designed menus for a picture-perfect brunch. The colour-loving HP printing team know what they're talking about when it comes to design and to celebrate the launch of their slick, shiny new OfficeJet Pro Printers, we've rounded up Melbourne's most style-savvy cafes! Hipster haters beware.
Short Round
Thornbury
With menus so pretty you could eat them up, Short Round is a visual feast for design lovers. Specially designed coffee cups, playful business cards and fresh flowers completes the airy, laid-back space. An open brick wall, timber floors and pale plywood is the ultimate backdrop for enjoying their seasonal menu. At the moment, it would be a sin to ignore the house potato gems with burnt sage butter, bacon, peas, salted ricotta and a poached egg.
Middletown
Prahran
Inspired by the Duchess of Cambridge, Middletown is a place fit for royalty. Like a teensy town on High Street, Middletown's expansive, vibrant space features royal navy blue and gold trimmings. Even the coffee machine and take away coffee cups are dusted with gold because these guys know you deserve luxury. What more could you want in the morning?
Code Black Coffee
Brunswick
Cheeky coffee cups and a monochromatic interior makes up Brunswick cult-favourite Code Black Coffee. Devour the delicate coffee hot cake with chocolate ganache, mascarpone, coffee jelly, and crisp chocolate on a perforated white table, or snag a cosy spot along their popular pale couch.
Darling Café
South Yarra
Smoothies in light bulbs? Hot pink coffee cups? Pokemon doughnuts? Only at South Yarra's Darling Café. A marble bar and gold trimmings makes up this adorably cosy space. Towering sticky date pancakes with butterscotch ice-cream, seasonal fruits, palm sugar caramel and malted crumble or hazelnut fudge waffles with deconstructed nougat, pressed chestnut and crème fraiche, purple honey and mascarpone are on offer. Just look for the XO on the door.
Piggery Café
Sherbrooke
Don't let its history sway you—the Piggery Café looks nothing like a pigsty. High ceilings, moody grey walls and a (distinctly un-yellow) brick path centres the café. Fill their marble-ended benches with dishes including butter chicken pies, lobster rolls and pork belly buns with bacon. Eating like a pig is practically expected.
Bluff Town
Sandringham
If you're ever walking along Station Street, you'll likely spot one of Bluff Town's signature coffee cups. Scribbled with a polka dot mountain on one side, you'll find a gorgeously asymmetric concrete and timber bar, cheeky neon menus and impeccably presented dishes at Bluff Town. Don't forget to pick up a gold business card on your way out.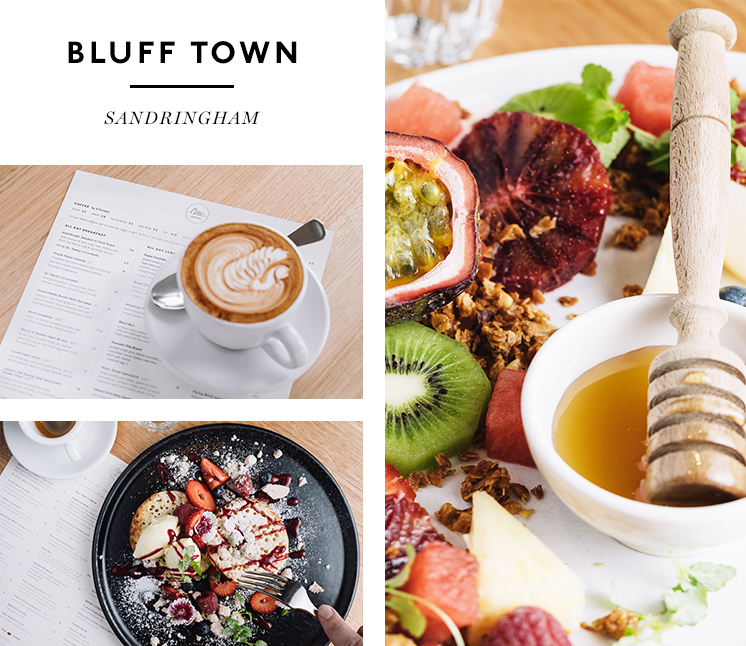 Little Big Sugar Salt
Abbotsford
Leather stools, dark timber and a not-so-secret backroom keeps LBSS's interior stylish and simple. You'll find their menugazine (think of it like a magazine for food) tucked onto tables in the back room, which also features a fireplace ideal for cooler mornings. The Governor R. Swanson is a must since it's essentially the cheesiest, crispy pile of egg, slow braised pork hock, ham, leek béchamel, pickles and toast ever.
Cumulus Inc
CBD
Melbourne's reigning CBD favourite, Cumulus Inc's round timber tables, industrial black beams and stainless steel bar complements impeccably plated dishes like vibrant poached ocean trout on avocado, sorrel, broad bean and crab or rhubarb and hibiscus jelly with coconut sorbet and ginger beer. Delicately designed coffee cups and takeaway bags almost make us want to order out, in.
The Crux & Co
South Melbourne
The shiny new kid on the CBD block, The Crux & Co gets to the crux of brunch. An emporium of textures among deep blue and neutrals, deep copper finishes extend to their luxe logo. From delicate navy business cards to baby blue and copper pastry boxes, The Crux & Co is a looker that you have to hunt down.
The Vertue Of The Coffee Drink
Carlton
An all-time favourite, The Vertue of the Coffee Drink is hands down one of Melbourne's best-looking cafes. A treasure of hidden corners, spots and hideouts—judge the Salmon Garden by its cover. With coffee cured salmon, a spring vegetable garden and puffed almond amaranth nestled with a sous vide egg, it tastes even better than it looks.
Image credit: Griffin Simm for The Urban List.
Editor's Note: This article is proudly sponsored by HP Printers and endorsed by The Urban List. Thank you for supporting the sponsors who make The Urban List possible. Click here for more information on our editorial policy.