It takes serious skills to impress Melbourne's food-weary, Instagram savvy populace. Often it's a matter of eye-porn over actual food-porn. But luckily for us, Dutchess is the whole package.
Smart, stunning and endlessly surprising, Dutchess' humble home on the third level of The Duke is now open for a #treatyoself lunch every Thursday and Friday. Here are the 7 ways this Dutchess will blow your foodie mind.
#1 Seriously Delectable Starters
Cheese lovers won't brie-lieve their luck when the Crayfish mac & cheese hits the table. Still barely bubbling underneath a charred, crispy exterior—thrust a spoon into this aromatically cheesy, creamy dish, enriched with crayfish.
Leave your fork behind (you won't miss him) when it comes to the fried chicken wings, which come dolloped with Louisiana hot sauce and blue cheese. Celery is served on the side, because health.
#2 Deconstructed Cocktails, Enough Said!
Syringes, droppers and scientific-looking beakers might not usually be part of your average cocktail night, but Dutchess' deconstructed cocktails mean you'll get your perfect drink, every time. The range is on rotating weekly special, so ask your friendly waiter what's on for the week. Past classics have included a spiced, tropical Negroni-style cocktail (complete with Tabasco) and a smoky cinnamon and apple creation.
In the best news of the week, Dutchess are also hosting a cocktail happy hour (including deconstructed cocktails!) with $11 cocktails between 5pm-7pm, Tuesday to Saturday. Start spreading the boozy times.
#3 Melbourne's Most Instagrammable Dishes
You're welcome to judge Dutchess' book by its cover. You won't be disappointed. From the cheekily named Ferrero Rocher that is drizzled with shiny, thick caramel, to beetroot cured salmon starter dressed with fennel pollen, caviar and black rice, every dish is impeccably presented.
#4 Lunch That You'll Love
Never mind meat-ing lunch expectations, Dutchess will tempt you away from sad salads and tuna cans every week. A $40 lunch special runs every Thursday and Friday, including two-courses with the promise of exceptional quality alongside efficient service. Lunch options rotate regularly, so make sure to check back for the latest cheap-as-chips deal.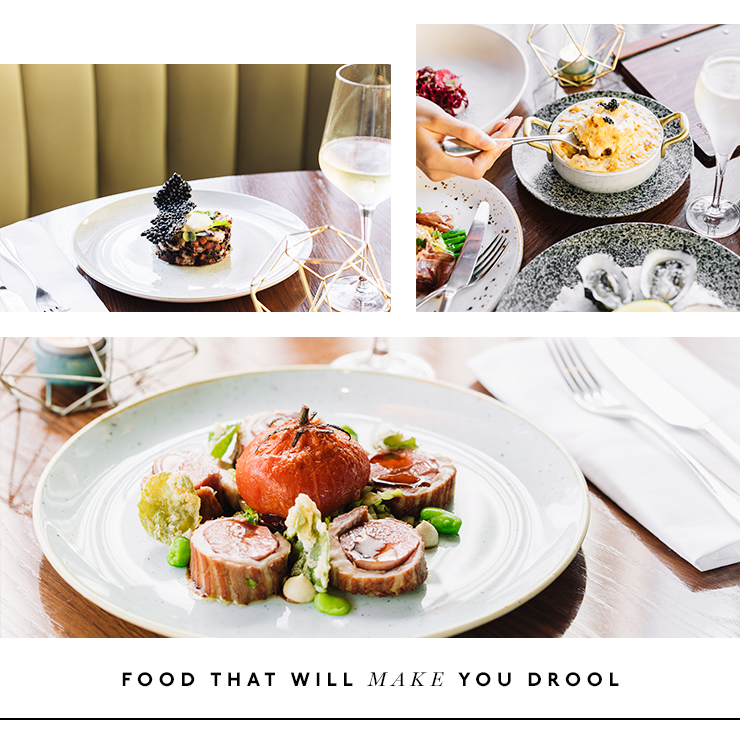 #5 Steaks To Die For
Steak lovers, this is your chance to shine. Steaks dominate half of Dutchess' menu (good call, team) with baby 150-gram steaks all the way up to the kilogram Sher Wagyu rib eye. Featuring mainly local Victorian and Tasmanian cuts, the steak range includes pasture fed, grain fed and dry aged fillets. Get your (steak) knives out—you'll need to defend these beauties against green-eyed friends.
#6 Classic Cocktails Done Right!
It's all about perfecting the basics when it comes to classic cocktails, and it's fair to say Dutchess has that part #nailed. Choose between deep scarlet Negroni's with an orange peel garnish, frothy Espresso Martini's or salt-rimed Margherita's. Stop reading and make a beeline for Dutchess after work.
#7 Desserts Galore…Bring Your Second Stomach!
Violet crumble with chocolate aero, honeycomb and violet ice-cream is one of the creamiest, refreshingly unique desserts in Melbourne. But if you're a total child-adult, the homemade choc tops are laden with sweet surprises. Think salted caramel, white chocolate and raspberry, or chocolate.
Image credit: Griffin Simm for The Urban List.
Editor's note: This article is proudly sponsored by Dutchess and endorsed by The Urban List. Thank you for supporting the sponsors who make The Urban List possible. Click here for more information on our editorial policy.