Night Noodle Markets. Those three words are enough to make you ravenously hungry—even if you just watched that scene in Matilda where the kid is forced to eat that entire chocolate cake.
Excessive consumption aside, Melbourne's Night Noodle Markets promise to be much more enjoyable. Most of you know this of course, because you're so on the pulse you've already hit up the noodle markets. Twice.
But if you haven't yet had a chance, you're running out of time! Good Food Month's Night Noodle Market end on November 30th. That's this Sunday, Listers! You have only a few more days in which to enjoy the three levels of grassy, sunny lounging space, where you can watch the sun set as you skewer some dumplings and put away some cheeky pork buns.
If you still need convincing, here are nine delicious reasons why you should go to the Night Noodle Markets, stat! Behold, the best dishes at the Night Noodle Markets 2014.
SOFT SHELL CRAB BURGER | HAMMER & TONG
It's crunchy, while still managing to melt in your mouth. How is this feat possible? We don't care, as long as we can get one in our eager paws pronto. Definitely one of the best dishes at the Night Noodle Markets in our books, this delicious soft shell crab burger is served up with sesame slaw, sriracha mayo, coriander and spring onion. Just the right amount of zing! From one of Melbourne's best food trucks and restaurants, visit the Hammer & Tong team for your soft-shell fix. If you're feeling a bit crabby, get one of these in you, and you'll be wearing a smile for awhile.
BUCKET OF CHICKEN RIBS | GOGI
So scrumptious, we were super impressed with the Night Noodle Markets offerings from the Gogi food truck – the second in Hammer & Tong's food truck fleet! The Night Noodle Markets are not about being healthy, so do like they do in Rome, and stuff your face with this golden chicken, finger-licking deliciousness! Perhaps not first date material… but more so because you won't want to share!
MOIST PORK BELLY WITH SOBA NOODLES | KONG
A dish that well and truly lives up to this great event's name. The moist pork belly with soba noodles from legendary modern Korean bbq house, Kong, is served up with fresh spring onion and a soy ginger dressing. With crunchy crackling to satisfy even the most snooty of pork snobs, you won't need much encouragement to slurp up those noodles Lady and the Tramp style, Listers!
DEN FRIED CHICKEN | IZAKAYA DEN
If you don't order this dish, you will see other Night Noodle Market goers walking around (who made the right decision and ordered some!), and you will have such a case of food envy, it'll take all your self control to not snatch one of these crispy, crunchy treats right out of their hands. Sound drastic? Then you haven't yet tried Izakaya Den's absolutely heavenly Den Fried Chicken. It's pretty naughty, so thank goodness they offer small or large sizes. Thank goodness in that it's so naughty, you'll be wanting more, more, MORE!
FIVE SPICE PORK BELLY | RED SPICE ROAD
So you're probably thinking, 'enough with the pork belly and chicken!' Well, to you I say: Get. Out.
There is no such thing as too much pork belly (or fried chicken), and Red Spice Road's five spice pork belly with chilli caramel just proves this point. Sweet and savoury. Heaven and hell. Naughty and nice. All in a nice little takeaway tray. We'll have seconds please (WHAT! I told you—there's no such thing as too much pork belly!).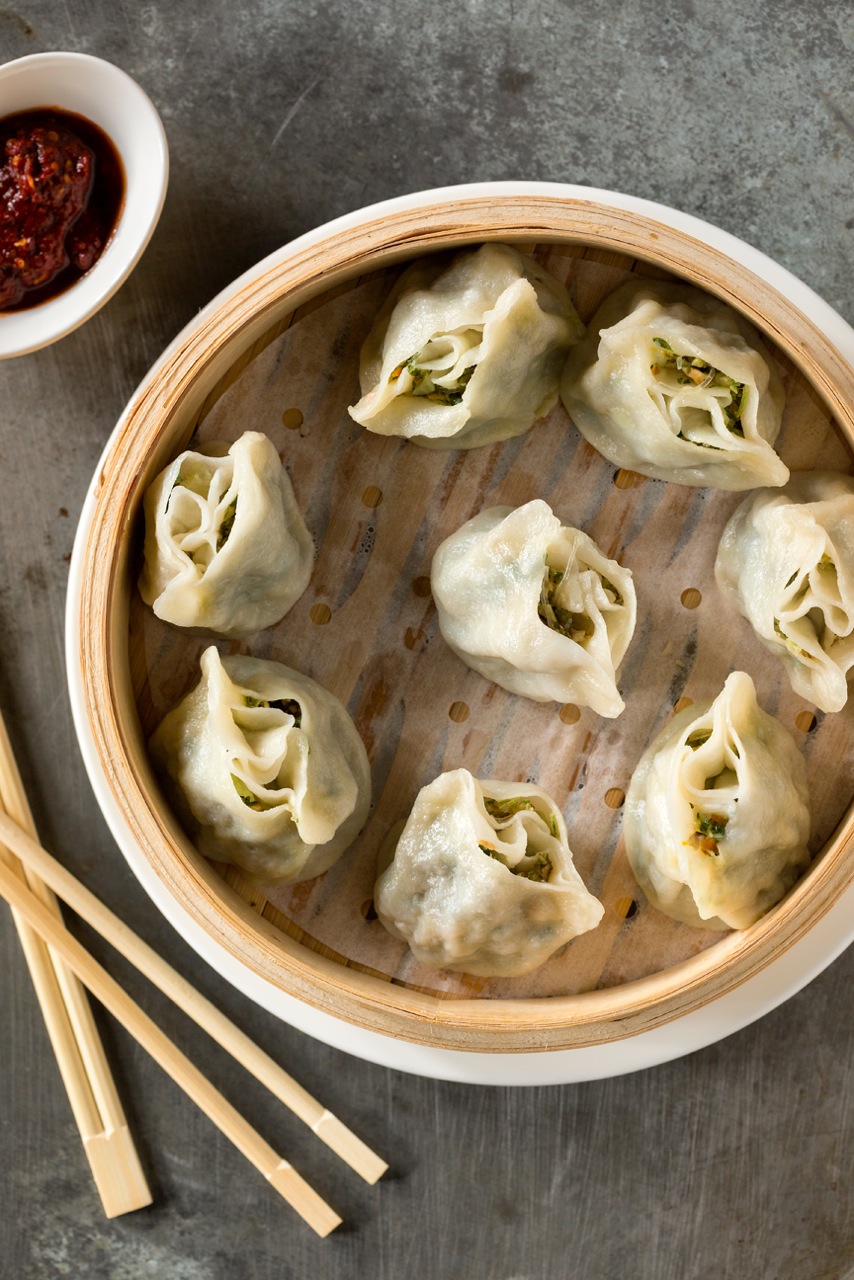 Image credit: New Shanghai.
STEAMED VEGETARIAN DUMPLINGS | NEW SHANGHAI
Okay okay, so you can't or won't eat pork? Fair enough, I apologise. Kind of. In order to make it up to you, here's a yummy alternative for you! New Shanghai do a grin-inducing serve of steamed vegetarian dumplings, that will have any veggie fan or even meat lover coming back for more!
AFFOGATOS | ST ALI
Yup, it's not all Asian-style street food at the Night Noodle Markets, and right about now you'll be so stuffed full of starchy, meaty, salty goodness that you'll need a pick me up, amiright? Thank goodness for St Ali's 'Church of Secular Coffee' pop-up! We're in love with their affogatos, which are creamy, delicious coffee ice-cream, served with a variety of flavours. Our pick? Doughnuts and salted caramel. Sit back and sip on some caffeine, while you fuel yourself for your next Night Noodle Markets adventure…
MILK CHOCOLATE DUMPLING | CHARLIE DUMPLING
Errmagerd. Do I even need to explain this dish? IT'S A CHOCOLATE DUMPLING—HELLO (it's called a lance, hello!)! Yup, it's dessert time. You've had your coffee pick me up, and now it's time to get your sweet-tooth on, because these milk chocolate dumplings with raspberry and chilli sauce from one of our fave Prahran restaurants, Charlie Dumpling, will totally hit the spot. They'll hit the spot like an arrow in a bullseye, and then shoot another arrow Robin Hood style and slice right through that first arrow—that's how much these amazing dumplings will hit the spot.
PHUC KHING TASTY | GELATO MESSINA
With the tag line, 'pronounce however the phuc you want', this devilish dish from Gelato Messina will officially put you in food coma heaven. What do you get that's so amazing then? Umm, only a cinnamon scroll, topped with coffee gelato, condensed milk pannacotta, walnut crunch and an Asian spiced cookie… ONLY. Ha. Yeah, I repeat. Food. Coma. Heaven.
Well there you have it. Remember, this is just the tip of the iceberg, Listers. See this as your starting point for chowing through the best dishes at the Night Noodle Markets! Know that if you miss this epic event, you'll cry, cry, cry, in your lonely heart thinking—WHY DIDN'T I GO TO THE NIGHT NOODLE MARKETS! Peace out—dumpling town.
Image credit: Hammer & Tong Facebook.