Yeah…eating healthy and controlled portions is fun and all (it's not, we're lying) but sometimes you just can't go past a good old fashioned cheat meal. They might not be great for your health but they're damn good for the soul. And besides, living in Melbourne and not getting stuck into some of the delicious greasy/sweet meals on offer would almost be considered a crime.
Loosen your belt and tuck in. These are the best cheat meals in Melbourne.

Photography: Annika Kafcaloudis
Cheesecake On A Stick | Stix
Coburg
Yep, you heard that right. Cheesecake on a stick. With flavours ranging from Golden Gaytime to Caramel Biscotti, you can guarantee a sweet fix at Stix. All the cheesecakes are drizzled…no, drenched with all the good stuff like caramel sauce, biscuit pieces (and trust us, they don't skimp). Not only can you pick up one of these bad boys in Coburg, they're now stocked at Royal Stacks.
Nutella Fudge Brownie Dessert Shake | Johnny Pump
Essendon
If you're in the mood for the ultimate freakshake (done NYC-style), you've come to the right place. While Johnny Pump does an epic burger, their desert shakes take the cake. Or should we say brownie? The Nutella fudge brownie shake consists of a choc milkshake (with ice-cream, of course) chocolate sauce, cream, a huge ass brownie, more chocolate sauce and some fairy floss. We're full just thinking about it.
'The Paralyzer' | Burgerlove
South Melbourne. Prahran & North Melbourne
Well… the name says it all really. We bet you won't get further than halfway without having to crawl home, sleep for 11 hours and maybe cry a little. #Burgerlove is known for its epic burgs, but the paralyzer takes the cake. You've got no bun, two beef patties, three fried chicken breasts (two of them are used as the bun…duh), five slices of American cheddar, bacon and three kinds of sauce. Yeah…
The Dino Dog | Third Wave Cafe
Port Melbourne
For the love of hot dogs…This one's a killer. The dino dog from Third Wave Cafe isn't for the faint-hearted. It's a slow-smoked beef rib and a slow-smoked pork sausage covered in liquid cheese and BBQ sauce. There's also mac and cheese, coleslaw, red onions and jalapenos stuffed to the brim of a bun. This one comes and goes from the menu, so check their social pages first.

Photography: Annika Kafcaloudis
Pork Crackling Baguette | Mr Crackles
CBD
Mr Crackles is a newcomer, but it's going on the list. Now they say pork is leaner than chicken, but that might not be the case when you take five-spiced pork belly, roast it to crispy perfection, then chuck it in a crusty baguette with pickled carrot, cucumber and Kewpie mayo. Definitely one of the best things we've put in our mouths in 2018.
Cheese Fries | Royal Stacks
CBD
Cheese fries are exactly that…cheese on fries. But don't be fooled, these aren't your run of the mill drizzle over some chippies, oh no. The cheese fries from Royal Stacks are a legit meal in themselves. You're almost better off thinking of the cheese as some sort of bizarre thickshake you ordered and go from there. Make sure you pack some wet wipes for the aftermath.
Red Velvet & Cream Cheese Brownie | Dolce House
McKinnon
Another one for the sugar lovers. Be warned, it's probably going to be best to walk back from McKinnon after this bad boy. Not only are the desserts at Dolce House made from scratch, they're bloody fresh and damn tasty. In terms of this cheat meal, it's so creamy yet so chocolatey, you won't be sure whether you're munching into a cheesecake, a brownie, or a little slice of heaven.
The Tellabab | Tellaballs
CBD
Still getting our sweet tooth on, the Tellabab is… wait for it…a desert kebab. Mmhmmmmm. Head down to Tellaballs and chow down on one of these bad boys (and maybe a hot chocolate to match). That's a perfect Sunday arvo right there. Basically, it's a doughnut pita filled with milk AND Belgium white chocolate, strawberries, banana, whipped cream and Nutella. Just don't tell your PT.
'Jawbreaker' Pizza Slices | Old School Pizza
Brunswick West
They don't call these 'Jawbreakers' for nothing. Measuring 15-inched from crust to tip (that sounds weird), the monsters slices at Old School Pizza in Brunswick have defeated many an arrogant Saturday night diner. There's a bunch of toppings to pick from, but honestly, if you're gonna go a slice that big you HAVE to get the Pepperoni. Avoid tight-fitting jeans.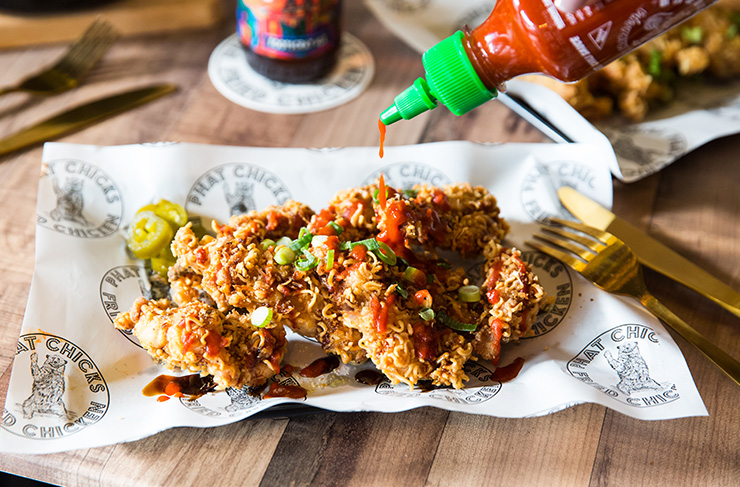 Photography: Jenna Fahey-White
Mi Goreng Fried Chicken | Phat Chicks
West Footscray
One of our favourites from 2017, and still our go-to cheat meal when we're in the West. Phat Chicks swung for the fences with this one: perfectly fried chicken wings, covered in a proprietary spice blend and based on the iconic 65-cent Indomie packs that got you thru uni. DId we mention they also do Kettle Chilli Chip fried chicken (!!). How is this place not more famous? Honestly...
Doughnut Burger | St. Burgs
Maribyrnong
Oh St. Burgs, you beautiful bastard. If you haven't been to this Maribyrnong burger bar before, you're in for a treat. They specialise in smashed patties: gnarly 'round the edges, amazing crispy texture. Now imagine two of those plus bacon, cheese, pickles and relish, INSIDE two Krispy Kreme glazed doughnuts. We can pretty much hear our artery clanging shut.

Photography: Michelle Jarni
Chicken & Waffle Burger | Gorilla Grill
Maribyrnong
Reckon the Doughnut Burger from St. Burgs was a little OTT? Fair enough. Maybe tackle this one instead. It's the famous chicken and waffle burger from Gorilla Grill, not far away. Perfect Southern-style fried chicken breast, sandwiched between two golden waffles (with a dollop of spicy mayo, Golden Syrup and good old-fashioned bacon). The definition of Cheat Meal.
Still hungry? (You beast!) Here's 44 dishes to keep you warm in Melbourne in winter.
Image credit: St Burgs