I don't know about you, but after one too many indulgent meals, big weekend blowouts or a frenzy of fast food, a pit stop at one of Melbourne's healthy cafes is exactly what the doctor ordered. Somewhere where we can get our fill of nutritious and delicious food? Heck yes, we want some of that!
But while there's a slew of Melbourne's best cafes these days spruiking #superfoods, #cleaneats and #rawtreats, it can be hard to find somewhere that not only makes top tasting nosh from brekkie right through to 3pm sweet treat time, but a place that also caters to a variety of food intolerances (like those who aren't friends with gluten & co).
This is where Green Press comes in. Tucked away on Little Collins Street in the CBD, between King and William Street, Green Press caters to all of the above and then some. With a menu full of cold pressed juices, acai bowls, nutritionally dense salads, and scrummy raw desserts (all made fresh on site by a New York trained chef, mind you!), Green Press could very well be the best healthy cafe in Melbourne.
And with said menu made up of delicious dairy-free, gluten-free, and egg-free breakfast and lunch options, it's no wonder that the CBD crowds are flocking!
IT'S TIME TO GET JUICY
Let's go back to where it all started though for Green Press – with some of Melbourne's best cold pressed juices. Using a hydraulic press, which literally presses the ingredients as opposed to a traditional juicer that uses multiple blades, Green Press creates a variety of juices packed with enzymes, vitamins and other body-boosting nutrients.
Whatever your body is in need of, there's a cold pressed juice on offer. Looking to detoxify? The kale, spinach, cucumber, celery, lemon and ginger juice will take care of that! Perhaps you're looking to boost your metabolism? Carrot, orange and pineapple, with a spicy touch of turmeric and cayenne pepper, is just the ticket. Or maybe you're craving a little sweet something to pick you up? Green Press's 'chocolate milk', made from activated cashews, raw cacao, dates, vanilla, sea salt and filtered water, will put the smile back on your dial (it's rich in protein and great for your joint health too!).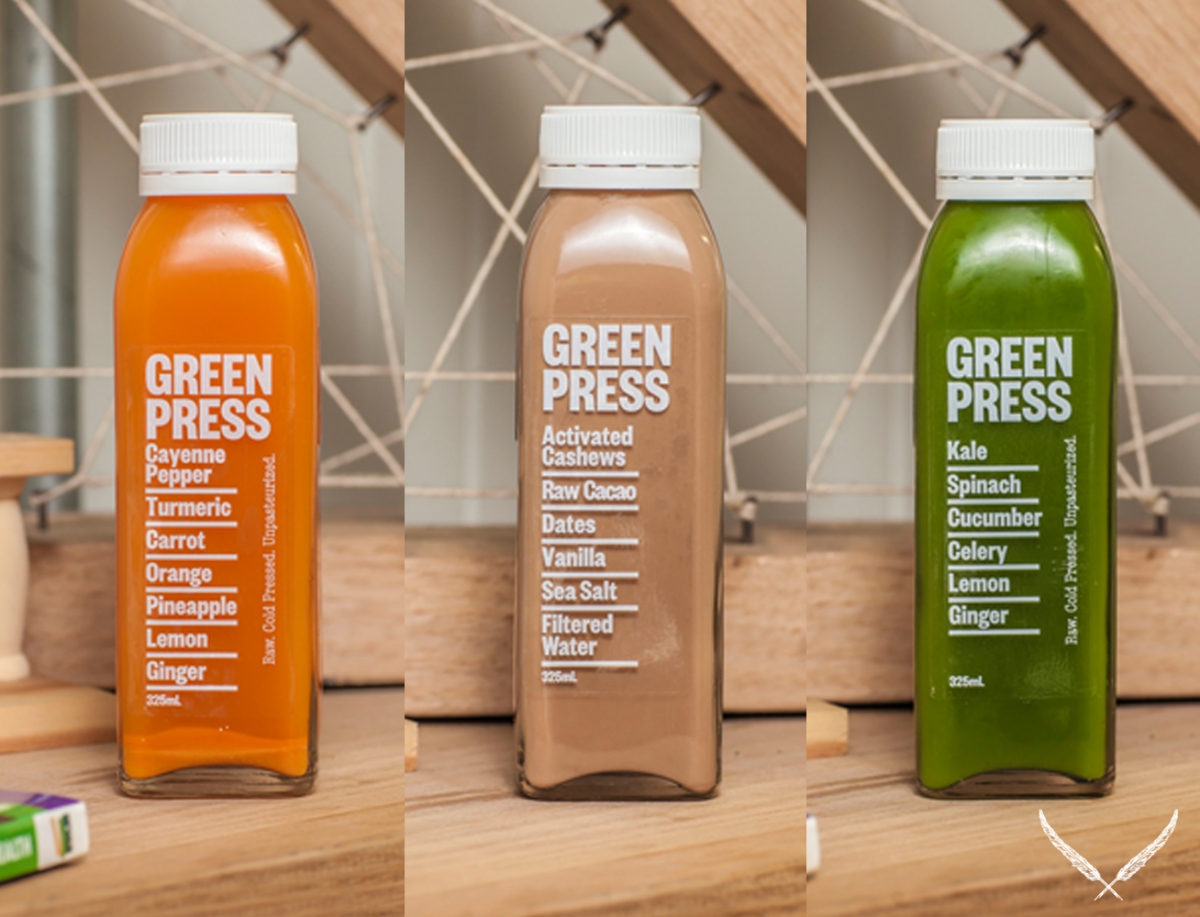 THE ALL IMPORTANT MORNING MEAL
If you struggle to make the big decisions come breakfast time (or if, like us, you're still half-asleep), let Green Press do the hard work for you: their superfood smoothies and acai bowls are two of the best healthy breakfasts in Melbourne, hands down.
Of all the superfood smoothies, though, 'The Detox' has gotta be our fave. Featuring lemon, milk thistle and spirulina (along with every other green superfood Green Press could get their hands on!), this smoothie not only sorts you out after a big night, it also fills you up and gets you going for the day ahead.
The acai bowls are another nom-worthy healthy breakfast option – 'Tropic Thunder' especially! Topped with pineapple, coconut, berries, agave and coconut water, this tropical breakfast treat is hella addictive – don't be surprised if you find yourself ordering one at lunch! And if you do? Don't feel bad – it's rich in antioxidants, super hydrating, and anti-inflammatory.
SAY GOODBYE TO SAD, SORRY LUNCHES…
…and hello to Green Press's exciting, healthy lunch options. Made from locally sourced, seasonal produce, the lunch menu at Green Press ticks all the boxes – full of variety, nutrients and lip-smacking flavour.
The salads are a great place to start at this super healthy Melbourne cafe – there are four different types available each day, with proteins such as free-range chicken, grass-fed beef and homemade falafels on hand if you want to bulk up your meal. Gluten-free dressings are also available, making for a tasty finishing touch.
Green Press's soups are another delicious healthy lunch option and are totally made from scratch. The kitchen staff spend 15-20 hours a week creating the stocks, which are made from boiled vegies before being added to Green Press's various vegan and protein-based soups. Now that's effort!
That said, our top pick from Green Press's healthy lunch menu is without a doubt the shredded zucchini 'pasta'. Topped with Napoli sauce, spirulina salsa verde and walnut 'parmesan cheese', this is the dairy-free, gluten-free, superfood take on mum's spaghetti. Who knew carb-less pasta could taste so good?!
ANYONE FOR A SWEET TREAT?
We all know that the best way to finish off a great lunch is with a little sweet treat… a healthy one of course!
Green Press have got that covered, too, with two of Melbourne's best raw dessert options, that are both sugar-free, totally vegan and hella addictive. The Rollie Boy, made from cashews, dates, coconut and choc vegan protein, is their version of a protein ball, while the Raw Lemon 'Cheesecake' is so creamy (thanks to the coconut oil and rice malt syrup, along with lemon, nuts and dates), you'd be forgiven that it was the real deal!
A SPECIAL GREEN PRESS OFFER FOR TUL READERS
Keen to try the best healthy cafe in Melbourne? Well, we've got some exciting news!
From now until October 31st 2014, the fine folk at Green Press are offering The Urban List readers 10% off their delicious range of cold pressed juices, superfood smoothies, and healthy breakfast and lunch options. All you have to do is mention The Urban List when ordering - too easy!
TUL Note: Today's List Love post is proudly sponsored by Green Press and endorsed by The Urban List. Our sponsored posts will never be a secret — the List Love seal will be stamped on any sponsored material you see on the site. Thank you for supporting the sponsors who make The Urban List possible.
Image Credit: Nick West for The Urban List