If you haven't heard of Chef Michael Smith before, you've definitely tasted his food. Heading up some of Australia's most acclaimed kitchens, including Melbourne institutions Mamasita and Tonka, his newest venture features three hotly-anticipated restaurants on Little Lonsdale Street—and the menus are outstanding.
We sat down with Chef Smith to chat about what influenced the stand-out menus at Goldie Canteen, Floyd's Bar and Pretty Boy Steakhouse, and which of his signature dishes you need to try first.
TELL US ABOUT YOUR NEW VENTURE—WHAT ARE YOU MOST EXCITED ABOUT?
I've been working towards something like this for a few years now. I've worked alongside some great chefs but now it's time to put my food on the plate. The chance to open three venues in the amazing new Novotel Melbourne Central and ibis Melbourne Central was one I couldn't miss.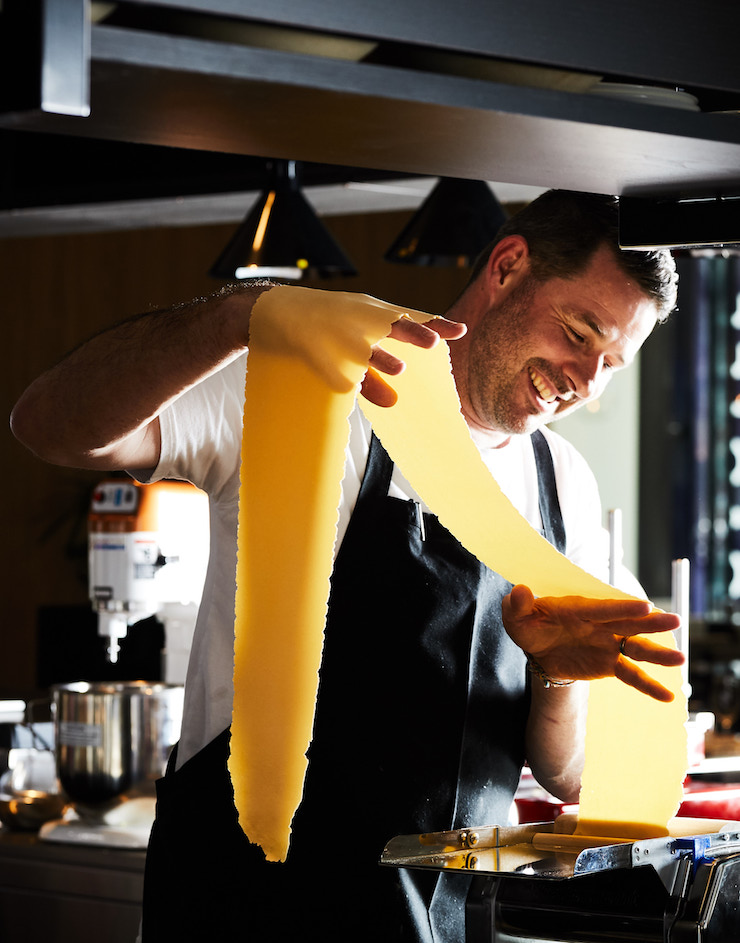 IF YOU HAD TO CHOOSE, WHICH ARE YOUR FAVOURITE DISHES ON EACH OF YOUR MENUS?
We've got one of the best gnocchi dishes I've ever eaten on the Pretty Boy menu. Made with porcini mushroom and truffle, it's a handmade gnocchi recipe I picked up from an old friend years ago. He'd learned from a nonna on a research trip to Italy and I've never adjusted it. It's very authentic.
From the Goldie Canteen menu I can't go past the the peking duck and noodle toastie. The sandwich is a play on a favourite of mine from when I was young. My mum only allowed me to have one sandwich after school so as not to spoil my dinner. One of my favourite combinations was two-minute noodles with a sunny side up egg and whatever meat I could find. The recipe has definitely evolved since then.
What I love about the menu at Floyd's Bar is that you can sit and have a glass of bubbles with some of the finest local and imported cheeses, or you can have an amazing cocktail with charcuterie, or you can just go all out on a meatball ciabatta roll with a beer. No matter what mood I'm in, I can always find something to munch on.
YOU DON'T OFTEN SEE A 'CONDIMENT AND SAUCES' SECTION ON A MENU, WHY WAS IT SO IMPORTANT FOR YOU TO INCLUDE THIS FOR PRETTY BOY?
I've always felt that when eating steak that it's a personal preference when it comes to the sauce—what I might think is the best match might not be what another person wants, so we offer a range of sauces and condiments from flavoured butters, different jus based sauces, and even our very own Italian-inspired BBQ sauce.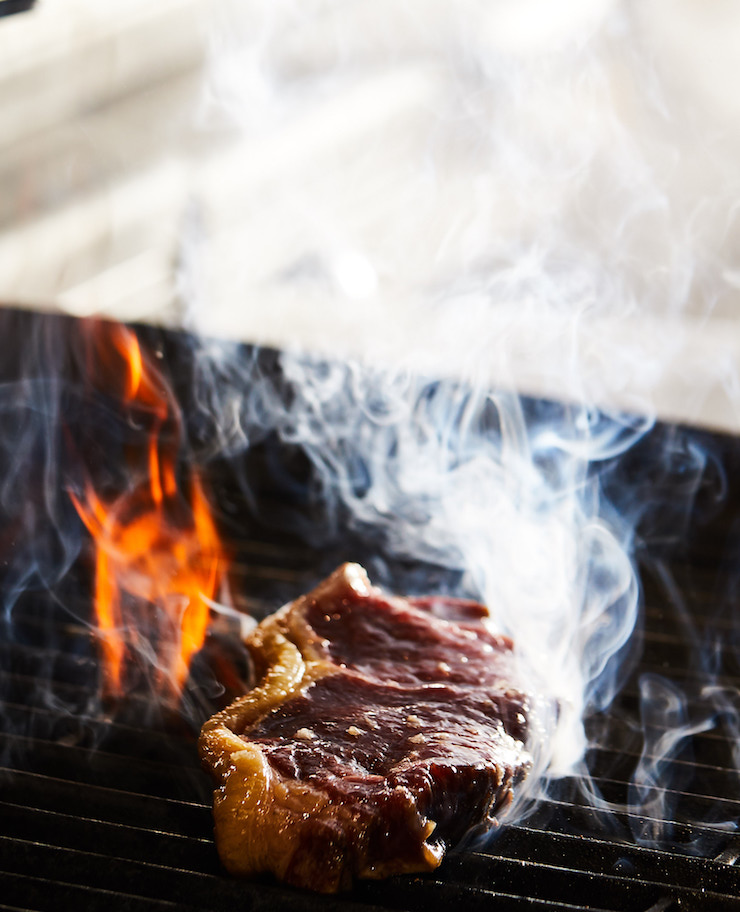 THE GOLDIE CANTEEN MENU IS A FUSION OF ASIAN AND WESTERN INFLUENCES. WHY DID YOU CHOOSE THIS APPROACH?
We are in an emerging area of town that has a fantastic Asian vibe, so we needed to do something that made sense and competed with our surroundings, but it also needed to be different at the same time. We have amazing dumplings on offer that are as traditional as can be, then we play around with the bao buns by infusing a little of Melbourne—but the toasties are completely unique. We've got flavours like peking duck and noodles, smeared with a house made hoisin style sauce and toasted in between some of the best sourdough in town.
WHAT IS YOUR PERFECT FOOD AND DRINK PAIRING FROM THE FLOYD'S BAR MENU?
One of my favourites is the traditional Negroni, we use a locally made Gin from just a few doors down the road at Little Lon Gin. Or maybe our Bloody Mary, which uses our house made tomato sauce—the same one you'll find in our spaghetti meatballs dish, which makes it taste so good together.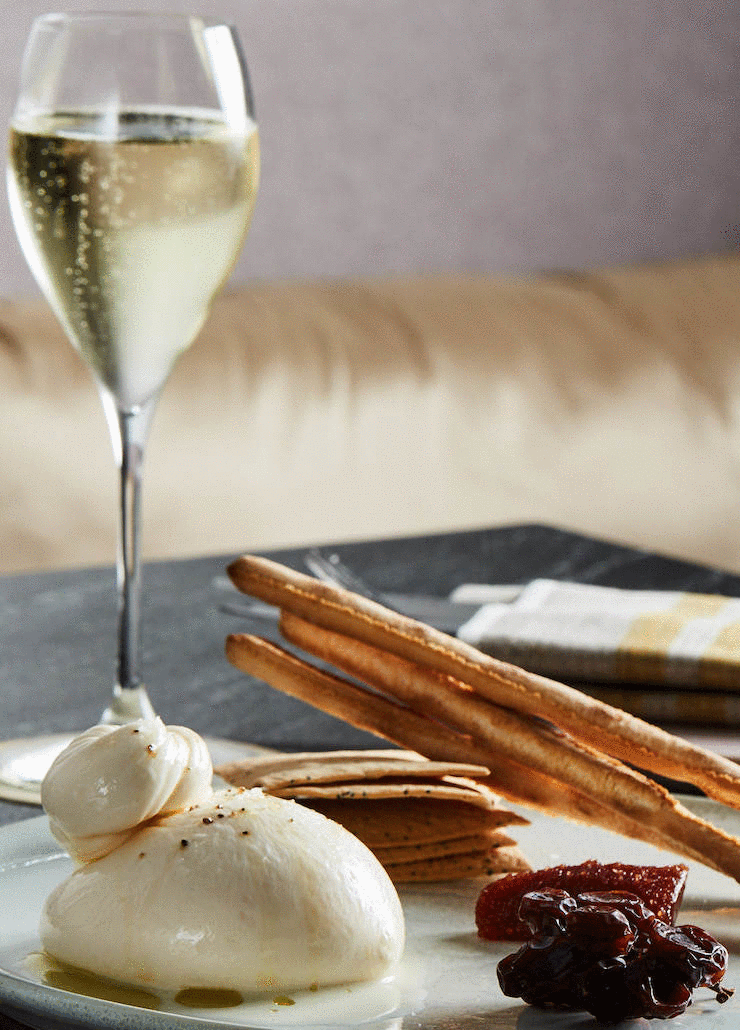 THE ALCOHOLIC BUBBLE TEA AT GOLDIE CANTEEN IS A REVELATION. HOW DID YOU COME UP WITH THEM?
I discovered bubble tea two or three years ago and I think it's a really fun, cheeky beverage. On the Goldie Canteen menu we have flavours that are both authentic and totally new. The addition of alcohol was a bit of fun for the adults. It also means our menu can cross over from lunch to evening snacking. I also recently created an off-the-menu, colour changing Bubble Tea called "Butterfly Pea Bubble Tea". It's an absolute must-try.
THE 'BREKKIE BAO' SOUNDS LIKE HEAVEN, HOW DID YOU DREAM UP THIS DISH?
I was snacking on leftover scrambled egg after a cooking trial of the Goldie Canteen menu—and true to form I had to use it all up. I grabbed a bao and I started filling it with peking duck and chucked a spoon full of the scramble in it, and the rest is history. Some of the tastiest treats come by mistake.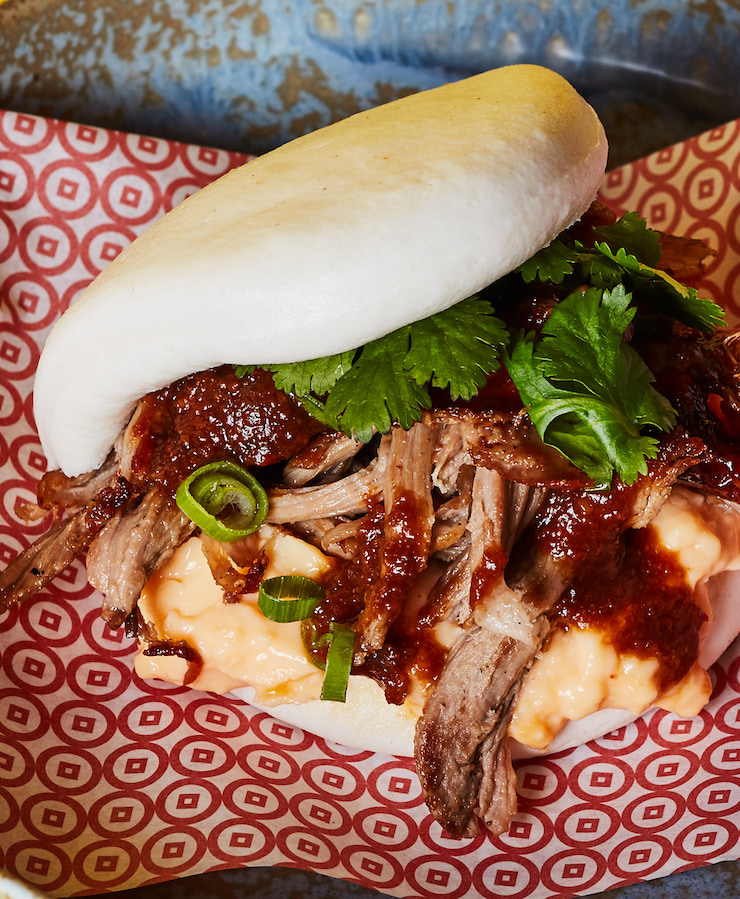 WHAT'S THE BEST PART OF ALL THREE RESTAURANTS BEING LOCATED WITHIN THE MELBOURNE CENTRAL HOTELS FAMILY?
The restaurants location on Little Lonsdale Street is fantastic, there is such a diverse demographic and then you add a dual branded hotel to the mix. The support from the team at Melbourne Central Hotels has been amazing; they really love what we are doing and are always encouraging us to break the mould of standard hotel dining.
If you're a fan of outstanding food and drink (who isn't), we recommend a restaurant crawl of all three new openings. Start the night with a tipple or two at Floyd's Bar before hopping over to Pretty Boy Italian Steakhouse for black truffle gnocchi. Close out the night with a Chinese donut from Goldie Canteen and keep the drinks flowing.
And the best part is all three restaurants can be found within the stunning new Novotel Melbourne Central and ibis Melbourne Central, so why not make a weekend of it?
Editor's note: This article is sponsored by Novotel Melbourne Central and ibis Melbourne Central, and proudly endorsed by Urban List. Thank you for supporting the sponsors who make Urban List possible. Click here for more information on our editorial policy.
Image credit: Michael Woods