Sweet lord of all things fried and holy, it does exist.
Hearing our indecisive cries, the burger gods at Richmond's The Beer & Burger Bar have combined two of our great loves – burgers and parmas – in one beautiful amalgamation of a meal.
Melbourne, meet The Parma Burger – a crispy crumbed chicken breast topped with bacon, Napoli sauce and oozy cheese, laden with tomato, lettuce and aioli, encased in a fluffy white roll. It's like all of our fat fantasies have come true. And then some.
This cheesy, chicken-y burger goodness is only available from The Beer & Burger Bar on Wednesdays, with a parma burger and a pot going for $15. So, that's hump day sorted. But what about the rest of the week?
Don't fret, Listers! Lucky for us, it's not all about the parmy burger. This Swan Street hotspot is the place to go for all types of buns 'n' brews, with a menu of Melbourne's best burgers, an impressive selection of beer, and daily specials to boot.
So, what else is on the meaty menu? Traditionalists, you won't be disappointed with The Beer & Burger Bar's beef burger. Oft touted to be one of the best burgers in Melbourne, it comes with the addition of smoked bacon, beetroot relish and generous squirts of aioli, tomato sauce and American mustard. This bad boy requires two hands and a bib. It's a damn fine mess if ever there were one.
Fancy some pork on your fork (and in your buns)? The Roast Pork Burger is filled with oh-so-delicious pulled pork and great hunks of salted pork scratching. Yes, really. This glorious porcine stack is piled high with grilled pineapple, apple relish, crispy Asian slaw, finished off with aioli. We recently voted it one of the best burgers in Australia. Contentious, we know. But really, it's that good.
Take a moment to wipe the drool off your chin – we're just getting started, Listers! The Beer & Burger Bar's bun love continues with slow cooked lamb, crispy chicken, salmon steak and veggie burgers on the menu. Looking to up your burger game? The Beer & Burger Bar offer a game burger, changing regularly and covering everything from rabbit to 'roo.
Decisions, delicious decisions. Whatever you do, make sure you don't let your burger sit alone. The Beer & Burger Bar one-up all the other burger joints in town with their selection of tasty sides. Beer-battered and fried 'til crispy, The Beer & Burger Bar's chips have the perfect ratio of soft centre / crisp batter (it's an exact science, after all), while their onion rings, thickly cut with zero sog-factor, are some of the best in town. Add lip-tingling crumbed jalapenos, chilli fries, eggplant chips, spicy chicken wings and sticky pork ribs, and you've got yourself a party. Oh yeah, they've also got a salad. Because #cleaneating and all.
At this point, you're surely in need of something to wash it all down. The Beer & Burger Bar boasts a bevvy of bevvies, with over 40 international and local craft brews on the menu. The bottles are well-priced, there are six rotating craft beers on tap, and on Tuesdays pots go for just $2.50. Yep, $2.50. Now we'd definitely tap that!
The Beer & Burger Bar certainly has us penny pinchers in mind, with heaps of other Happy Hour specials to keep your tummy (and wallet!) joyous throughout the week. Monday to Thursday you can enjoy a tight-arse lunch special of a burger, chips and a pot of beer or soft drink for just $15. Come Friday, it's time to celebrate the weekend in the most appropriate way possible – with a glorious beef burger, side of chips and stubby, all for just $20! Friday Funday, alright.
Looking for some of the best burgers in Melbourne? Don your stretchy pants and search no more.
An offer for TUL Readers...
Fancy some chips with that Parma Burger? Um, of course you do! Head to The Beer & Burger Bar on a Wednesday, check in on Facebook and recieve a free combo chips with your Parma Burger. Sweet! Offer ends Wednesday 3rd December 2014.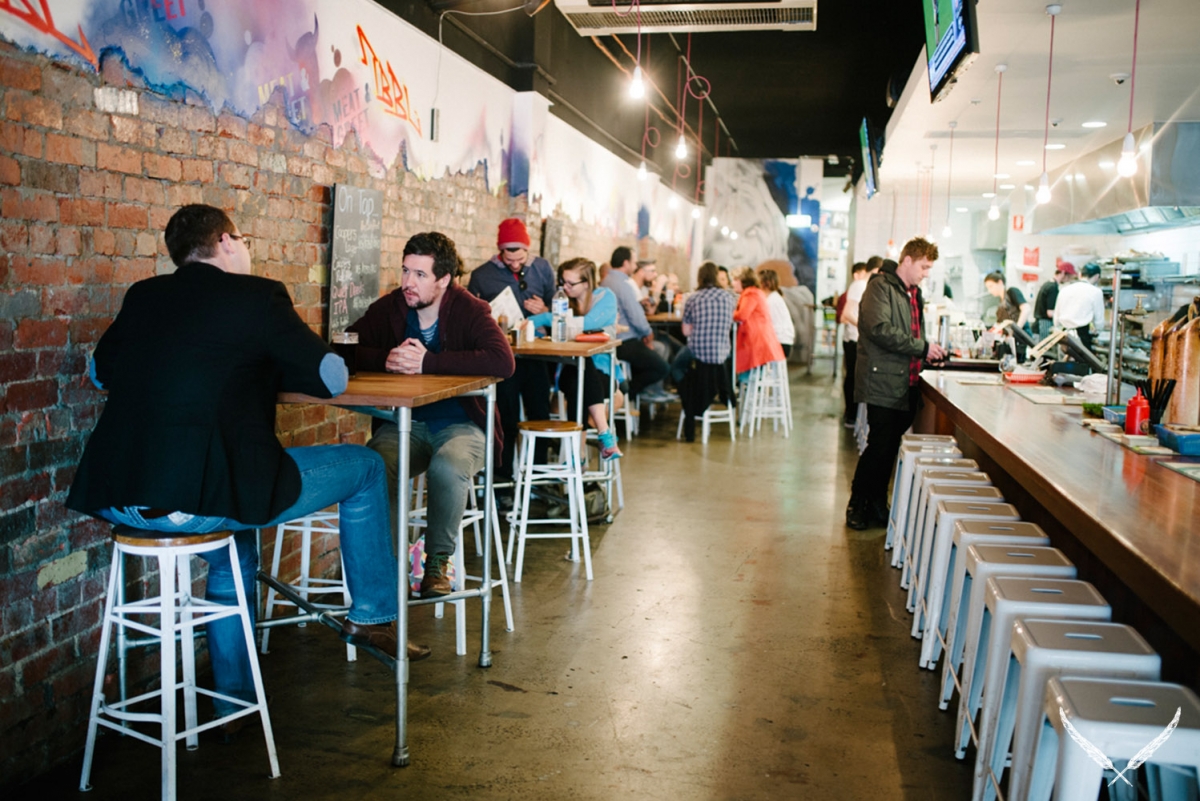 TUL Note: Today's List Love post is proudly sponsored by The Beer & Burger Bar and endorsed by The Urban List. Our sponsored posts will never be a secret — the List Love seal will be stamped on any sponsored material you see on the site. Thank you for supporting the sponsors who make The Urban List possible.
Image credits: Simon Shiff, Tash Sorenson for The Urban List