There's a lot to learn when it comes to craft beer and sure, you might know a bottle of Young Henry's from a Little Creatures, but do you know your pilsner from your pale ale? Your snifter from your stein?
We've all had that feeling standing a little too long in the cool room, stumped on picking not only a beer we'll like, but why we like it and what occasion (read: meal) it's best suited for. That's why we've teamed up with BWS to bring you all the brew know-how to impress your mates when your shout rolls around and so your next craft beer purchase is a no-brainer.
What is Craft Beer?
So, let's start with the basics: the difference between beer and craft beer. Although there is no definitive definition, craft beer is usually produced in small batches at 'micro' breweries and is made from quality, local ingredients. New flavour combinations and hybrids are popping up faster than you can say 'cheers' and the taste of craft beer goes way beyond just a 'beer-y' taste. Depending on the type of beer, the fermentation process and the flavour enhancements, craft beers can be described as sweet, bitter, spicy, fruity, nutty, earthy, chocolatey, spicy, sour, malty—and everything in between.
Similarly to wine, craft beer is less about binge drinking and more about the overall beer experience—think a move from cellar doors to tasting breweries. As of June 2018, there were a total of 547 independent breweries in Australia and that number is on the rise, especially because of the demand for craft beers catering to speciality dietary needs and requirements, such as gluten-free or low carbohydrate. Everyone can be a beer drinker.
Tina Panoutsos, who is the Head Of Beer Knowledge at Carlton Breweries, says if the Australian craft beer industry is one thing, it's diverse: "The quality and consistency of craft beer continues to improve and although consumers may be spoilt for choice, we need to improve the way we communicate the differences between varieties and how the occasion or drinker's interests goes into making a selection." So, let's break it down further.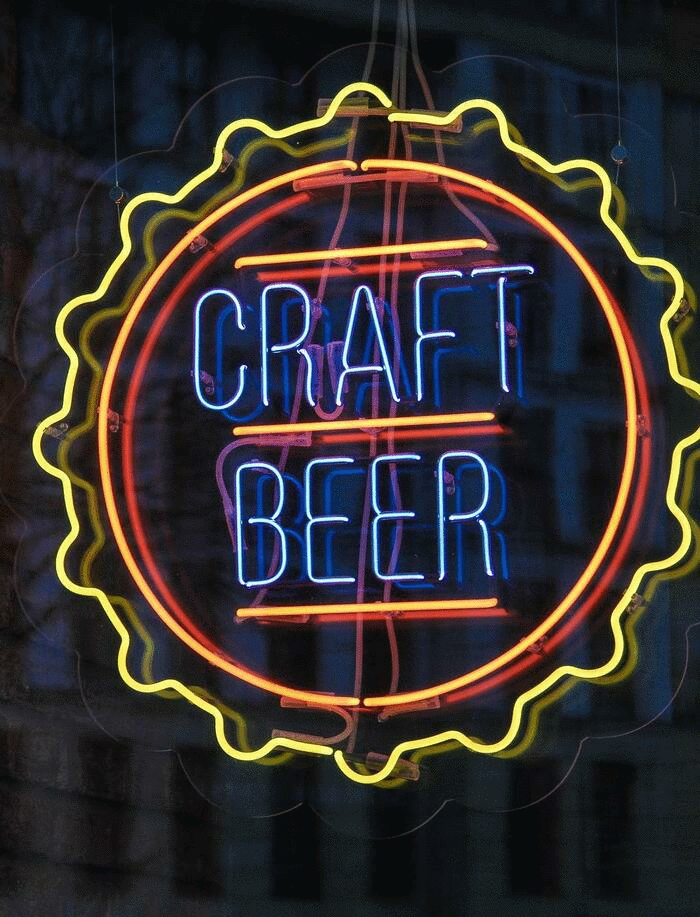 When And Why Should You Drink A Particular Type?
There are four main and essential ingredients found in craft beer: yeast, malt, hops and water, and they each play a different role. But it's the varying fermentation process and the unique flavours and fruits added that dramatically alter and affect the overall taste, as well as the region where the craft beer is produced.
Everyone has different tastes, so, frankly, craft beer is about the drinker and not necessarily the beer. Consider craft beer like a fine wine; it's full of body and complex flavours, and just like a shiraz versus a pinot, there are vast differences. The most common types of beers poured, bottled and enjoyed around Australia include Pale Ale, Pacific Ale, IPA, Double IPA and Stout. Pick your favourite and let's begin.
Pacific Ale
Golden and slightly cloudy in appearance, the Pacific Ale is often regarded as a great Australian summer craft beer. Boasting big hoppy aromas, a Pacific Ale has notes of tropical fruits and a fresh finish. There are a variety of different hops used when creating craft beer and Australian Galaxy hops are used in a Pacific Ale. Internationally recognised for its particularly citrusy flavour, Galaxy hops, combined with additional flavours, give this ale its desired fruity finish. Summery dishes like fresh seafood or crispy fish and chips are wonderfully paired with a fruity ale.
Our Pick: 4 Pines Pacific Ale or Wild Yak Pacific Ale
Pale Ale
If you've ever uttered the words: "I can't find a craft beer I like," then a Pale Ale is a great place to start. Generally light and golden in appearance, one might consider Pale Ales as the entryway to craft beer drinking. Often described as fruity and hop driven, a Pale Ale is made for easy drinking and can be paired with almost any kind of food. If you're out and about with your mates or stumped as to what beer to bring to dinner, a Pale Ale is your go-to. Lighter meat dishes, like chicken, or Italian-style cuisines (think: pizza and antipasto platters), is when a Pale Ale truly shines.
Our Pick: Fat Yak Pale Ale
IPA
A widely-popular beer across Australia, the Indian Pale Ale (IPA) is known and celebrated for its bitterness. The increased amount of hops used when producing the beer gives it a slightly more bitter finish when compared to other types of beer—and the results are delicious. But IPAs aren't necessarily for everyone; just like how people develop their taste buds over time, bitterness can be enjoyed by a more refined palate. If you're new to the world of craft beer or a little craft beer-curious, you might want to kick things off with a Pale Ale and ease into an IPA.
When it comes to food, the bitterness of an IPA has a slightly cooling effect. So if you're tucking into rich, salty and even caramelised foods like fried chicken, sticky pork and spicy Asian dishes, an IPA delivers a real flavour rollercoaster.
Our Pick: Goose Island IPA or Balter IPA
Double IPA
If an IPA is for the more seasoned craft beer drinkers then you guessed it, a Double IPA, also known as an Imperial IPA, is for the true craft beer enthusiasts. Higher in alcohol percentage (generally between seven to ten per cent) and packaged in a bigger bottle or can, you can expect robust flavours and a hefty hop profile. Often described as intense, a Double IPA needs a big flavoursome dish to confront the strong aromas and flavours, so forget the light salad and team a Double IPA with spicy chicken wings, sharp, aged cheese or saucy ribs.
Our Pick: Pirate Life Double IPA or Balter Double IPA
Stout
When you think of a Stout, a thick, wintery Guinness often springs to mind—but the Australian craft beer industry has come a long way over the past few decades and is producing some diverse and experimental craft Stouts worth trying. Dark in appearance with a creamy and sometimes thick mouthfeel, this beer is perfect for the chillier seasons with its full-bodied and rich flavours. Made with dark roasted malts, a Stout can encompass notes of chocolate, milk, caramel and coffee.
Sometimes considered a meal in itself, you wouldn't want to go to heavy with your food pairing; it's all about compare and contrast. The creamy mouthfeel accentuates the silkiness of oysters and fresh fruity desserts pair perfectly with a chocolatey Stout.
Our Pick: 4 Pines Stout or Batch Brewing Co.'s Elsie The Milk Stout
Feel ready for a blind tasting? Next time you're with your mates and have a swig of craft beer, close your eyes and try to describe the aromas, taste and how it feels in your mouth. Make a game of it and whoever's wrong, has to buy the next round.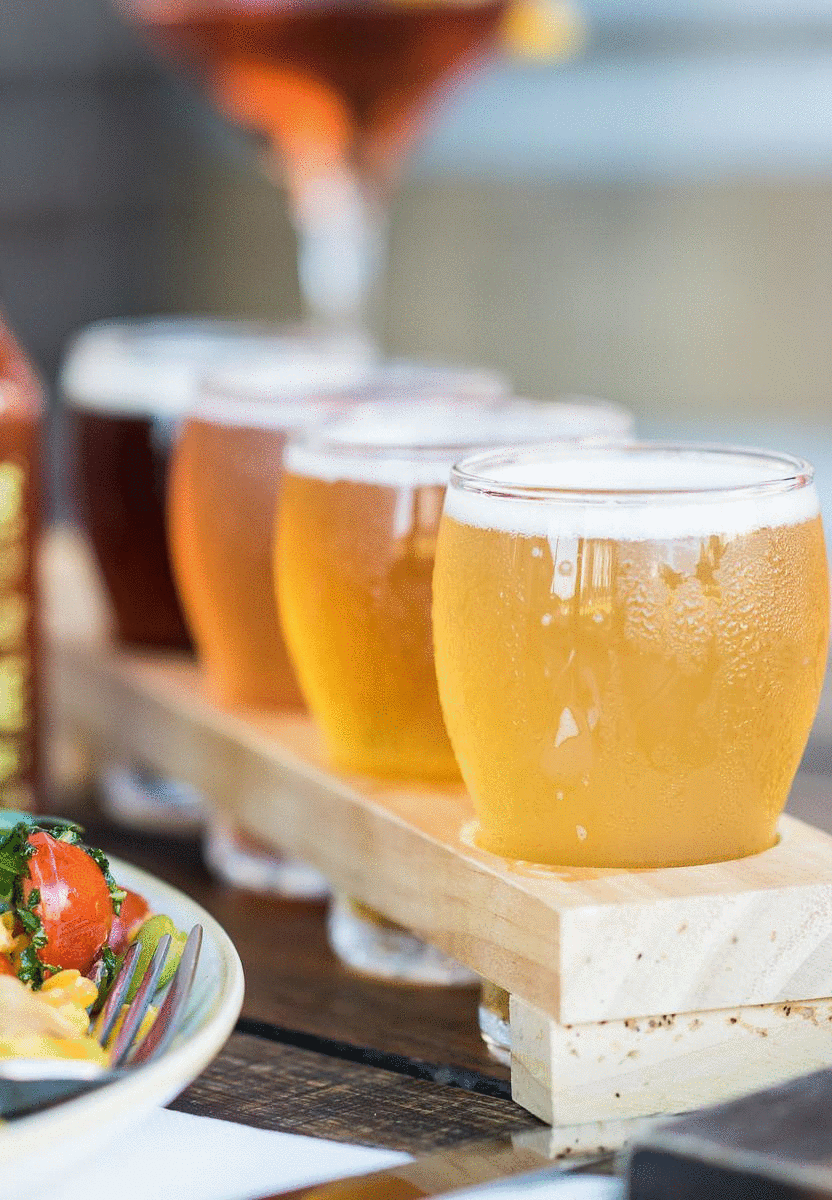 Ready To Pour?
So you've purchased your six-pack and you're ready to pour. Let's face it—craft beer is tastier and more enjoyable in the right glass.
Aside from some Stouts, Barrel-Aged Beers and Vintage Ales, craft beer is best consumed fresh, so when you've cracked a cold one and found the right glass don't wait. "On a whole, the fresher the beer the better the flavour," Panoutsos says. "Look after the beer too, remember to keep it in a cool environment out of direct sunlight and pour it into a clean, appropriate glass."
According to Trevor Harris, who is a certified beer judge under the BJCP, the appropriate glassware subtly changes the taste of a beer, and goes far beyond being decorative. "The right type of glass to drink champagne out of is a flute and it's very similar with beer; it's all about the sensation, which includes the aroma, mouthfeel and the bouquet."
If you like an aromatic craft beer, like an IPA, Harris suggests a bulbous glass like a snifter or a tulip to keep the aroma inside the glass. There are IPA glasses out there but in the absence of one, a tulip glass, with a round belly and curved lip, allows you to take in all the fruity aromas as you gulp it down. If you're going to drink a really light and flavoursome beer, like a German Pilsner, he recommends a tall, tube-like glass (often referred to as a pilsner glass) so you can "appreciate the colour."
Easy drinking beers, like a Pale Ale of a Pacific Ale can be enjoyed from pub glasses, like a pint or a schooner but when it comes to your darker ales, like a Double IPA or a Stout, snifter and stout glasses are your go-to. These type of glasses ignite your senses and allow you to experience the beer in its entirety. "You first start a meal with your eyes," Harris says. "The same applies to beer."
If all this craft beer talk has left you thirsty, enjoy the best of Australian Craft from store to door with BWS On Demand. Australia's best craft beers, spirits and wine delivered to your door in no time through BWS delivery.
Editor's note: This article is proudly sponsored by BWS and endorsed by Urban List. Thank you for supporting the sponsors who make Urban List possible. Click here for more information on our editorial policy.