Think of curry and you'll most likely picture your regular order at your local Indian takeaway. Or perhaps you'll recall a lip-smacking Thai red curry or a mild Japanese one... From super spicy to mellow comfort food, curries are as diverse as the countries they hail from. Our multicultural city is home to curried dishes from all over the globe – whether you like it mild or wild, grab this list and go in search of the best curry in Melbourne.
JAPANESE CURRY
Proving that not all curries are spicy, Japanese curry is a smooth, mild mix of thick gravy, carrot and potato and optional meat. Sound boring? Far from it – served with rice, this simple mix is a tasty comfort food in its own right, but it can also be amped up with a chicken or pork schnitzel for a super satisfying meal. Popular student haunt Don Don churns out curry on rice, topped with either beef, chicken or tofu, faster than you can hand over a fistful of coins. Brim CC offers a wholesome vegetarian version (made with organic vegie stock), and a generously sized beef version, with chunks of tender meat swimming in gravy. Purple Peanuts makes a superb vegetable and tofu curry – the gravy is topped with fried tofu and char-grilled zucchini, eggplant and capsicum, which adds a pleasant smokiness to the dish. Tokyo Deli's pork katsu curry – that's curry and rice with a slab of pork schnitzel on top – is a delicious gut-buster, while Ramen Ya's crumbed-and-fried-chicken katsu curry, served in a bento along with rice, gyoza and salad, wins points for presentation and flavour.
THAI CURRY
There's more to Thai curry than red, yellow or green – a Thai curry can be wet, dry, made with or without coconut milk, be closer to a casserole than a curry (massaman, we're looking at you) or even be a soup (hello, khao soi). Jinda Thai offers a fiery red curry with roasted duck; it tastes as good as the beautifully decorated restaurant looks. The same can be said for Ayatana, which serves up a moreish roast duck red curry and an elegant take on green curry with chicken in refined surrounds. Massaman curry – usually made with slow-cooked beef, potato and peanuts – gets a modern twist at FOMO Thai, where the tender beef is topped with cashew nuts and served in a bowl of puff pastry. Easy Tiger's massaman is made with lamb, and we suspect Chin Chin's is made with a highly addictive substance (though they swear it's just coconut along with high-quality beef).
Thai Food to Go can be relied upon for good old red, yellow or green curry with a choice of proteins, but why not spice things up and try the jungle curry instead – it's a hot, dry curry that'll have you reaching for the obligatory Singha beer. And you don't have to travel overseas for a taste of northern Thailand – just go as far as Docklands, where Pok Pok's take on khao soi (a curry noodle soup that hails from Chiang Mai) is a thick, coconutty soup full of noodles and chicken pieces and topped with fried wonton skins. Thai-riffic.
INDIAN CURRY
Indian curries are so rich and varied that there's one for every taste, whether you love super spicy vindaloos or prefer creamy butter chicken. Curry Vault is a great place to try lots of different curries – over several different sittings, unless you've got an unlimited appetite. The savoury-sweet lamb dopiaza is a well-balanced dish that's not too spicy; heat seekers should opt for the chicken or beef vindaloo, which can be made super spicy upon request. Bala da Dhaba's lamb rogan josh is a must-try, and the moreish cashew-and-cream sauce on their mild chicken korma is even better when you mop it up with a garlic naan.
Head to Babu Ji or sister restaurant Horn Please for a tender goat curry or a coconut-heavy fish curry that'll have you swearing you're in India. With their funky, fresh fitouts in light and airy spaces, these restaurants are redefining the Indian dining experience in Melbourne, as is Tonka, where the wow factor starts with the contemporary decor and continues with every bite of the Goan curry, loaded with barramundi, prawns and mussels. Who needs curry in a hurry when you can have it while lingering in luxe surroundings?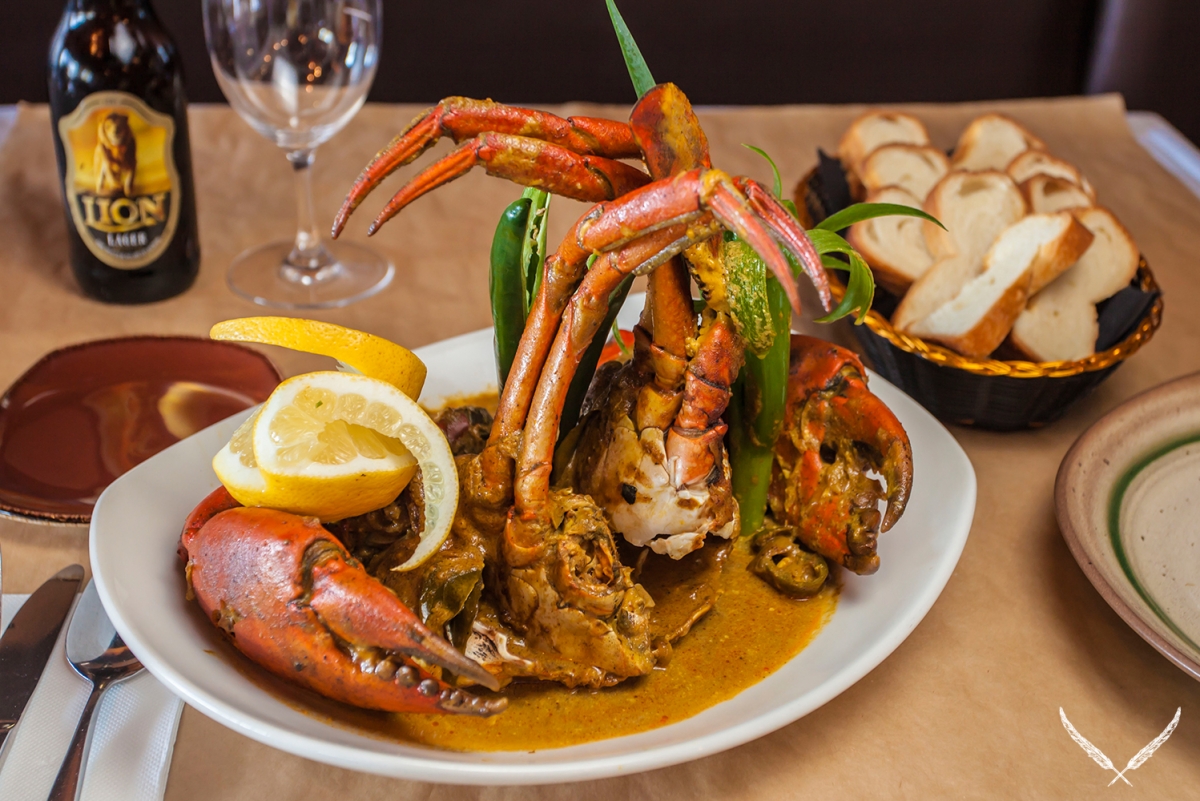 SRI LANKAN CURRY
Sri Lankan curries reflect the island's history as the world's great spice producer, with influence from the Kerala region of India and foreign traders. Feeling crabby? Elephant Corridor's spicy mud crab curry is a hit with the Glen Waverley crowd, swimming in a sauce of Sri Lankan spices, ground chillies and coconut milk. Scoop it all up with hoppers, the bowl-shaped rice flour pancakes traditionally sold from hawker stalls. For a contemporary take on Sri Lankan cuisine head to Araliya, their slick new St Kilda outpost featuring a delicious duck leg with pineapple chutney. Their jaggery beef – Blackmore wagyu brisket slow-cooked in spices and the sap of the kithul palm flower – is another must-try (as are their cocktails). Northside, Lakmi Green Spice offers a rich selection of traditional curries, with a particularly tasty chicken devilled, best paired with a coconut pol sambol. Coco yumbo!
MALAY AND INDONESIAN CURRIES
Voted one of the world's 50 Most Delicious Foods in a 2011 online poll, beef rendang originated in Indonesia and spread to Malaysia, but has clearly won hearts around the world. It's a complex, slow-cooked dish with an amazing depth of flavour penetrating the fall-apart chunks of beef. In Melbourne, seek out this rich, almost sauce-less curry at Chinta Ria Soul or Roti Road, where you'd be mad not to have it with a freshly cooked roti. Try it as part of a nasi lemak (that's a dish of rice, crispy anchovies, hard-boiled egg and rendang) at Petaling St, or head to the wallet-friendly Nelayan. For something lighter, try the tangy kari ikan (fish curry) at Mamak, and if fish is high on your scale of food faves, try the fish head curry at Kuala Lumpur in Carnegie.
VEGETARIAN CURRY
Many of the above places offer vegetarian versions of their curries, but there are a few other places that deserve a special mention on the Melbourne curry trail. Veggie Time offers a wide range of vegetarian and vegan Asian food, including a memorable silken tofu yellow curry that'll have you coming back for more – even if you're not vego. Yong Green Food offers a mouth-watering chickpea korma and a tempeh and vege Thai green curry that tastes decadent despite being good for you. Lentil as Anything changes its menu according to what's in season, so its Sri Lankan cashew, chickpea and coconut curry isn't always available – but when it is, dig in. Sister of Soul makes a tempting massaman curry with tempeh and eggplant, and nearby Bala's offers a tasty Thai yellow curry (with spinach and tofu) and a Thai red curry (with pumpkin). On a sunny day, get one to go and have a picnic in the park opposite – it's a great place to veg out.
Main image credit: Foodess.