The first thing that pops in my head when I step inside Daughter In Law is: "Damn, this place looks young." And not in a brand-spanking-new kind of way, but in a vibrant, youthful vibe way.
I attribute Daughter In Law's youthfulness partly to the decor and partly to the crowd. I'm flanked by two tables of young women chatting over some generous-looking curry tasting dishes. The music in the background is an incessant stream of 70s and 80s hits that seem to alternate between George Michael, Queen and Indian pop and I am certainly not complaining.
The venue is slathered in that trendy shade of pastel pink, with the contrasting jewel-toned seats to match, gold cutlery and very cute drinking implements (plastic, ornate, almost kitschy glasses with colourful little patterns). I really dig the large projected screen playing cut footage of Bollywood movies. And that's when it hits me: Daughter In Law kind of feels like the backdrop to a trendy Netflix show with a cast full of ridiculously good-looking young people.
The first thing we do is pop open the drink menu. The wine list is extensive, which is good news if you like wine. The wine list has been developed by Sacha Imrie (Marion Wine Bar, Builders Arms Hotel) and offers new world wines including exclusively imported Californian drops. The cocktail list is peppered with lots of cool fusion cocktails (beetroot juice spiked with mezcal, anyone?). So whatever you end up picking from the drinks menu, you won't be disappointed.
There's also a large self-serve beer fridge humming in the background and the waiter tells us to help ourselves—which we totally do because the beer selection is pretty great. Plenty of pale ales, IPAs, and a lot of Kingfisher because no matter how 'unauthentic', Daughter In Law is an Indian restaurant after all.
Australian cuisine tends to lean toward Asian fusion, with a smattering of Indian fusion joints among that; however, I don't think I've tasted this kind of Indian food anywhere in Melbourne before. For one, Daugther In Law takes the 'fusion' and 'unauthentic' bits of its Spiel and really commits. Owner and chef Jessi Singh (Babu Ji, Babu Ji NYC) has really taken fusion cuisine to the next level.
I'm not exaggerating when I say the starters are unbelievable. Inspired by Indian street food, you can chow down on some pretty amazing stuff. We split a tasting menu between two people and the first things that are brought out are two delicate 'balls of happiness' (golgappa or panipuri); they're crispy fried shells filled with a slightly sweet, youghurt-y filling that can only be described as heavenly.
There's Colonel Tso's Cauliflower, which is the best way to hide vegetables in actual food: by deep frying and smothering them in General Tso sauce. By the time you're chomping down on these bad boys, you'll have already forgotten that you're eating cauliflower.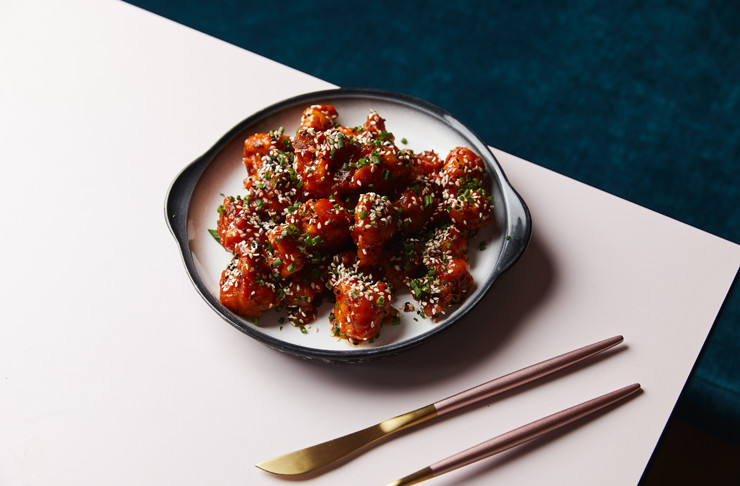 There's also Indian-inspired nachos and salsa, oysters, a creamy yoghurt croquette served in a delicious puddle of beetroot sauce, roasted tandoori corn dipped in lime yoghurt, and lots more which I couldn't sample because my stomach was already close to bursting.
The mains are where the 'unauthentic' part sort of fades away a little and out come all those traditional flavours that we love: yellow dhal, chana masala, unauthentic butter chicken, coconut curry, palak paneer, and more. If you're thinking of skipping the curry, you can dig into the tandoori chicken, lamb chops, whole market fish, and even a juicy rib eye.
There is also a mouthwatering selection of naan pizzas: chilli margarita, tandoori chicken, blue cheese and herbs and masala paneer. And if you're ever in the area during work hours, there's also a $15 express thali lunch available. So it's safe to say that if there ever was any danger of a city-wide food shortage, I'd make a beeline for Daugther In Law.
The vibe is not hard to pin down: Jessi Singh himself is either in the kitchen or waiting tables and asking everyone how the food is, so you definitely get that family-style feel in the joint. But the music, the trendy decor, coupled with the cool bar, also give it a very contemporary feel. If it's your first time at Daughter In Law, I recommend you try the tasting menu because you really can't go wrong there. Even if you have dietaries, the team is super accommodating—they served us an entire tasting menu for both a vegetarian and a non-vegetarian. It was all very harmonious. And delicious.
The Details
What: Daughter In Law
Where: 37/41 Bourke Street, Melbourne
Keep up to date with the latest openings around Melbourne on our Food & Drink section.
Image credit: Peter Tarasiuk